Champagne Perrier-Jouët Takes Over Miami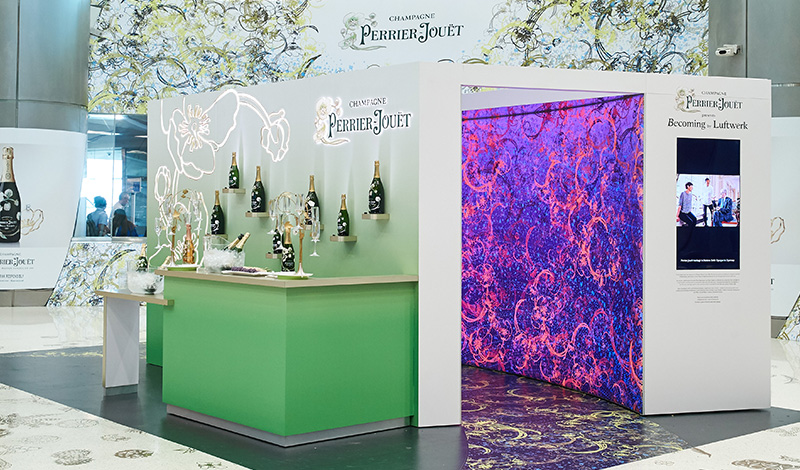 L'Eden by Perrier-Jouët has reinvigorated Miami International Airport with an all-encompassing digital experience that reinvents the spirit of art nouveau. Created by Chicago-based artists Luftwerk, the piece is an exuberant celebration of the energy of nature.
The popup is the latest manifestation of the Maison Perrier-Jouët's enduring tradition of crafting nature into art. Founded in 1811, the Maison's free spirit and creative energy fuelled a fruitful partnership with art nouveau pioneer Émile Gallé, who designed the Maison's iconic anemone motif in 1902. Today, that energy has inspired a series of immersive experiences that "re-wild" the world with digital flair.
The artwork has a self-contained passage with a screen revealing the details on the outside, while champagne flutes perched on golden reeds and a bottle display invite onlookers to discover the Maison's prestigious Belle Époque range.
In connection with the popup event, Perrier-Jouët will be presenting both at Design Miami and other unexpected locations. Throughout the city, a series of interactive digital experiences offer a bold contemporary take on Perrier-Jouët's enduring tradition of crafting nature into art.
The centrepiece was L'Eden by Perrier-Jouët: an ephemeral bubble of wonder, dedicated to re-enchanting the urban landscape. In Miami, L'Eden by Perrier-Jouët channelled all the energy of the design week into a unique and inspirational space: the iconic 1111 Lincoln Rd. parking garage designed by Herzog & de Meuron. Transformed by the light artists Luftwerk, it provided an exceptional venue for events that included the Design Miami fair's Design Visionary Award dinner.
The high point among these events was the Eden Ball, which encapsulated L'Eden by Perrier-Jouët's mission to "re-wild" the urban environment. After entering a dark corridor filled with luxuriant foliage, more than 200 privileged guests discovered an extravagant interior alive with the energy of nature, pulsating from floor to ceiling with Luftwerk's digital art and innovative neon lights. In this world of wonder, they rubbed shoulders with a cast of exotic creatures and took part in a unique wine-tasting ritual before being treated to a thrilling surprise live performance.
Each piece of this artwork acts as one step in a journey, with Luftwerk's three-dimensional tapestries of colour providing a captivating illustration of the Maison's signature Art of the Wild.