Christian Louboutin Beloved Shoe Designer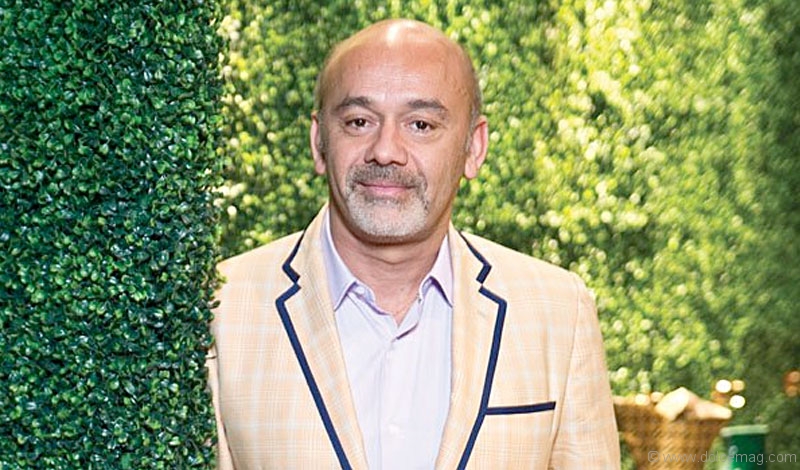 Encircled by candy cane-striped hula-hoops suspended from the ceiling of the Toronto Design Exchange, striking stilettos spin provocatively in the air like slow-motion acrobats warming up for the big act. Their creator is somewhere in the building, yet conspicuously missing from the scene, where a gathering of hungry media squirm alongside a sky of dangling heels. In typical Parisian style, Christian Louboutin is fashionably late.
In a piped, single-breasted blazer, lavender dress shirt, jeans and glossy red loafers, the decorous designer is in town for the North American premiere of a magnanimous magnum opus that has transformed and inspired with the most sensual, eccentric and desirous footwear to walk the planet. A pre-eminent display stretching back 20 years, the touring UK exhibit illuminates the untamed imagination of Louboutin's red-soled footwear, powered by fantasy and friskiness, femininity and fetish. "Most people see shoes as an accessory to walk in, however some shoes are made for running — and some shoes are made for sex," reads rather impishly one of several Louboutin proclamations that adorn the cabaret-style exhibit.
The orgiastic celebration features more than 250 of his show-stopping creations, including the sexy Bridget Strass and brazen knee-high boots inspired by his pal Tina Turner. Comfort is nowhere to be found in this blissful feast of velvet and ruffles — even a diminutive section of ballerina pointes look excruciatingly painful. But the desires of the garden-variety type, who enjoy leisurely afternoons playing bridge and sipping tea, aren't exactly a predilection for the design maestro, 50, who would slip into the cinema in his younger days to marvel at Marilyn Monroe, Marlene Dietrich and Bette Davis. He connects with the liberated woman, the temptress. But he designs to please the opposite sex. Men are like bulls, he has once said. They can't resist the red sole.
Adorned with a carousel, topiary garden, a spinning top and hologram of Dita Von Teese, the retrospective anthology takes an observer through a histrionic world, trimmed with brocade, chiffon, lace and mesh to underscore an illusion of transparency. It's a theme that has prevailed throughout Louboutin's work over the last five to 10 years, a running motif that corroborates with his notion of a shoe's raison d'être: to be visible yet invisible, to undress rather than dress. "Christian is very involved in the design of all the shoes, all the new designs, all the new collections and works very closely with his team," says Donna Loveday, head of curatorial at the Design Museum in London. "It's pure craftsmanship — all made by hand, by a very small team in the Paris workshop."
Having sifted through the designer's extensive archive for the exhibit, Loveday points to Louboutin's pervading passion for travel, and how allowing the world to saturate his drawing board has translated into his work. "Christian is a great collector, constantly looking for new, interesting objects and pieces, and bringing them back with him. He's constantly sourcing materials and then later utilizes them to form a design for the shoe, and will go into his atelier either for a future collection and then this will go into his shops and stores around the world." Since opening his first salon in Paris in 1991, his designs now generate a global revenue take of US$300 million, according to news reports.
In the flesh, Louboutin is surprisingly modest for a man whose flashy shoes can run up to $5,000 and onwards. During a salvo of media questions at the Design Exchange press conference, he graciously transitions from English to French in quiet, well-thought returns. His unpretentiousness permeates through the staging of his exhibit, which is noticeably lacking in red-carpet money shots. "You know, he doesn't talk about any particular celebrity. I wanted to bring in photographs of different people wearing their red soles, but he did not want that, he did not want to go there," recalls Loveday. Louboutin has trademark protection over his signature red sole, however, in a challenging lawsuit against Yves Saint Laurent, the U.S. court said the protection does not apply if the entire shoe is red.
With multiple homes around the world, Louboutin's properties serve as the starting point to his artwork. Whether it's touching down in South America or remaining in Europe, the iconic shoemaker, who calls freedom his muse, relies on the forecast to jumpstart his sketches. "I have specific places where I have specific needs," says Louboutin, who as a teenager was captivated by showgirls in towering heels when he worked backstage at the Folies Bergere. "When I design the summer collection, I make sure I go to a hot place, so it's easier for me to think of sandals and things like that. So summer is designed I'd say in Egypt, because I have a house there, or in Brazil, where I go every year. And then in winter, I have this house in the country. I just take off the heater, and I'm freezing, and now I have the best collection of boots."
A Louboutin collector is like no other, lusting after skyscraper heels and spiked couture confections without foot fetish abandon. Cinderella's world transformed once she slipped into those glass slippers, and it's no different from the modern-day woman, who, when wiggling her toes into a pair of "Loubies," experiences an orgasmic rush of empowerment. Louboutin's ability to reverse sexual inhibitions and express forbidden emotions has resulted in a foothold of devotees and over one million Instagram followers. Asked about a woman who resorted to stealing funds from her company to back her obsessive shoe habit, Louboutin can't help but grin. "Aside from the fact that I wanted to send her a pair of shoes in jail, I had been thinking that sometimes passion brings you to some extremes. It's so sweet to be so passionate to do something completely crazy, but I think it's better to do it for a man or for a woman, than for a pair of shoes, but everyone I respect carries a passion, there is a passion for everyone, it is different for everyone, so yes, I had a big smile when I heard that she did something completely crazy for my shoes. At the same time, I totally understand passion, so I could not say, 'Well, I didn't understand.' I do understand."
"Christian Louboutin: An Exhibit Celebrating
20 Years of Design, Artistry and Magic" runs until Sept. 15, 2013 at the Design Exchange
in Toronto.