Christian Louboutin: Sole Man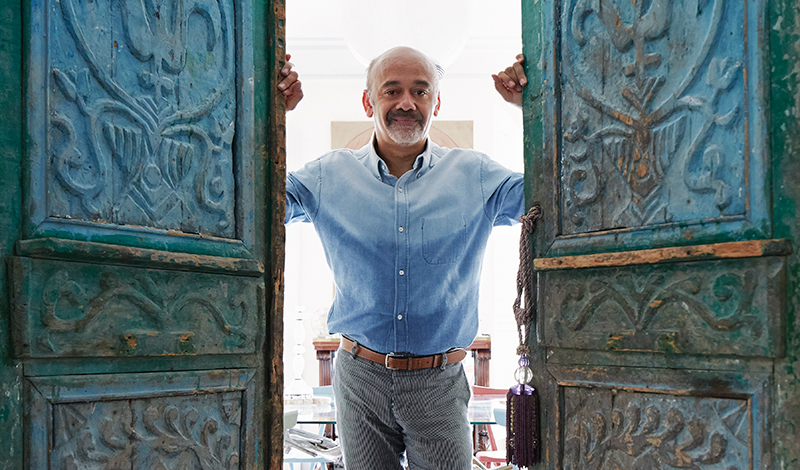 With their trademark scarlet soles and glamorous buyers, Christian Louboutin's eponymous footwear are shoo-ins to the pantheon of modern fashion greats.
The history of fashion is replete with famous designers: Chanel, Yves Saint Laurent, Givenchy, Giorgio Armani, Versace, Tom Ford, Karl Lagerfeld et al. But when it comes to shoes, one man stands above the rest — Christian Louboutin. One of the most-revered and successful shoe designers of the modern era, Louboutin has created a brand whose signature red soles have lent him an aura that not even Jimmy Choo or Manolo Blahnik can match.
Propelled by Carrie Bradshaw's fanatical devotion to Louboutin on Sex and the City, not to mention that of Princess Diana, he has become a household name among fashion-conscious women, particularly celebrities who can afford the expensive price tag that comes with his quintessential footwear. His designer credo is to "make a woman look sexy, beautiful, [and] make her legs look as long as I can."
Not only did Louboutin spearhead the drive to bring high heels back into fashion in the 1990s, but he has also elevated shoe design into an art form. His impact on the cultural landscape has been so profound, his work was the subject of a landmark museum retrospective in Paris earlier this year. Slyly entitled Christian Louboutin: L'Exhibition[nist], the show opened on February 25 at the Palais de la Porte Dorée in Paris, where 500 of Louboutin's original creations were on display, until France and the rest of Europe were locked down due to the novel coronavirus. But the palais has recently reopened, and the Louboutin retrospective is further confirmation of the 57-year-old French designer's visionary esthetic and undeniable influence on the evolution of fashionable footwear.
Though some feminists may complain that his more radical creations, for example, his six-inch stilettos, serve to oppress women, Louboutin argues that such shoes are a "form of liberty," allowing women to express their feminine power and elevate their stature. "There is something fragile and powerful [about] women in high heels," Louboutin once declared, recognizing that female fashion has always embraced a high degree of tension between form and function.
"Women do not want to give up wearing high heels," Louboutin declared prior to the opening of the Paris retrospective. "To be a woman is also about enjoying one's freedom to be feminine if you want. Why renounce (high heels) when you can have them and flats … I don't want people to look at my shoes and say, 'They look really comfortable.' The important thing is that people say, 'Wow, they're beautiful.'"
The appeal of Louboutin's shoe designs is such that his work has become part of the pop-culture landscape. Cardi B was one of the first rap stars to acknowledge this with her reference to "red bottoms" in her hit single "Bodak Yellow," while other singers, such as Katy Perry, Beyoncé, Miley Cyrus and Rihanna, have similarly embraced the cult of Louboutin. His shoes have become synonymous with luxury, daring and sexiness — the kind of mass recognition that few designers ever attain. "Pop culture is neither controlled or controllable, so I am very happy about that," he has admitted.
Throughout his career, Louboutin has designed pumps with a bulging eye above the pinky toe, cascading rows of black and goldfish-like scales and even a super-platform pair with thousands of crystals. Famed also for his nude-coloured heels, he delights in being daring that is equal measure Marie Antoinette and Lady Gaga, but linked by a unifying desire to cater to bold, sexually confident women.
"I'll do shoes for the lady who lunches, but it would be, like, a really nasty lunch, talking about men," Louboutin once said. "But where I draw the line, what I absolutely won't do, is [make shoes] for the lady who plays bridge in the afternoon."
SEX AND THE SHOE
Louboutin became a fixture on the international fashion scene after various luminaries, such as Princess Caroline of Monaco and Princess Diana, began walking around in his shoes in the early 1990s. But perhaps the key to transforming Louboutin from obscure French shoe designer to fashion superstar came via the hit TV series Sex and the City, whose star, Sarah Jessica Parker as Carrie Bradshaw, stamped her seal of approval on Louboutins.
This set in motion the process of transforming his shoes into fetish objects for women, whereby footwear was equated with sex and sensuality. Hollywood actresses have long understood this connection, and that is why Louboutins are more popular than ever and worn to red carpet events by leading stars, such as Margot Robbie, Jessica Chastain, Penélope Cruz, Diane Kruger, Daisy Ridley et al.
Jennifer Lopez has also gone on record proclaiming her love of Louboutins and in particular the stilettos that he has helped popularize, despite the difficulties that come with wearing them: "[The stilettos] kill you. But they're the sexiest shoes around," she once told Harper's Bazaar magazine.
Neither does Louboutin himself disguise his singular fascination with high heels and his understanding of why they will always remain a fixture for women. "People project themselves and their stories into my shoes," he said at the Paris show, pointing to a high pair of intricate lace boots called "Corset d'Amour" and embroidered with scenes of love-making.
"I think the fact that high heels were (once) forbidden played on the unconscious … there was also the mystery and the fetishistic side … the simple drawing of a high-heeled shoe is often associated with sexuality."
"People Project Themselves And Their Stories Into My Shoes"
DESIGNER PATH
Born in 1963, Louboutin was raised in Paris by his father, a carpenter, and a homemaker mother who was "definitely not" a woman who wore high heels. He recalls how his sisters walked around in "cork wedges," whose brutalist design was "immediately" offensive to him. He spent his youth sketching shoes rather than studying and attended the Académie d'Art Roederer to study drawing and decorative arts.
Even at the age of 10 years, Louboutin was already aware of his innate sense of style and esthetic awakening when he visited the very same Palais de la Porte Dorée that is now holding his retrospective. He was struck by what he perceived as the absurdity of a sign he saw at the entrance to the museum, which forbade high-heeled shoes being worn, for fear that they would damage the historic parquet floors.
"I started to draw [high-heeled shoes] because of that sign," he says, which was put up to save the museum's parquet floors. "I became obsessed. How could they design a shoe that everyone wore in the '70s and forbid its use?"
A self-confessed iconoclast, he was 13 years old when he started indulging his wilder impulses. He and his schoolmates would often frequent the Folies Bergère music hall and Le Palace disco, where he found himself staring at the shoes worn by the women who were dancing on-stage more than at the showgirls and Parisian club girls themselves. "Some of the shoes I make today are still inspired by the Palace — the disco look, the metal, the glitter."
In his late teens, Louboutin left home to seek "adventure" in Egypt and India, after which he returned to Paris and approached most of the major couture houses armed with a portfolio filled with innovate sketches of shoes and outlandish heels. Ultimately, he landed a position at Charles Jourdan, France's leading shoemaker, before departing to serve as an apprentice designer for Chanel and then Yves Saint Laurent. He never managed to last long at any one salon, because he hated the idea of merely executing someone else's ideas. "I was a terrible assistant. An assistant is supposed to assist — I always wanted to do my own thing."
It was not until he joined the atelier of Roger Vivier, the designer who claimed to have invented the stiletto, that Louboutin began to develop his shoemaking skills in earnest.
RED SOLE DIARIES
The distinctive red sole has an unmistakable erotic energy to it and provides the irresistible subtext to his brand. Interestingly, Louboutin came up with his "invention" more by chance, rather than the result of 10,000 hours of brainstorming.
The origin of the red sole dates back to 1993, when the aspiring shoemaker was intent on producing a shoe design that he wanted to pattern after Andy Warhol's archetypal Flowers silkscreen.
Working out of the Paris atelier that he opened 18 months earlier inside the Galerie Véro-Dodat, a skylit arcade that connects Rue de Jean-Jacques Rousseau to Rue de Croix-des-Petits-Champs, Louboutin was still struggling to create a shoe collection that would enable him to survive in a highly competitive market.
He had just received a prototype in the form of a pink stacked heel with a cartoonish cloth blossom and black sole from Milan, which more or less corresponded to his original design — but something was missing.
"I was very happy, because it was similar to the drawing," Louboutin recalls, "but the drawing was still stronger, and I could not understand why. There was this big black sole, and then, thank God, there was this girl painting her nails at the time."
Sensing the need to add a dash of colour to his creation, Louboutin grabbed the bottle of red nail polish from his assistant and started painting a portion of the sole of the prototype. "Then [the bottle] popped," splashing the entire surface. It was his eureka moment: "I thought, 'This is the drawing.'"
THE BUSINESS EMPIRE
That marked the beginning of the red shoe line, first handcrafted in Italy, which captured the public's imagination and the fancy of a fashionconscious clientele, who has turned his company into a billion-dollar operation that sells more than a million shoes per year.
For the past three decades, Louboutin has expanded his operations well beyond the confines of his original Paris atelier, out of which he continues to ply his trade.
"It's very much a laboratory. It's superinteresting for me, because I can try new things."
Today, his business empire extends to flagship stores in London, New York, Las Vegas, Tokyo and the Mall of the Emirates in Dubai, his fifth boutique there. He operates out of self-branded boutiques in 35 countries overall, and his company sells to more than 150 department stores around the world.
His signature red-heeled shoes are so distinctive that he has successfully sued and won major copyright infringement cases against rival brands that have attempted to copy his trademark concept.
In 2011, Louboutin filed a $1-million trademark infringement suit against Yves Saint Laurent, after the latter began selling shoes with the signature red sole. The basis for his complaint was that it is not simply the colour which is at issue; it is how it has become an essential element of the (shoe) product itself.
"It is a red in a specific context. There is Ferrari red [and] Hermès orange," Louboutin said at the time. "Even in the food industry, Cadbury recently won a lawsuit against Nestlé for using purple packaging. All this proves that the colours play a part in a brand's identity. I'm not saying that red usually belongs to me. I repeat that this is about a precise red, used in a precise location."
In the end, a New York federal court of appeals decided that Louboutin was entitled to its trademark on red soles, which it had patented in 2008, except when the entire shoe is red.
Louboutin would later score another key legal victory against the Dutch shoemaking firm Van Haren, after suing the company in the European Court of Justice after it, too, began selling a line of high-heeled shoes with red soles. Louboutin's lawyers successfully argued that Louboutin was entitled to trademark protection under European law. The luxury brand understandably saw the decision as vindication of its founder: "For 26 years, the red sole has enabled the public to attribute the origin of the shoe to its creator, Christian Louboutin. We warmly welcome the recognition of this fact."
"I Have Much More In Mind The Design Of A Car When I Design Men's Shoes … They Need To Be Powerful And Sleek And Should Also Make A Statement"
LEGACY
Still fond of travel, Louboutin divides his year among various palazzos he owns in Egypt, Portugal and France, where he likes to be alone with his long-time partner, the celebrated landscape architect Louis Benech. He generally spends two to three months preparing each new collection at one of these residences and is rarely at a loss for inspiration. In recent years, he has also launched a men's shoe collection, which takes a different point of departure: "I have much more in mind the design of a car when I design men's shoes … They need to be powerful and sleek and should also make a statement."
When it comes to explaining the high prices his shoes (particularly for women) command, Louboutin replies very matter-of-factly: "If you take a bottle of wine, one bottle of Chateau Pétrus will cost you 3,000 euros, while an ordinary bottle will cost you 10 euros. It's the same shape, it's the same silhouette, but everyone understands the difference between a great wine and a bad wine. It has nothing to do with the shape [or the bottle]; it's [due to] the way the wine is made, processed and whether it's going to give you a headache or not."
Jennifer Lopez might still complain about how her feet might feel some pain, however.
STUNNING PARISIAN PENTHOUSE
Louboutin's legendary Paris apartment is another interesting story in a life full of them. When he started his business 30 years ago, he lived in a modest apartment behind his original store on Rue de Jean-Jacques Rousseau, but as his business grew, he sought a more expansive and expressive home base. True to his diligent nature, the search for the perfect place took three years, until he found a magnificent painter's studio in the 9th Arrondissement. The studio featured 26-foot-high ceilings and a wall of glass windows. However, as Louboutin was about to sign the contract, his business partner, Bruno Chamberlain, reviewed it and discovered that due to the rather bizarre complexities of French real estate law, Louboutin was about to purchase an apartment in which he could not legally live on certain days of the week.
A friend came to his rescue and took up the hunt, eventually finding his current apartment, near the Paris Opera. But it was a space that was in a terrible state. Its reconstruction took three years to transform a warren of smaller rooms into a massive suite under a vaulted ceiling. The apartment today includes an enormous master suite with a walk-in closet designed as the interior of a luxury train car, as well as a skylit marble spa.
His apartment is a menagerie of artifacts from his world travels: Egyptian chairs, feathered headdresses from the Amazon, masks and spirit dolls from the Hopi and Zuni tribes of North America and a fireplace imported from Iran.
Despite the largeness of the apartment, there is never enough storage space for all of his shoes, with as many as 200 pairs lined up along the walls of his bedroom and bathroom.
Written by Jan Janssen and Rick Muller