Diane Kroe: Canadian Chic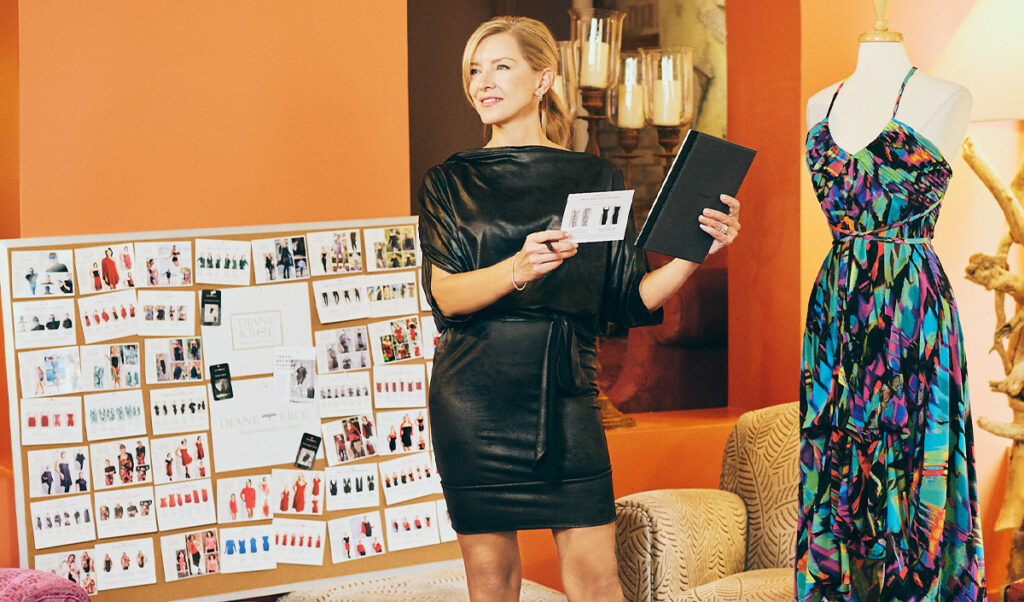 For over 20 years, Diane Kroe has redefined the way we experience fashion, creating clothing that empowers women of all ages, shapes, sizes and walks of life to do more with less.
A fashion designer both by passion and trade, Diane Kroe, CEO of Diane Kroe Inc., has dedicated her life in the Canadian fashion industry to creating timeless designs that are high quality and functional. Her design philosophy, "less is more," is her inspiration for creating clothing for women who are travellers, working professionals, fashionistas and busy mothers who have no time to think of what to wear.
Her passion for fashion sparked when she was 14 and met a designer who showed her the ropes at her boutique. After graduating from high school, she worked for her mentor at her studio factory full-time while attending night school classes at Toronto Metropolitan University (then known as Ryerson), where she studied Fashion Arts.
Throughout her 20-plus-year career, she has worked as an accomplished fashion designer, stylist, pattern drafter, women's apparel fashion buyer, retail merchandiser, forward-thinking business owner and, most of all, a dynamic working mom.
In each of her collections, she implements unique features inspired by her travels all over the world. The Diane Kroe brand's commitment to its customers is simple: to create bold yet tasteful clothing that is easy-care, wrinkle- free, lightweight, travel-friendly, and that transcends trends while staying true to ethical business practices.
Q: What inspired you to create this principle of "convertible fashion" or "functional fashion"?
A: My first trip to Europe was a real eye-opener. I met these two young women from Norway and they each had a beach bag. Every day, on the beach or at the clubs, they looked fabulous, but everything they had fit in a beach bag. Now, this was back in the day when Flashdance was popular, so you could cut holes in your clothes, and that's exactly what they were doing. They would take a T-shirt, cut holes, and readjust them. They were just having fun! So that's where I got it from. I kept that concept in mind when trying to find fabrics that would pack easily, wouldn't wrinkle and were lightweight.
Q: How do you overcome moments where you feel artistically blocked or uninspired?
A: When I have those moments I reach out to my customers on Instagram. Most of my clients have been following me for years, so they know the brand by heart. I just throw out open requests to them, and, true enough, I will get a response that will give me a better idea of what they want. My whole brand is based on them. Without my customers I don't have a business. I must be in synergy with them.
Q: What advice would you give to someone who is passionate about fashion and is thinking about pursuing it as a career?
A: Number one, work for others first. You need to learn how the fashion industry operates from the inside. You can study fashion all you want, but until you are working in the industry, you won't know how it operates. Then, I would say if you plan on going to school, study business. At the end of the day, if you want to be a fashion designer and not work in a factory you're going to have to be an entrepreneur who knows how to run a business. Lastly, it is an expensive industry, so you can't afford to make mistakes. That's why it is important to work for other people early on so you can learn from other people's mistakes.
Q: If you were to describe the Diane Kroe brand and style in one word, what would it be?
A: Spontaneity. With all the travelling I have done, I learned that life is full of surprises. When you are on an adventure, you don't know what your mood is going to be from one day to the next. I want my customers to be prepared for spontaneity and to be able to express themselves based on how they feel in the moment with my clothing.
www.dianekroe.com
@dianekroestyle