Fashion Royalty – The Legendary Designer Michael Cinco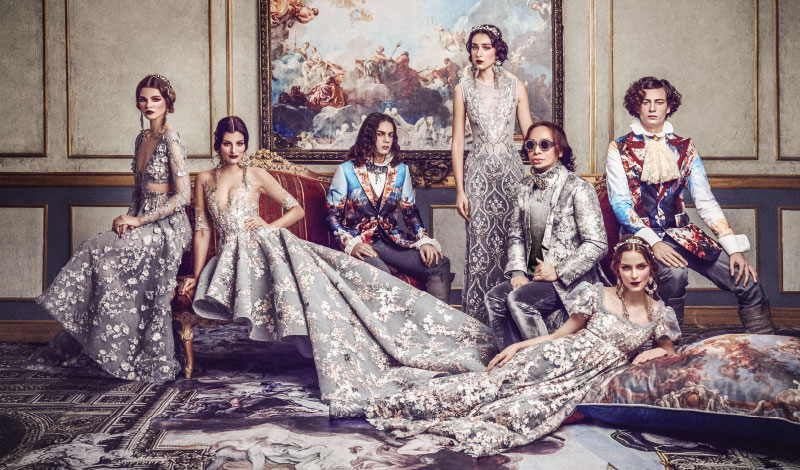 Legendary fashion designer Michael Cinco specializes in creating luxurious, gorgeous pieces embellished with Swarovski crystals, as exemplified by his latest collection.
Strutting down nearly every red carpet, you'll find a gloriously extravagant Michael Cinco creation. Best known for his fabulous couture gowns, Cinco's innate creativity and expert techniques place him at the front lines of fashion. His luxuriously intricate designs elegant fabrics and Swarovski crystals.
Born in 1971, the Dubai-based Filipino designer grew up enamoured the glamour of classic Hollywood starlets. Cinco's childhood obsession with this era's impeccable elegance and sophistication has become his current-day inspiration. He has dressed an extensive list of celebrities, including Beyoncé, Jennifer Lopez, Rihanna, Lady Gaga and Naomi Campbell, to name a few. To wear Michael Cinco is to be inducted into fashion royalty.
Cinco's list of accomplishments is rather extensive. He was chosen to be a member of the elite Asian Couture Federation, a group of the best designers in Asia headed by president Kenzo Tanaka and president Dr. Frank Cintamini. In 2014, president of the Philippines Benigno Aquino III conferred Cinco with the Presidential Award for Outstanding Filipinos Overseas. Cinco has also had several stints on various versions of the television series America's Next Top Model.
A multiple-award-winning designer, Cinco pushes the definition of glamour. His latest campaign, The Impalpable Dream of Versailles, blends an aristocratic feel with traditional Parisian spirit and the lavishness of Swarovski crystals and floral patterns.
Dolce had the pleasure of speaking to Cinco about his career, his life and what comes next.
"I love the song, but I hate the word impossible, so I changed it to Impalpable"
Q. What was the inspiration behind this year's collection?
A. I was inspired by the splendour and grandeur of the Chateau de Versailles during the reign of Louis XIV, the Sun King. My imagination brought me back to the spectacle of the grand soirees of those fabled times, as the monarch held court with Maria Theresa, [the Infanta of Spain], and subsequently his numerous glamorous mistresses, and Charles Le Brun, whom the king declared the greatest French artist of all time.
Q. What makes your designs unique?
A. The exquisite embroideries and my attention to intricate details.
Q. When did you first realize you wanted to be a designer?
A. When I was young I had the chance to watch a classic film of Audrey Hepburn's, My Fair Lady, and the beautiful couture gowns of that movie mesmerized me. I watched it all over again, and then I realized that I wanted to be a fashion designer.
Q. What do you love most about couture?
A. Aside from the painstaking construction, I love also the feel of beautiful fabrics and the detailed beadwork with pearls, paillettes and crystals.
Q. Where do get your inspiration from?
A. I get inspiration from my travels discovering different cultures and art. I also love watching classic films, and I'm always inspired when I listen to opera music.
Q. What kinds of fabrics have you included in your recent collection?
A. I used a lot of delicate tulle and lace. I love working with tulle because I can put a lot of intricate embroideries and beadwork on it and produce magic in the creation.
Q. Why did you choose to open a showroom in Dubai?
A. Women in the Gulf love to dress up in couture dresses, and Dubai gave me an opportunity to open a business and [have a] comfortable lifestyle.
Q. Do you have any funny stories about the many celebrities you've dressed?
A. When I did a fitting with Mariah Carey … I showed her the gown, [and] she was so excited to try her dress, she was gushing like she was almost singing. I told her that my assistant was a very big fan of her music. She asked him what his favourite Mariah song was and he answered, "I Will Always Love You," [a Whitney Houston song]. And I was like, "Oh my God."
Q. What are the best and worst parts of your work?
A. [The best is] when I see a satisfied and happy client. The worst part is the deadlines.
Q. Is there a person you aspire to be like?
A. I love opera music and I want to be like Maria Callas, but it will not happen because I don't have the voice to sing opera.
Q. If you could design a gown for anyone, who would it be?
A. I would design a fabulous ball gown for Maria Callas — I wish she were still alive — [to wear while] performing my all-time favourite aria, "Casta Diva," at the prestigious Teatro alla Scala, the only opera house she didn't have the chance to perform in.
Q. What's your favourite memory?
A. My father used to tell me to follow my dreams and to believe that anything in this world is possible. So one miserable day, when I was so depressed and down, I listened to Frank Sinatra's "Impossible Dream." I love the song, but I hate the word impossible, so I changed it to impalpable. That's the main reason I keep using the term the impalpable dream.
Q. Who is your best friend?
A. I have so many best friends whom I can trust and know love me.
Q. In three words, how would your friends describe you?
A. Adorable, lovable and impalpable.
Q. What are some of your must-have luxury brands?
A. I always wear black. I'm just a simple person and not really into luxury brands.
Q. What is the most important business lesson you've learned over the years?
A. You should always respect people.
Q. What's one strange thing you keep in your closet?
A. My attitude.
Q. Do you believe in faith?
A. I have a strong faith and confidence in God.
Q. If you could change anything about society, what would it be?
A. Every woman must own a Michael Cinco.
Photography: TINA PATNI
Creative Direction and Styling: MICHAEL CINCO
Hair and Make-Up:JOJO DANTESPADUA, BRIAN ONG and KERWIN SOLO
Set and Props: ANDRONICO DEL ROSARIO
Models: LINA and VICTORIA for MMG Models, LIGA and FRANCESCA for Wilhelmina, Giacomo and Constantine