Brett David's Prestige Imports — A Legacy Of Luxury In Miami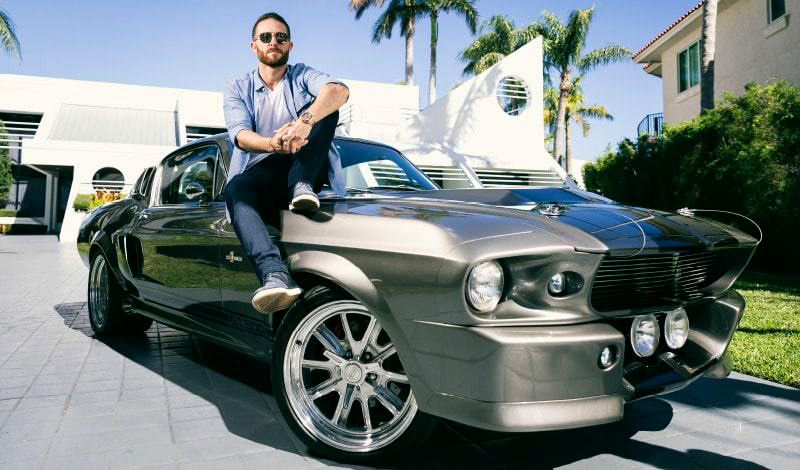 Dolce visits Miami for a one-on-one with Brett David, CEO of luxury dealership, Prestige Imports.
photography by jesse milns
Imagine, you're standing in the middle of a super car showroom, located in North Miami Beach, Fla., surrounded by exotic machines from the likes of Lamborghini, Bugatti, Pagani and rare treasures like the 1967 Ford Mustang GT500 Eleanor. The doors to this lap of luxury open and in comes a gust of Miami air, just enough heat to add to the already sultry surroundings. In walks a 30-year-old man, dressed down in a button-up shirt, denim pants and sneakers. He might look like your average guy, but when the shades come off, revealed is none other than Brett David, chief executive officer of Prestige Imports, North America's leading luxury vehicle dealership since it was founded in 1977 by Irv David.
Eleven years ago, at 19 years old, Brett David was Miami's golden boy. As the heir to Prestige Imports, his world was small, glamorous and nothing shy of the American Dream. Drifting the streets of Miami in Lamborghinis and bearing the name and bloodline of one of Miami's most respected businessmen, it did not dawn on him that his world would soon be shaken and he would face a child's biggest nightmare — losing a parent.
In 2007, after the sudden death of Brett's father, Irv David, Brett found himself sitting at a board meeting with some of his father's most trusted advisors. In a letter from his father, which was written eight months before his passing, it had been decided by Irv that Brett was to sell the business. Whether he did not want to burden his son with the stress of running a multi-million-dollar dealership, which ultimately took his life, or felt Brett wasn't prepared to be CEO of Prestige Imports, one thing was certain: nothing Irv David did was ordinary and raising his children was no exception. He strived for excellence, and that is evident when you're in the presence of Brett David. So it was no surprise that with the support of his mother, Valerie Kaye, and sister, Brooke David, Brett took a leap of faith and at 19 years old made the bold decision to take over Prestige Imports and run it on his own terms. This moment was not only defining, it was transformative for both Brett and the company.
"My first day as CEO is a day I'll never forget," recalls Brett. "I had 145 employees who were relying on me to put food on the table for their families. So, I called everyone together and stood on a small stool and said, 'I am not going to be my father, I can never walk in his footsteps, but with the help of all of you, I can walk next to them.'"
Much is to be said about the quality of Brett's character, who in the face of tragedy turned loss into abundance, and pain into overwhelming success.
"I needed to know that everyone was with me," says Brett. "There was a 10-second delay of awkward silence, which felt like two years to me, but then it started with a slow clap, and the minute I felt that positive reinforcement, I knew I had made the right decision about not selling the company and I also knew that my father was right there with me."
Despite being born and raised in one of the world's most luxurious and artificial cities, this is not a man who lives through ego but one who is led by his heart. Brett's philanthropic endeavours speak volumes about his spirit and willingness to use his platform as a means to bring hope and happiness to those who need it the most.
Ride2Revive, a foundation founded by Brett and his sister and business partner, Brooke, is an annual event that raises funds to assist children living with terminal diseases. Moreover, it is a special day where Prestige Imports takes over the raceway of Homestead-Miami Speedway to allow kids to experience the thrill of real racing in high-performance exotics.
What Brett and Brooke felt the children needed was more than just a cheque: they needed an experience to bring back the joy, excitement and "miles of smiles" that are often stripped away from families and their children who suffer from terminal illnesses.
"We started off with six cars of my own in a parking lot to now having over 60 cars and over 100 kids participating. Ride2Revive has been the most appeasing thing for my soul. Seeing kids getting remission releases from the hospital where they are confined to one room per day, fighting disease and hoping for the next day to be better, to seeing them get into the passenger's seat of an exotic vehicle, this experience for them is life-changing."
"The true definition of success is the family and relationships you have around you"
Dolce was invited to hang out with the dealership mogul at his home, where he has lived his life, reaffirming once again that Brett stays close to his roots and values his family legacy. There is much to admire about Brett's all-white Miami waterfront mansion. Modern architecture meets sophisticated interiors, complete with unique artwork, which includes a mural dedicated to his late father. Even with a dream home such as this, Brett remains humble and believes that success isn't measured by material gains.
"The true definition of success is the family and relationships you have around you. The monetary things, they come and go. I realized that shortly after my father passed when I saw how difficult it was for my father to work his entire life to stay out of the ground and I ended up at 19 years old having to put him in the ground with nothing on him, not a watch, not a belt, not shoes. I realized that at the end of the day, the true excitement and experiences you have with one another are the things you're going to take with you to your grave. For me, family is absolutely everything."
This modest side of Brett is rarely seen to the over one million social media users who follow him and Prestige Imports as they continue to gain notoriety for their ground-breaking sales and extraordinary collection of exotic cars. Since taking over, Brett has grown Prestige Imports into one of the industry's leaders in luxury car sales while also overseeing Lamborghini Miami and cultivating over $1 billion in sales since 2008. Brett's list of accomplishments is impressive and includes being the first man to secure a super sports car Pagani dealership on the east coast. Brett has also made Prestige Audi the No. 1 volume Audi dealer in the country and in 2015, he engineered the largest sale in Audi history for a single point store for $80 million USD.
It's no wonder his impressive list of wealthy clients continues to grow — a list that includes athletes and A-list celebrities such as Dwayne "The Rock" Johnson, Missy Elliott, Rod Stewart and more.
No doubt the road to bearing the position of CEO of Prestige Imports came with its challenges. It's a title that Brett does not take for granted. From a young age, Brett's father, who he describes as "old school," used a tough love approach to teach his only son that success was not given, it was earned.
"Working with my father was very difficult in the beginning. I was the younger generation trying to change and adapt things that he had a difficult time believing," recalls Brett. "I was told I would never amount to being able to run this dealership because my priorities were in different places."
"I think the reason I am who I am is because of the ethics and values my father instilled in me"
Growing up, Irv's biggest caveat with Brett working at the dealership was that he was forbidden to tell anybody that he (Brett) was the owner.
"I had to be a salesman, a car washer, a technician — I had to be everybody else but the owner. If I ever spoke out loud and told someone I was the owner, he would flip. And one time he did and I'll never forget it."
Another memory that Brett will never forget is the night of his father's passing, which also happened to take place on his father's 56th birthday. It was a night of many firsts for the father and son, as they shared special moments over dinner, which brimmed with laughs and unforgettable conversations. But what Brett would receive that night was a gift he had yearned for his whole life — his father's approval.
Six months prior, Brett made a cameo on a TV show called MTV Cribs, a docuseries which features tours of celebrity homes. The episode followed rapper Lil Wayne into his home, where he introduced Brett to viewers.
"My name came across the screen as I came on and it said, 'Brett David, owner and CEO of Prestige Imports Miami.' I remember the feeling in my body and thought, 'oh my god, he's going to kill me.'"
But Irv had an unexpected reaction, one that would serve as reassurance for the soon-to-be CEO of Prestige Imports.
"Before I could turn my head, he got up, grabbed me by the head and kissed my forehead and said, 'See, kid, that's all I asked for. The Saturdays that you wanted to go on the boat and hang out with your friends or those long holidays while your friends were going to college and playing drinking games, I wanted you beside me and I wanted you to understand what it was like to be here [at Prestige Imports] and understand work ethic.' He kissed me on the forehead and said, 'Kid, you just made my birthday.'"
That was the last time Brett would see his father alive. It was a day that would forever change his life, and one that he is still visibly shaken by. For Brett, Irv was not only his father, he was his best friend and mentor.
"I think the reason I am who I am is because of the ethics and values my father instilled in me," says Brett. "One of his favourite quotes was Gandhi's 'Be the change you wish to see in the world' and after my dad passed I read a letter from him and that quote appeared again at the very top. I knew when my father passed that my mission was to do this."
As Dolce followed Brett back to the place where it all started, Prestige Imports, we were intrigued at how quickly he was able to get out of his laid-back element and into business mode. Suited up for a day of meetings, it was showtime for this 30-year-old powerhouse. Watching him in action, you know that Brett was born to be CEO of Prestige Imports.
It's been a wild ride for Brett David, but rest assured, there's no slowing this Miami tycoon. In fact, he's just getting started.