That's Italy – Lino Grasso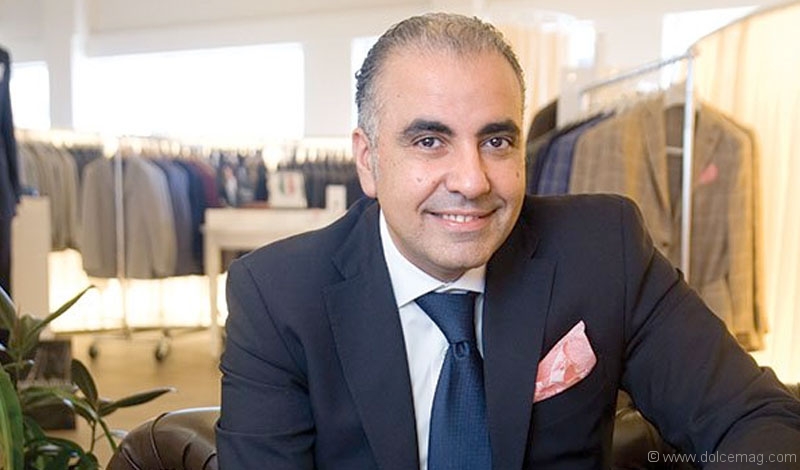 It's no secret that fashion, food and culture reach their peaks in the historic streets of Italy — especially if you appreciate the good life. For those that lust after that iconic Italian style, look no further than the latest fashion instalment to hit north of Toronto.
Mirroring the luxe boutiques that line the streets of Milan, That's Italy's 14,000 square feet of space deliver a distinct shopping experience close to home. Adding to the European feel is the separation between each pod-like clothing section, prompting the feeling that you're in one private mini-boutique at a time. And, of course, each section is stocked with some of Italy's most coveted designs for both men and women — 80 per cent of which have travelled straight from Rome.
It is this all-Italian shopping experience that founder and creative director Lino Grasso had in mind when he first conjured up the concept for the store less than a year ago. With years of experience as an Italian fashion producer, Grasso was determined to invigorate Toronto's fashion scene with a taste of fearless style. And he didn't stop short of the best. Carrying the finest of garments you'd be hard-pressed to find elsewhere in Canada, he commissioned Brugnotto Shop Interiors, an architectural firm based in Treviso, Italy, to custom-design the spacious layout. From quality chairs and tables to white leather couches, all-Italian-made furnishings come together to create a luxurious yet casual shopping environment. Reminiscent of hot air balloons, oversized chandeliers are draped in cream-coloured fabric, evoking a magical quality in the space.
During the initial planning stages, Grasso envisioned a haven in which shoppers could browse clothing racks in the simple yet heightened atmospheres of the boutiques of his native country. He made these ideas a reality by turning to what his culture knows best: the multi-sensory experience.
First there are the sights. From casual to formal, a bevy of style seems to burst from the racks in a lively range of colours, patterns and textures that will leave any patron smiling. Colour-block dresses from Laura Biagiotti are the perfect companion to a mid-afternoon cocktail, while Miss Money Money silk floral jumpsuits and leather jackets speak to the young at heart. For those consumed by wanderlust, bold accessories, Ermanno Scervino handbags and Naga Panchami silk scarves are a must-have for any adventure. Leading the frock pack is a dynamic selection from List, a Roman brand that teems with subdued elegance and electric shocks of blue. Feminine satin dresses drenched in blush and salmon hues catch the eye, as Pollini heels and Stellante loafers grip the soul. For the confident businessman or individual searching to complement a special occasion, a vast assortment of men's clothing hits the sartorial spot. Have your pick of Fugàto ties; ready-to-wear suits from Thomas Mason and Sartorio Napoli by Kiton; and luxury dress shirts from Tessitura Monti and Testa. Casual items from Jeckerson jeans and La Martina, the original sport polo brand, complete a stylish, laid-back look.
Up next is sound and smell. Completing Grasso's original vision of a relaxing retail experience is the coffee and snack bar, where one can retreat for a cappuccino, healthful salad or scrumptious panini. As happy hour begins, the music picks up as guests nosh on finger foods and sip on refreshing aperitifs and Prosecco. As for touch, Grasso challenges the popular yet detached method of online shopping by ensuring that his guests experience a serene atmosphere without intimidation or pressure. Professional personal shoppers keep their distance as lingering shoppers freely caress luxurious silks, suede and leather.
While Grasso stands at the helm of his experiential boutique, he insists that the heart and soul of That's Italy is Maestro Sarto Italo Buttafoco. "When he saw the concept of That's Italy, he fell in love and wanted to be part of it," explains Grasso. Buttafoco has applied his masterful tailoring skills in Toronto for decades, having graduated from La Moda Maschile in Rome in 1959. He continues to carry his diploma in his pocket. "I'm very proud he came on-board with us," says Grasso with a smile. "Apart from his talent, his first name is so fitting. He belongs here." The in-house service, a rare yet integral key to creating a custom-tailored suit, sets That's Italy apart from the rest. "It's about wearing the clothes instead of the clothes wearing you," explains Grasso.
To complement Buttafoco's immeasurable skill, That's Italy boasts a grand selection of suits that range from $1,300 to $22,000. The store carries a collection of 10 exclusive fabrics from Ermenegildo Zegna, enabling gentlemen to walk out of the store with looks worthy of the runway.
With hopes of soon expanding his concept in Toronto, Vancouver and Montreal, Grasso is setting fire to a new understanding of fashion in Canada. But for him, it's about giving clients the right pieces that immediately boost their confidence. "I think it would be nice if you could feel that every day."
3590 Rutherford Road, Unit 12, Vaughan, Ont.
(905) 238-3047