Thom Laurence: British Couture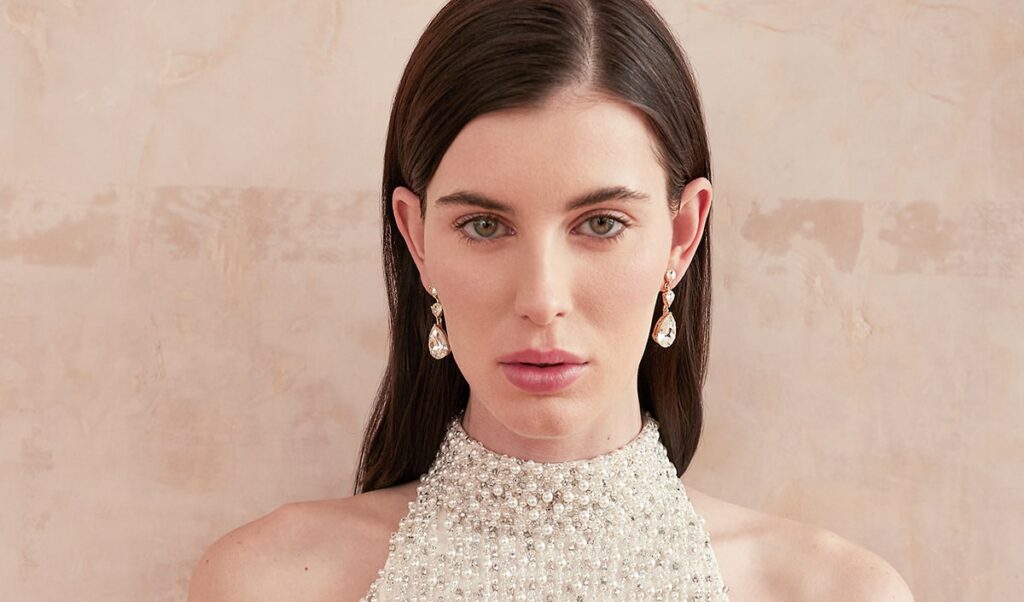 Meet the man behind Thom Laurence, a luxury British brand renowned for producing designs that are both contemporary and timeless.
You know the type: a handsome, 20-something man walking confidently down the streets of London wearing a grey, oversized T-shirt, black jeans and black Saint Laurent boots. But what distinguishes this particular man is what can't be seen — a keen eye for elegance, sophisticated design and the feminine form. Oh, and his two walking partners, the working cocker spaniels, Polo and Otis.
Tom Clark, the couture designer, recently marked the launch of the Spring-Summer 2022 collection under his label, Thom Laurence. Thom Laurence is the realization of Clark's vision to create a couture label that produces unique designs that are both elegant and timeless and constructed to the highest standards of craftsmanship.
Clark, who was born and raised in the United Kingdom, assumes a broad lens to design and finds inspiration from multiple different angles — even those that are not immediately obvious to the casual observer. As he explains, "Let's say I was walking the dogs, and I quite liked the look of some flowers. I'd take a photo, hand it over to one of my embroidery designers, and we'll create a full embroidery out of it." These whimsical details, which are just as likely to delight Polo and Otis as they are Thom Laurence's target audience, are peppered throughout Thom Laurence's Spring- Summer 2022 collection, which features such materials as crystals, sequins, pearls and feathers.
Despite his early successes in fashion, Clark initially wanted to be a stockbroker. However, and fortunately for the fashion world, Clark realized that a profession in finance was not the romantic life he was searching for after paying a visit to a trading firm. After that visit, Clark leaned into his passion: "I have always loved the process that goes into creating fashion articles."
Clark has always believed it to be more important to learn in the real world than at college and, as a result, he did not pursue a formal education in fashion. Instead, Clark learned craftsmanship and creativity by interning at one of London's most celebrated couturiers, Bruce Oldfield, and on London's Savile Row, the world capital for men's bespoke tailoring.
In this way, Clark's training in fashion is indelibly tied to London. Naturally, Thom Laurence emphasizes the fact that every piece is handmade in London. But beyond even that, its designs are very much informed by the strolls of a 20-something man down the streets of London with his two cocker spaniels. As Clark explains, "I think, for me, a brand has always got to be connected to a place, and, for me, that's London. It's the capital of the U.K. Chanel and Dior have Paris. If you're making it in-house, it helps protect your intellectual property as a brand, as well as heightens the craftsmanship and quality. The main thing really is the human touch and human connection to what goes into that product. I think if it doesn't have that human connection, it loses that luxury part of the product."
Clark's ambitions for Thom Laurence include expanding the brand into different markets across the globe and creating a flagship boutique in London, enhancing the "human connection" he speaks of. With each collection shown seasonally for Spring-Summer and Autumn-Winter through private showrooms and trunk shows based in London, a high level of customer service will be offered to each client, ranging from home visitations around the world to private viewing experiences.
Clark sees himself mainly as a creative director for his brand and has learned the hard way that you can't do everything yourself. "You have to start delegating different roles to different people." He takes inspiration from fashion leaders, such as Tom Ford: "What he did at Gucci, turning the brand around from Dawn Mello … to his provocative marketing campaigns."
It comes as no surprise that a mutual muse for Ford and Clark is Bianca Jagger. It's items like Jagger's YSL smoking jacket she wore on her wedding day or Jacqueline de Ribes' quintessential Parisian elegance that inspired Clark's collection. "I think, for me, the women of today have so many different faces, and, with that, they all have their own femininity within them. They all have their own personal style, and, for me, it's not always the garments; the femininity has to come from the person, not generally what they're wearing."
At the moment, Clark is focusing on luxury womenswear, but naturally, with experience on Savile Row, one may ask if he would consider designing menswear. "Not at the moment, but never say never. If I were to do menswear, it would have to be a mixture of street style and Savile Row tailoring. So, completely different from what I'm doing at the moment."
What is an important fashion lesson that he's learned? Always staying true to himself. "Stay true to your vision even when not everybody agrees with you or sees it. Just stay true to your vision, and if you do, it'll pay off at the end."
To Clark, having a successful brand isn't the only thing that matters. For him, life is about being around the people you love. But that isn't to say that luxury doesn't figure into his vision of la dolce vita: "I would be lying if I said I didn't want a couple of luxuries in my life." Don't we all?