Lydia Fenet: From Deferential To Dynamic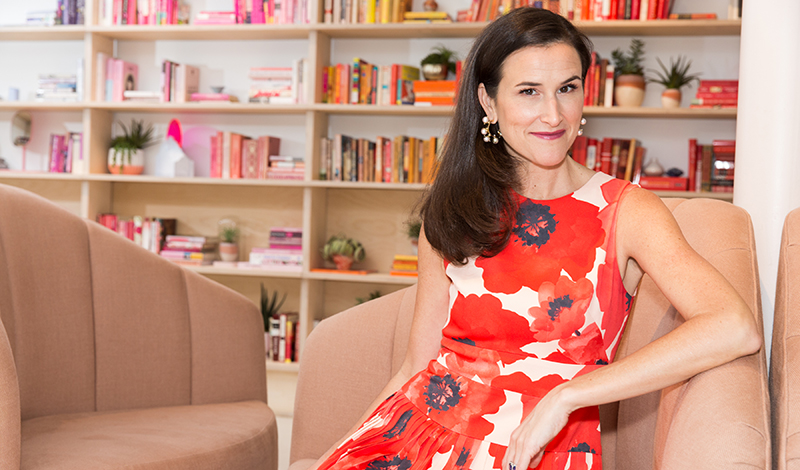 Empowerment begins with inner confidence and outward networking.
From time immemorial, women have been taught, especially in the workplace, to be deferential, which, by dictionary definition, means "yielding to the judgment or opinion of others." Historically, it has involved the quiet bending to the loudest or most powerful voice in the room, which, in most cases, has been male. The opposite of this behaviour is confidence, being sure of oneself — a certainty of mindset about one's abilities and capabilities.
For Lydia Fenet, managing director and global director of strategic partnerships for Christie's auction house, building confidence, even if it is "faking it until you make it," involves envisioning and writing down your personal plans and goals, and ultimately practising and vocalizing them, either with a friend or in front of a mirror.
"In the past, our society has taught women to behave in a certain way. Interestingly, it is usually the woman who gets up to pour the water for everyone else in a meeting, even if she is in a senior position. However, the dialogue is changing. What we are hearing and seeing now is, girls are strong; girls are powerful," Fenet says. "Confidence comes from believing in yourself; and confidence will come if you are secure in yourself. Dig deep, discover who you are and bring that to the table every time. Come to things as your authentic self."
Born in small-town Louisiana, Fenet is a highly successful benefit auctioneer and first-time author. Her book, The Most Powerful Woman in the Room Is You: Command an Audience and Sell Your Way to Success (Simon & Schuster, 2019), was touted in an April blog post by digital lifestyle brand PureWow as one of six new books New Yorkers will love. She has raised more than half a billion dollars for more than 400 non-profits worldwide.
After visiting New York several times while she was in high school, Fenet knew it was the city she wanted to live in "when she grew up."
Fenet studied history at Tennessee's Sewanee: The University of the South. But after reading an article about the auction world, her career path took a hard right, and she declared a major in art history. "There was something about the auction world that seemed so appealing to me," Fenet says. "I love art and I discovered art history during my college years. I just loved the idea of travelling for a job, meeting people who were at the top of their industry and had a voracious curiosity for art."
After declaring art as a second major, Fenet, through persistence and ingeniousness, secured two successive summer internships at Christie's. By the time she graduated in 1991, at the age of 21, Fenet was a permanent staff member at Christie's.
The key skills Fenet learned early in her career included the art of negotiating, a networking strategy to increase her footprint and help her succeed, and the importance of being an advocate for herself in the workplace. "Nobody is going to push the envelope and make things magically happen for you," she says. "Expecting someone to do so is one of the greatest pitfalls."
In her 10th year at Christie's, however, Fenet realized she was being wildly underpaid for her role, which forced her to do some serious soul searching. Faced with two choices — either find a way to stay with the company she loved or go somewhere else — she was pushed into action. "I went into my boss's office and told him I was leaving, even though I wasn't," she says. "I wanted to make sure I got his attention, that he realized it was time to pay me the money I deserved."
The anomaly of being a female auctioneer has changed dramatically over the past several decades. What was previously a male-dominated sector is now women-inclusive. In fact, Fenet, who owns between 10 and 15 gavels, says that when she is unavailable for an auction, she is often asked if there is another female auctioneer available. "It is nice to know that perceptions can change over time," Fenet says. "As a woman auctioneer, charm and femininity can be used in spades onstage. There is no need for me to go head-to-head with every guy in the room, like some of the male auctioneers do. That is not a dynamic I am comfortable with. Using positive energy to lift the crowd is a very feminine way of taking an auction," she says. "And the crowd responds very well to that approach. Embracing an approach that is supportive and affirming, rather than competitive, is something I have been able to change with the male auctioneers I teach."
Fenet, who says being an auctioneer is not for the faint of heart, begins each of her auctions with a symbolic ritual, one that has become her signature move. "At the beginning of each auction, I slam the gavel down so forcefully that audiences jump — it makes them take notice," she says. "I call it my 'Strike Method,' which is really about capturing the attention and imagination of the people in front of you."
"Strength Comes From Sharing Your Story In A Way That Is Helpful For Other People"
Knowing she had to advocate for herself throughout her career, Fenet has been a strong leader and supporter of women-focused networking, organizing sessions that delve not only into workplace issues, but also the everyday challenges in life. "Strength comes from sharing your story in a way that is helpful for other people," she says. "Frankly, that is why I wrote The Most Powerful Woman in the Room Is You. I felt it was incumbent on me to help young people in their 20s and 30s, to share my mistakes with them, as well as provide ideas and tools that will be helpful," Fenet says. "I want people to get out there and have the life they want. We already have the permission to go after our dreams in a big way. Use it."
The top performer in her field, Fenet sells some of the most fantastical experiences, ones that an individual could not access on their own. She has auctioned off such outsized experiences as dancing lessons with Madonna and dinner with Matt Damon.
With three young children under the age of seven — Beatrice, 6 ("She is a force; I feel like I am parenting myself half the time."); Henry, 5 ("A sweet little guy who loves playing with his Lego."); and Eloise, who is two and a half ("She is fearless, nothing stops her.") — life for husband, Chris, who works in private equity, and Fenet, who takes between 70 and 100 auctions a year, is all about a 10-balls-in-the-air juggling act. "My nights are definitely a little crazy trying to get homework done and the kids in bed before I have to go back out in the evenings," she says. "People ask me how long I am going to continue to do this kind of work, and I tell them, 'Until I don't love it anymore.'"
As she does in business, Fenet activates her wide network of support to effect the proverbial work-life balance. "Balance to me is really all about what you want out of life. If I find myself in a place where I am deeply unhappy with the way things are going, I self-correct. I call in reinforcements when I need them — my parents, sisters and brothers, in-laws," she says. "I really activate that family network and lean heavily on them. I am never afraid to ask for help. We as women do a disservice when we think we always have to be in control."
For Fenet, being the most powerful woman in the room means not seeking affirmation from other people — and doing what she wants in her life, because she wants to. "Being powerful also makes me feel I am in the right place, doing the right thing at the right time."
---