Elizabeth Waggett: Beyond the Boundaries of Language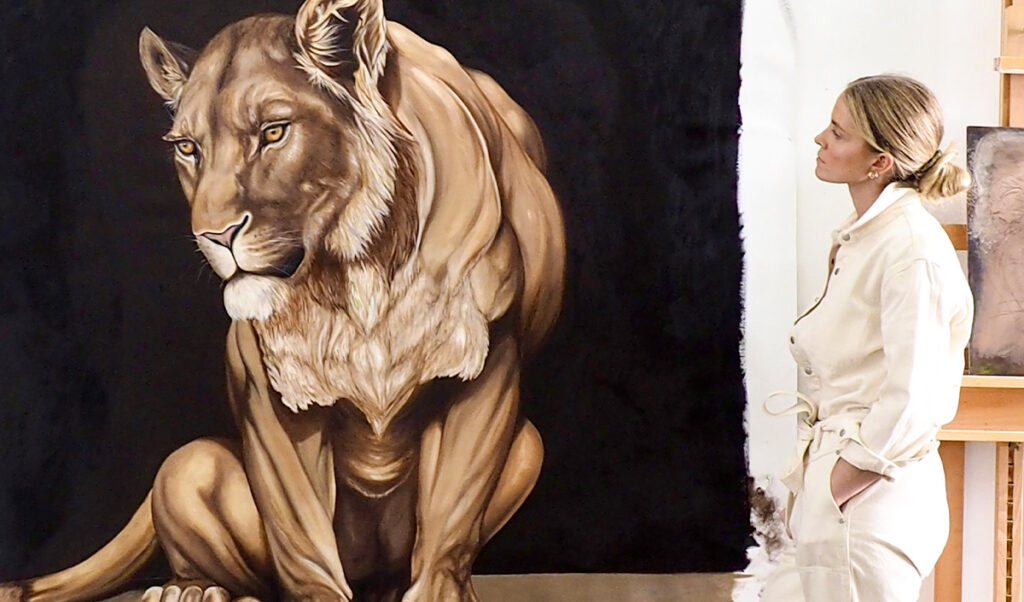 U.K.-born, U.S.-based artist Elizabeth Waggett opens up on the power of the natural world and her solo exhibition at Art Angels in Los Angeles.
Elizabeth Waggett has an artistic style she describes as "tight, precise and controlled." Bringing together monochromatic illustrations with striking splashes of gold, her pieces explore the traditional and contemporary and provide a social commentary on humanity's perception of value and worth.
At the time of writing, Waggett is exhibiting a selection of her work at the Los Angeles gallery Art Angels. Titled I Am Woman, Hear Me Roar, it's a collection of oil paintings and drawings founded on her feelings of fearlessness, authenticity and femininity.
The natural world is a recurring theme in Waggett's work, and that's true of this exhibition. Where one piece introduces the grace of a lioness, another champions a striking lobster against a background of 22-karat gold.
"I've always explored [animals] as vehicles for the way humans interact with the world," she says. "I use the lobster as a metaphor for the hypocrisy of humans. We value this creature as the most expensive item on a menu, but it used to be the food of peasantry. The value it has in our world isn't on your dinner plate. It's in the oceans where it's cleaning up a lot of our mess."
With qualities that include fear, power, beauty and instinct, big cats have become a key inspiration for Waggett. "There's a lot of symmetry and symbolism between big cats and women, my experience as a woman in the world, and how we're revered but also put on a pedestal for the wrong things, like beauty," she says.
As someone who recently became a mother herself, she talks about their fiercely protective maternal nature and how focusing on them is as educational as it is inspirational. "My subject matter has now become so inspiring that I'm learning from them. Lionesses take exactly what they need and don't apologize for it. They're fully and authentically themselves and, as women, we can learn a lot from that."
As well as the excitement that comes from seeing her work outside the usual setting of her studio, a particular highlight of the exhibition has been seeing how others react to it.
"So many women said how empowered they felt by the exhibition and certain pieces," she explains. "With these shows, it's important to articulate your work. But, for me, the medium of art goes beyond any kind of language. There are so many things within your pieces but when somebody comes and tells you something new, the idea was there, but maybe you've not articulated it yet."
"I'VE ALWAYS EXPLORED ANIMALS AS VEHICLES FOR THE WAY HUMANS INTERACT WITH THE WORLD."
Another thread that runs through Waggett's work is her use of gold. Because it is a natural material, it develops and changes over time, making it all the more alluring. "There's a beautiful juxtaposition between a drawing that's controlled and this gold leaf that's going to do its own thing," she continues. "I can't control it when it's on the canvas. It's going to react to the light in the way it wants to."
Waggett talks about how different it looks under natural light, synthetic light and a combination of the two. Even when driving past the gallery one evening after it closed, she shares how the material glowed at night. "Another material wouldn't do that. With the charcoal, which is very matte, the gold has its own shine."
Having lived and exhibited her work all over the world, Waggett has come a long way from her beginnings in Manchester, England. To those also looking to follow a career in the arts, she says, "Continue to explore and fail. Don't worry about what you're putting out there. There's no point in trying to do things perfectly before you've fully explored yourself."
Looking to the future, Waggett has a busy year lined up. As well as finishing her current Art Angels exhibition, she'll be hosting a show and discussion centred on the topic of women's empowerment in the fall at Soho House and will be showing her work at Art Basel in Switzerland and Art Basel Miami later this year.
elizabethwaggett.com
@elizabeth_waggett
INTERVIEW BY MARC CASTALDO