The Watermark Grand Cayman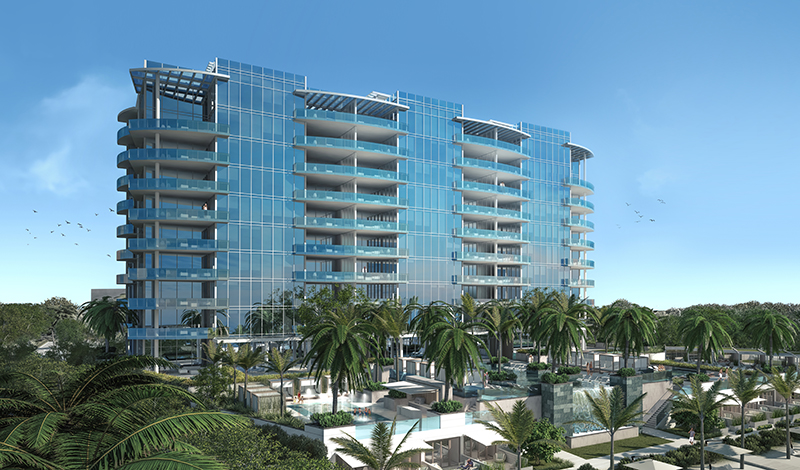 Exclusive Caribbean living, setting the new standard for oceanfront living.
Rarely does the opportunity to experience unparalleled privacy and luxurious living on one of the world's most acclaimed beaches present itself. This opportunity awaits at The Watermark Grand Cayman, a private and stunning enclave of only 54 generous beachfront residences developed by Fraser Wellon, one of the most admired and respected Caribbean developers, and his award-winning team.
Overlooking sparkling and tranquil waters, The Watermark is located on prime Seven Mile Beach, Grand Cayman. This coveted and highly desired stretch of powder-soft sand beach has received the prestigious honour of being named "The Caribbean's Best Beach" by Caribbean Travel and Life Magazine, on an island offering easy accessibility from both Europe and North America.
"In our 30 years of Caribbean development experience, The Watermark is our defining statement," says Fraser Wellon. "Its exquisite location provided us with a unique creative palette upon which to offer the finest combination of quality architecture and design. Its personalized bespoke services are destined to set a new standard for world-class oceanfront living by offering an exclusive and private residential environment with five-star, resort-style amenities and services, tailored to any individual desire to enhance the experience and ambience."
Residences at The Watermark are designed as the very definition of subtle elegance and opulence, with distinctive features and the rare quality of fine craftsmanship throughout. Elegantly appointed and graciously inviting, homes are designed to suit any lifestyle with cutting-edge architecture and bespoke interior design.
The residences also feature glass-window walls, which embrace the natural beauty of the Caribbean surroundings through glorious and forever views of water, beach and sky. The ultimate result are homes which offer the finest in elegant living, while creating enchanting environments of peace, beauty, style and sophistication.
Amenities at The Watermark are designed for both those who desire privacy and exclusivity or those who enjoy a more socially active lifestyle. Exquisite pools, private beachfront cabanas, a screening room, library lounge, oceanfront owner's conservatory with wine storage, full bar and chef 's kitchen and a private dining room are offered within an exclusive community that enjoys the fi nest life has to offer.
The 24-7 valet, concierge and bespoke personal services are delivered to the highest standards with impeccable style and attention to detail, which will always exceed expectations. For healthy mind and body, indulge in supreme style within the exclusive elegance of the full-service spa and state-of-the-art fitness facilities. With private training and treatment rooms offering a wide variety of personalized programs, The Watermark's superb facilities will stimulate the body, energize the mind and nourish the soul.
With a fine-dining restaurant and stylish beachfront lounge, The Watermark will be an environment offering an intimate atmosphere of chic hospitality and world-class ambience. An exciting selection of refreshments and exotic cocktails are served daily, and diverse chef-inspired menus create evenings of a wide variety of gourmand experiences to please the most discerning palates.
The Watermark's personal and hospitality services will anticipate and deliver on every desire and individual requirement, providing the ultimate lifestyle experience.
"In every way, residents at The Watermark will embrace and enjoy effortless living," says Wellon. "That feeling inspired our creativity throughout every aspect of this truly remarkable collection of homes and the services that will be available."
The Watermark will attract the discerning homeowner who appreciates the finest in quality by which to live life to the fullest. Here, paradise is found with the ultimate in exclusive Caribbean living.
From its design, amenities, features, quality and exclusivity, The Watermark offers unrivalled personal services and a suite of unequalled lifestyle options amid complete privacy. Richly deserved, The Watermark will rightfully reward a life without limits among grandeur that sets a new global standard in residential beachfront living.
---
Sales Inquiries 1-(345)-925-6404
info@thewatermarkcayman.com