Vivienne Poy – Everybody Has Water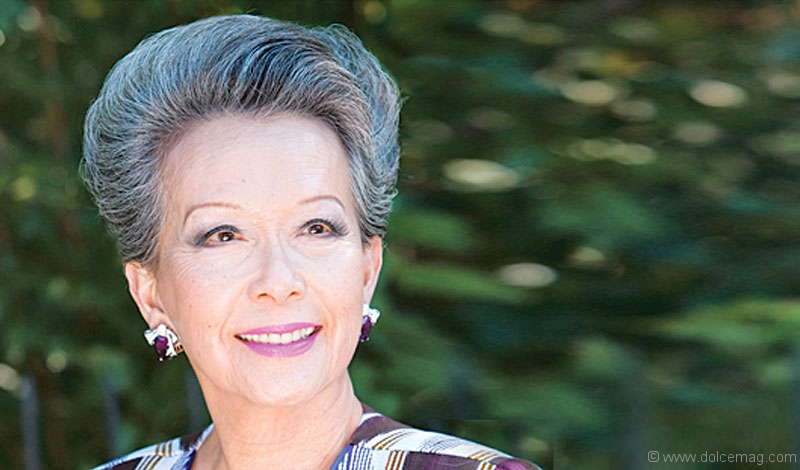 The unshakable Vivienne Poy reflects on a life of fashion, politics and a firm commitment to community service.
Vivienne Poy's father, the late, great businessman Richard Charles Lee, never wanted to be the wealthiest man in Hong Kong. "Actually, he was really upset with people who speculated on land and on buildings to make a quick profit," Poy recalls. Yes, his companies had to be in the black, but people were his priority. The Lees owned many buildings in the then-British colony. In the '60s, Poy explains, Hong Kong periodically faced water shortages. Because many high-rises pumped water up from the ground to the top, if you lived on higher floors the lack of pressure during leaner times meant you were forced to line up downstairs for a turn at the tap. "But in our buildings, water is first brought up to the roof, then it comes down," says Poy. "Everybody has water. That's the difference."
Today, there's ample evidence illustrating the advantages of this inherited people-first attitude in the office of Lee Tak Wai Holdings, the company Poy chairs. Dozens of photos of Poy with community groups, politicians and dignitaries, including the Dalai Lama, and numerous plaques, awards and framed commendations dominate the shelves and walls. She'll add another honour to her collection this April: the G. Raymond Chang Award at the seventh annual benefit gala for the University of the West Indies. The award recognizes leadership and a commitment to bettering communities in Canada and abroad — something Poy is no stranger to.
Over her 75 years, Poy has become a resolute trailblazer with seemingly unending success. She's launched a fashion company, Vivienne Poy Mode, became chancellor of the University of Toronto, authored half a dozen historical and academic books and became the first person of Asian descent to be a member of the Senate of Canada. She's also been a patron, chairwoman or board member of over 60 community endeavours, earning a deluge of praise, including a Queen Elizabeth II Diamond Jubilee Medal.
But despite all the lives she's touched, Poy remains reserved about her social standing. "If it's a well-recognized, well-established organization then I don't mind, because I've done community service ever since I can remember," she says of the near-annual ritual of award reception. But she makes it clear: "I don't do things to be known." Adding with a chuckle, "I actually expect to be forgotten."
Instead, Poy hopes others can learn from her example. "That to me is the best legacy: not to remember me, but that they have learned something that they will also pass on to future generations," she says. "It's the same when you bring up children and grandchildren, that they will have good human values."
It's these values that Poy looks for in the causes she supports. She uses the example of the Mon Sheong Foundation, a charitable organization that promotes Chinese culture through caring for the elderly and providing other community services. They came to Poy in need of financial support in the early '90s, when they operated out of a single building on D'Arcy Street in Toronto's Chinatown. Poy introduced them to corporate sponsors and wealthy patrons in the Chinese community who could sustain their work. She even launched the Cathay Ball for added fundraising. "This November will be the 25th anniversary," she says of the ball. Today, the foundation has grown to include locations in Richmond Hill and Scarborough. "Perhaps I made that little difference of just showing them the way. Otherwise, who knows? They may still be in Chinatown. One building."
Such is the power of the Vivienne Poy name. And it's not just her reputation that holds sway. Her salt-and-pepper hair rolls like a cresting wave, creating a fitting metaphor: despite her small stature and grandmotherly demeanour, Poy's unbreakable will makes her a force of nature. When I suggest this, she laughs and says, "Oh, absolutely." But where does this iron spirit come from? "Stubbornness," she laughs again. She explains her father was very much the same way. "He's the type who would go down with the ship," she says. "If he was the captain, he would go down. He would absolutely not budge. He's that type, and I'm the same."
What's important to Poy is never giving up on your values. "You have to have your principles in life," she explains. She doesn't appreciate those who waver. "I come across a lot of them," she adds. "People can change with the wind. I have no respect for people like that, because what's right has to be right. It's either right or it isn't right."
After Poy was selected as a senator in 1998, one of her big achievements was having May recognized as Asian Heritage Month. But arguably her most notable effort was tabling a bill to change a lyric in the Canadian national anthem from "in all thy sons command" to "in all of us command" to make it more inclusive for women. Twice she had the votes, but twice parliament prorogued. For critics, Poy argues that the lyric she's proposing was the original. "The original wording was 'us' and it was changed just around the First World War to get the young men to go to war," she explains. Other politicians have now taken up the charge and Poy is convinced it will eventually be changed. "It will have to happen, because the next generation, my grandchildren's generation, they won't accept it."
Vivienne Poy Mode was born out of the merger between Poy's love of art and her practicality. She painted all her life and wanted a career that was artistic but also a viable business. She already had a BA in history from McGill, which she earned after first moving to Canada in 1959, so she decided to take fashion arts at Seneca College. A life-long learner with a Ph.D., Poy was determined to absorb everything there was to know about fashion — designing, pattern -making, sewing. Friends pestered her: why go to school? Just start a company and hire people to do the work. "That's not the way I do things," she says. "I love learning how to do things well. That gives me good grounding." By knowing the ins and outs of every level of the business she would understand the process so she could better manage the company. This leadership style was a cornerstone that allowed the business to thrive for a decade and a half.
Poy's idea of the good life is simple: being happy with the friends and family around you. But it also means being at peace with yourself. When you don't have that peace, it shows. You look at a person, she explains, and you can see it in their eyes. "They may be smiling at you, but you know. You know that deep down inside that is not a good person," she says. "I can always tell. To me, if there is a kindness in my eyes then that's good, and I'm at peace. You don't need a lot of material things around you. You don't need it. Nobody needs it."
She believes too many people forget that we enter this world empty-handed and we exit the same. "Whatever we have, monetary-wise, if we don't use it properly then it's useless," she adds. "I always think that if money is just accumulated and you don't use it for the good of others it's not necessary. It's not good for anybody."
It should flow down to others, like water in a properly built tower. And with Poy, no one goes thirsty.
Photo Courtesy of Vivienne Poy