Elo – Addressing the Supercar in the Room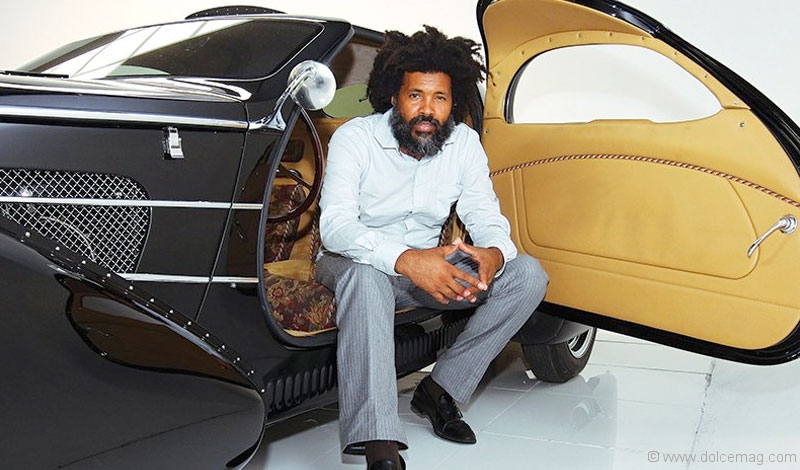 A British car collector launches a novel gallery/dining concept that combines automotive art and creative cuisine in Miami.
The customs officer looked suspiciously at the orange and blue tractor. "'What is this thing? Why do you have Lamborghini on this tractor?'" recounts Elo, the British automotive collector who goes by the simple single name. The founder of England's London Motor Museum was shipping a selection of his near- 250-vehicle collection to the U.S. for his latest business venture, but he'd hit a roadblock. "I'm like, 'It's a Lamborghini tractor.' He's like, 'Lamborghini doesn't make tractors.' I'm like, 'Sir, yes they do.'" Elo gave the Coles Notes of the Italian sports car manufacturer's history, explaining how Lamborghini made farming machinery long before they made track-devouring exotics. "I had to educate the customs officers here in Miami because they were going to impound it, thinking I had a fake tractor that was representing the brand in the wrong way," he adds with a chuckle.
Today, Elo can laugh off this minor speed bump — education, after all, is a major part of his new automotive gallery-meets-dining concept, Miami Supercar Rooms. Based in the trendy Wynwood art district, the 15,000-square-foot private members' club combines a celebrated collection of iconic, vintage and custom cars with exclusive gourmet dining. For $3,000, guests purchase a "pod" for the evening, where they enjoy a five-course meal alongside a legendary mechanical stead, including such rarities as a 1955 Mercedes-Benz 300 SL Gullwing, a 1937 Delahaye Bugnaughty, a 1961 Ferrari 196 SP race car, a one-of-a-kind derivative of the 1935 Bugatti "Atlantic" known as the "Pacific" and, of course, the orange-and-blue 1953 Lamborghini tractor, the only one in America and one of only three remaining in the world.
Each pod also comes with its own associate. The associate facilitates the evening and answers any questions about the car — where it was built, how it was built, why certain aspects of the car look the way they do and any other historical details that make the car unique. You can even sit in the car and start it up. It all culminates in what Elo describes as "pure automotive bliss," a once-in-a-lifetime experience with a unicorn of the automotive world.
"Where else do you ever get to sit in a 1955 Mercedes? Where would I ever get to sit in a 1935 Delahaye? Where else would I get to sit in a 1932 Rolls Royce? And these things make the experience ever so amazing," Elo says. "Like I told a gentleman the other day, we're not selling dinner for $3,000. What we're selling is the experience — the experience of being knowledgeable about this particular classic car."
Every month, Miami Supercar Rooms partners with local restaurants, bringing in some of the best chefs the city has to offer. "We believe everybody is a master of their own craft," Elo explains. They wanted to give those craftsmen the ability to be creative and customize a menu that matches the prominence of the cars on display. "You could go to [the chef's] restaurant tomorrow, you won't buy that, because he'll go back to his set menu. And that's what we sell here. We sell that uniqueness of the experience," says Elo.
The seeds of Miami Supercar Rooms were planted on Valentine's Day 2014. Elo and his wife decided to host a dining event at their museum, inviting a chef friend to whip up a special menu for 12 tables. After its announcement, they sold out in 30 minutes. "We go, whoa, people like the idea of siting by a nice classic Bugatti, Ferrari or whatever and being able to dine," Elo explains. This thought began seeping into his experience of dining in London. "Being in London, there's no parking at the restaurant. You gotta park two miles away," Elo says. "I used to sweat all the time: what's happening to my car?" He would fake bathroom breaks just to run out and make sure everything was fine with his vehicle. "I said to my wife, 'The day someone makes a restaurant you can drive your car in and have it parked right next to your table, I'm in.'" When the family was vacationing in Miami, they found the perfect location to launch this concept.
When asked where this love for cars comes from, Elo explains he's been enamoured by beautiful machines for as long as he can remember. As a kid, his parents bought him a little pedal car that he'd ride from dawn 'til dusk. "I'd do everything in that car until I was tired and I'd go to bed," he recalls. When he got to the age where he could drive, he purchased his first car, a Volkswagen Golf. He quickly upgraded to a Saab 900, a hand-me-down from his uncle, and the collection grew from there. By the age of 25 he owned 30 cars. When he was 30: 66 cars.
But he quickly ran out of places to park his vehicles and had to store them in a nearby warehouse. When his friend's parents would come over, he was always excited to show off his collection. A friend's dad proclaimed, "'Man, it's like a museum.'" That idea became stuck in his head. After a career in modelling and an attempt at launching a fashion company, eventually Elo gave in to his passion and opened the London Motor Museum. Today it's a British institution housing 247 different cars, from legendary muscle cars such as a 1967 Ford Mustang Shelby GT500 to iconic film and television cars such as the Batmobile from both the 1966 TV series and 1989's Batman.
"I am a complete and absolute lover of shapes and design. I look at the art of the car, not the performance of a car," he says. He speaks of "road art" with the passion of a tried-and-true aficionado, recounting stories of the automotive past, extolling the chrome and fins and head-snapping shape of cars from the '50s. "In the '70s, with the invention of plastic, the world changed. It became accountants that decided how a car looked," he says. "With the invention of plastic we lost craftsmen. The craft of the automotive world died." Today, he still hosts seminars about the art behind the car. "I make people see what's so beautiful in old cars," he explains.
With Miami Supercar Rooms, he's hoping an American audience will see that same beauty. He's giving out 300 free memberships to Miami Supercar Rooms under the condition that prospects pass a test demonstrating a certain level of car knowledge. "For all those that want to be members, the first thing we do is we send them a little quiz and ask them little things and if they cannot tell me the difference between a Japanese car and an American car then there goes their membership, they lost it," he says.
During the day, members are free to use the space as a place of work, enjoy a drink from the open bar ("We are the only open-bar gallery there is in the U.S," he says) or just relax. For those who want to show off their prized automotive steed, Miami Supercar Rooms will also arrange to put that prized car on display. Elo explains that they already had a guest bring in his $1.5-million Porsche 918, while another rolled in with a Lamborghini Veneno, one of only three in the world.
"Like my friend said to me, 'You've got the only thing in the world where you can bring your car onto the dance floor,'" he chuckles.
And what more could a car lover want?
photos courtesy of Miami Supercar Rooms