Cosimo Mammoliti: The Maverick of Terroni Toronto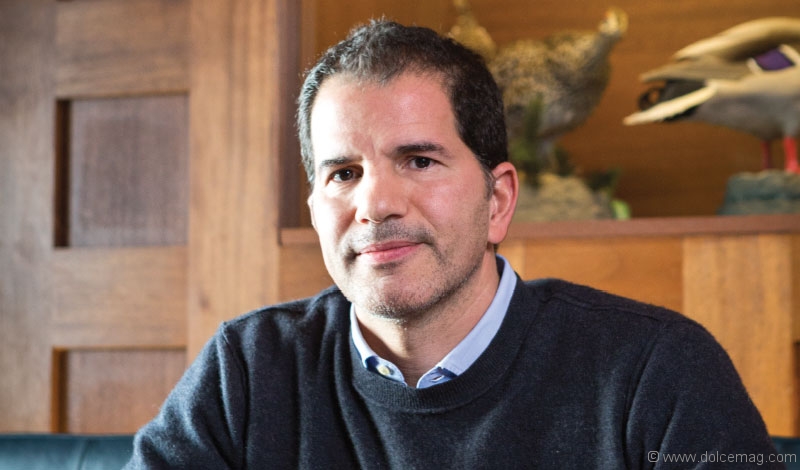 If one thing epitomizes Italian culture it's food and family. No one seems to know this better than Cosimo Mammoliti, the successful restaurateur who has crystallized that country's gastronomic culture in this city's beloved eateries Terroni, La Bettola di Terroni, Bar Centrale and Sud Forno.
It's been said that the heart of Italy is family, its soul is the kitchen and its passion is its people's love for food. This is the very essence of Cosimo Mammoliti, a restaurateur of heart, passion and soul who personifies all things Italian. Mammoliti wears his heritage and his passion proudly, traits reflected by his Terroni restaurants and Sud Forno bakery, soon to open its second location this spring.
Perhaps nowhere in the world provides us with the stunning visuals of the southern region of Italy. Charming villas, rolling hills, vineyards, olive trees, lakes and rivers combine to create a pleasing palette for any eye. Tuscany embodies the best of the sights, scents and romance of the Italian countryside.
To spend an evening at Terroni is to embrace the unmistakable magic of an Italian hillside. The murmur of laughter and conversation from family and friends enjoying good food, wine, and true warmth and companionship — that is what sets the Italian feeling apart from that of the rest of the world, and that is what Mammoliti has created with Terroni: the most authentic Italian eating experience possible. It is real, it is rustic, it is romantic and even the name reflects its simple origins; loosely translated, Terroni means 'peasant.'
"Italian traditions and values are a great balance and I've always been very passionate about keeping things traditional," says Mammoliti, a man who normally does not speak to the press, yet granted Dolce an exclusive interview. "My Italian heritage is my identity as a restaurateur and I have stuck with that from day one. Using only the best products, bringing everything in from Italy, like chocolate, meats, wines, flours, tomatoes, olive oils … it is what sets us apart and has been the foundation of our success."
From starting with a four-stool panini shop on a suspect stretch of Queen Street West in 1992, Mammoliti now has six restaurants in Toronto, three of them Terronis, with his other ventures including a bakery, a wine agency and two Terronis in Los Angeles. He employs more than 550 people in Toronto and another 125 in Los Angeles — an impressive accomplishment from a man who left school early and started in the business as a lowly dishwasher and later, a bar runner.
"The classroom and I never did get along but when I left school my father told me to quickly get to work, that there was not going to be any free ride," recalls Mammoliti. "In 1985 I found a job as a bar runner and I worked like crazy and learned every day. But then every summer I spent in Italy, immersing myself in the Italian culture. I not only fell in love with Italy but I met my wife Elena there as well."
There were humble beginnings with his first shop on Queen Street West, but it was the right place at the right time, just as Queen West began its cultural evolution.
"Italian traditions and values are a great balance and I've always been very passionate about keeping things traditional"
"We eventually grew to 28 seats and we started making pizzas by hand and got a liquor licence," says Mammoliti. "We began to grow, but we were careful to grow organically, and slowly, and with friends. We made everything by hand, we began making pastas and we began to attract a stable and faithful customer base and reputation for quality. We moved to a 60-seat restaurant and thought people would just trickle in, but the first day we got absolutely killed, we were so busy we had to close. We had to hire more people and I think that was an important learning experience."
Leveraging its reputation for authenticity and quality, growth was steady, constant, but extremely calculated. "I never took anything for granted in our growth," says Mammoliti. "I'd think about everything, forever, before making another move. I thought the Yonge and Balmoral location would be perfect, and it was. That location gave us both lunch and dinner, our first full-day business — a very big step in our growth."
Those early years were exciting times for Mammoliti and his staff, who would wake early to go to the Ontario Food Terminal to hand-select their vegetables, return to the restaurant to make everything and work in the kitchen to deliver meals just as their customers expected, with an unsurpassed attention to detail. "I actually miss working in the kitchen," says Mammoliti. "It's such a rush and you create such a special bond working with everyone in a kitchen. Having great people around me has been a big part of my success."
Beyond the high quality of the food and wine, the look and feel of Mammoliti's establishments is another difference-maker. There is a definitive vibe to Terroni, from the smells, lighting and colours to the overall design.
"In the beginning on Queen Street, we used anything you could find — chairs or tables from any old place," says Mammoliti. "Now we know what we want to create, and design is very important. A place where people can come in, relax, feel comfortable and at home. I'm very hands-on with my architect and my design artist. We do the best with our food and wine and it's just as important with the overall design and feel. And we don't just sit back, we're always looking at new ways to do new things."
A man of understated elegance and impeccable taste, from his cashmere cardigan down to his super-polished leather shoes, Mammoliti has a passionate attention to detail and thrives on consistency, one of the hallmarks of Terroni. Very few restaurants deliver as expected every time — each Terroni is just that restaurant and is just that good. Today, one of the most satisfying aspects of running a successful restaurant business for Mammoliti is the question of what's next, which finds its answer in the opportunities that continue to present themselves as his success continues to grow.
While his restaurant ventures are successful and his establishments always busy, Mammoliti never sits back. He is always moving forward, reflecting the Italian tradition of hard work.
"Exciting for me is finding new places and building it all up from scratch," says Mammoliti. "Sud Forno is a perfect example. It was supposed to just make bread, but it grew into others things like pizza and desserts and became a full Italian bakery, just a beautiful little jewelry box." A second location of Sud Forno will open in June, with 200 seats on two floors, table service and a more extensive menu.
An even more ambitious project is on the horizon as Mammoliti has become a joint venture partner with Eataly Toronto to open a 55,000-square-foot restaurant on Bloor Street in 2019. Beyond the success in business, there is a genuine warmth and humility to Cosimo Mammoliti. He and his wife are proud parents to four children now in their teens and early 20s, some of whom may also choose to enter the restaurant business because they so enjoy the warmth and atmosphere.
"Looking back, the balance in my life is what I am most proud of," says Mammoliti. "The restaurants were never 'chef-specific,' which allowed me to have other people come in [so I could] spend evenings with my family, the most valuable thing to me. The most successful thing to me is that I did not miss my kids growing up — that is incredible to me and I am so thankful for that."
A family-centred life is among the most admired Italian traits and Mammoliti points to his mother and father as providing the best guidance in his life. Rita and Vincenzo immigrated to Canada from San Giorgio Morgeto, Calabria, Italy. "The best advice I ever received is from my father, who was a carpenter. The advice is hard work, respect and being honest. He never sat me down to say these words to me, but these traits were personified by his actions, and that sticks with me the most."
After retirement Mammoliti's father would continue to work at Terroni, helping out, and his mother still takes the subway to Terroni every day where she has lunch, chats to customers and lends a hand where needed.
Mammoliti is also grateful for the support of his wife and siblings. Elena is Terroni's brand marketing director, Mammoliti's brother Vince is executive general manager and product development director, and his sister Anna is executive general manager and director of Cavinona, Terroni's own wine importing agency.
"I feel blessed more than anything else," says Mammoliti as he looks back on his career, which has spanned more than a quarter-century. "I know that I am extremely fortunate to have been dealt a good hand, and I know I'll only continue to do this as long as I'm having a good time."
Mammoliti is the proud continuation of the Italian traditions of food, family, friends and artistry, passed down through hundreds of generations. And in such good hands as Mammoliti's, these are time-honoured traditions future generations will enjoy and embrace for many years to come.
Warmth, food, wine and laughter are a recipe for a long, happy and loving life. A recipe served daily by Cosimo Mammoliti and his staff at Terroni and Sud Forno.
Viva Terroni! Viva Italia!
Photo by Jesse Milns / DYLAN + JENI