American Express's Black Card: Blackout on Bloor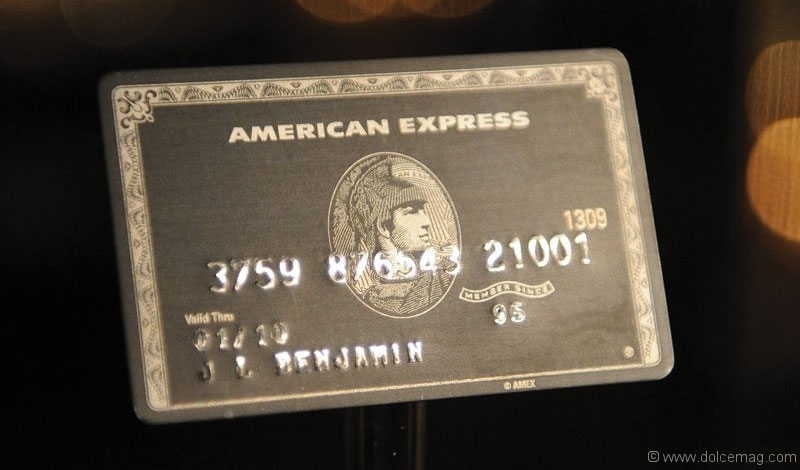 The glowing eyes of passing traffic illuminate Toronto's fashion mile, omitting the darkened storefronts that only hours ago were bustling with life. The business day is done, yet, between Avenue and Bay the shoppers stir. It's American Express's (AmEx) third annual Blackout on Bloor event and their illustrious Centurion Card members have come out to play.
"This is a very exciting event," says Tim Elgar, director of charge cards for American Express Canada, explaining how the private shopping affair, reserved exclusively for Centurion members, awards after-hours access at four of the city's most coveted boutiques: Louis Vuitton, Cartier, Hermès and Gucci. Valet is at the ready, champagne cascades, exquisite hors d'oeuvres are served, and handsomely attired personnel wait on cardholders hand-and-foot. Every guest is also given a special gift before leaving each shop. Gucci, for example, presented Guccissima leather card cases personalized with gold initials.
With no pre-set limit, the Centurion Card is a mark of affluence and social standing, simultaneously removing barriers and opening doors, granting cardholders perks such as hotel upgrades, bonus reward programs and access to airport lounges. There's something enigmatic about it. As Elgar notes, "We like to think about it as similar to carrying a private club membership in your wallet."
A rare beast of personal finance, the 'black card' is available by invitation only, requires a $5,000 initiation fee and $2,500 annual fee. And while AmEx won't disclose further qualifications, you can confidently assume it requires an exorbitant amount of income to even be considered. A fact made clear by the unabashed luxury on display at Blackout on Bloor.
"We reserve it exclusively for the top tier of our card member base here in Canada," says Elgar, describing the jet-black, hand-forged, engraved and embossed piece of titanium. "There's really nothing else like it on the planet."
The perks don't cease at the boutique. Centurion members have a personal concierge service at the ready for around-the-clock requests that range from the simple day-to-day, like ordering business cards, to the extraordinary. Elgar explains how one cardholder, for example, wished for a cast member of the Gone With the Wind musical to hand his wife flowers during a performance – the request was fulfilled. "We work very hard to understand each Centurion Card member at a very personal and meaningful level so that we can cater all our recommendations and the access we provide for them at an individual level."
As the shopping winds down, the Gatsbyesque evening fittingly flows to La Société for drinks in cosmopolitan style. Bottles of bubbly pop, freshly uncorked vintages breathe, and no one bats an eye. But why would they? Their black cards have it covered.