Todd English à la mode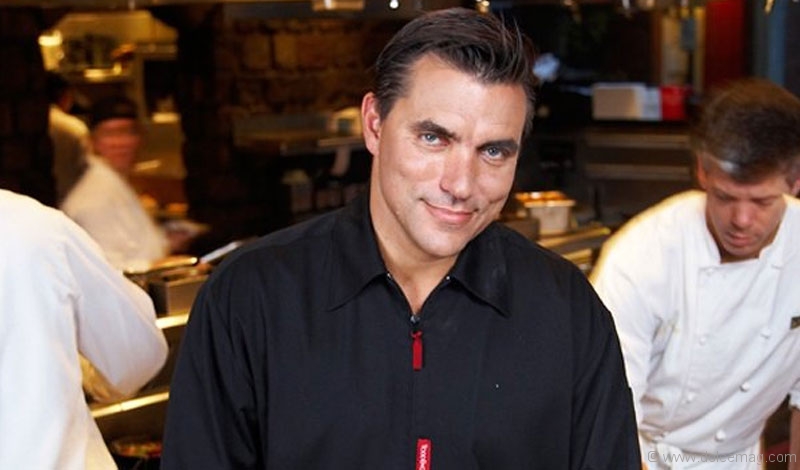 At some point or another, we all encounter a fork in the road. Todd English faced his at a tender age. Confronted by his two loves, baseball and cooking, English made a choice that altered the main course of his life. Tossing his bat to the side, he put on an apron. English's momentous decision to attend The Culinary Institute of America in 1980 set the foundation for his phenomenal success in the food industry. "I've always loved cooking. It was always in the back of my head," says the famous chef, whose stunning looks and teeming charm seem to unfairly complement his esteemed culinary skills.
Constantly under the media's magnifying glass, English recently made headlines for calling off his wedding to Erica Wang. She allegedly hit English with a metal wristwatch just days before the October ceremony. The immense fascination with English's private life is a cost that comes with his stratum of celebrity. But luckily it's not all bad. English's insurmountable success is something most chefs only dream of. Renowned for his award-winning restaurant empire, critically acclaimed cookbooks, and regular television appearances on Iron Chef USA, Top Chef and Food Trip with Todd English, it's evident that it took more than a dash of baking powder for this chef to rise to the top.
Growing up helping his Italian mother prepare traditional meals, English always felt comfortable in the kitchen. "Sunday suppers were a weekly affair that began with cooking in the kitchen early in the morning. I was always helping and paying attention. My first job was at a restaurant in [the U.S. state of] Georgia, where I started by busing tables at 14," says the restaurateur and father of three. By 20, he was playing college baseball in North Carolina. "After realizing that I most likely wasn't going pro, I started looking into pursuing cooking as a career," says English.
In the following years, English cultivated his culinary craft by studying, travelling, shadowing accomplished chefs and working. "Travelling the world really shaped my cooking over the years. Being able to see how different cultures eat and what different ingredients are used around the globe has taught me a lot," says English.
In 1989, he opened the renowned Olives in Charlestown, Massachusetts. The restaurant's unique Mediterranean-inspired cuisine garnered an astonishing amount of attention and was almost instantly voted Boston magazine's "Best New Restaurant." It wasn't long before English gained the credibility to expand his brand to New York, Las Vegas, Aspen, Colo., Washington and Tokyo.
Since the triumph of his first restaurant, the Todd English brand has skyrocketed; today, his kingdom of world-renowned restaurants spans from Hollywood all the way to Japan. It's not surprising that English's claim to fame has a zest. "Be passionate about what you do and make sure you surround yourself with talented people. And don't be afraid to experiment with flavours," says the chef, who loves developing new dishes. His most profound advice is perhaps what sets him apart from the rest. "Don't be afraid to take risks. And if you fail, don't be afraid to try again."  www.toddenglish.com