Enrico DiRisio: Serenity In Symmetry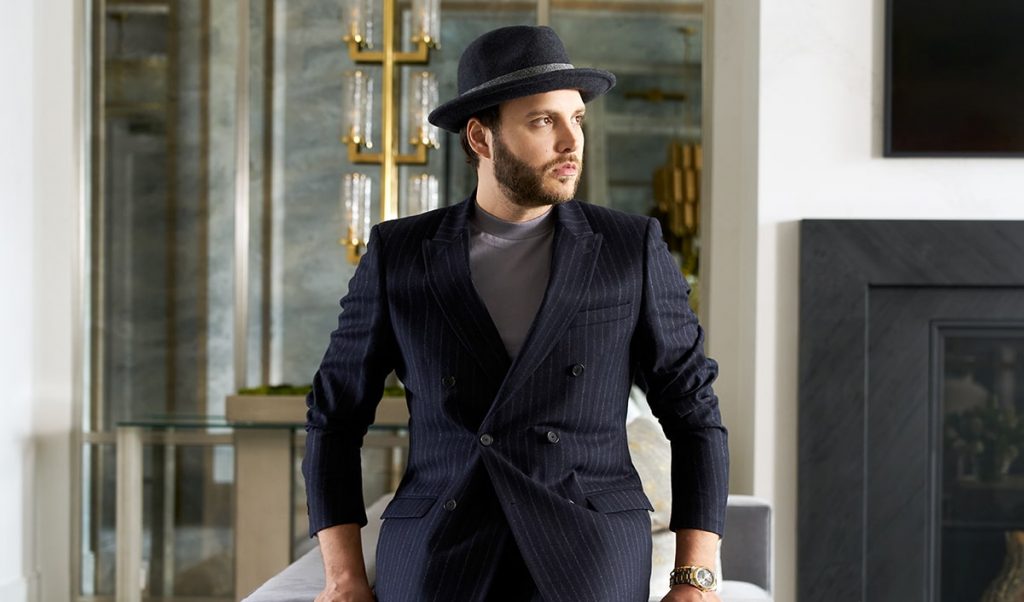 Niagara-based creative Enrico DiRisio on struggling with asymmetry, building trust in the world of interior design and marketing via word of mouth.
For many, growing up in the restaurant industry would inspire a career in food. For Enrico DiRisio, it offered an introduction to the world of interior design. "My grandfather came from Italy and started an Italian-style restaurant here," he says. "My parents got involved and were passionate about the restaurant business. They had a restaurant for 40 years and renovated it multiple times, which was the start of getting into that design mindset."
After working on the restaurant, DiRisio's parents embarked on a number of renovation projects. He watched his father, someone he describes as "very hands-on, who loved getting into electricals and plumbing," work with his mother's keen eye for décor and design to create home after home. With each new project, DiRisio describes how he dealt with the technical details and became more involved in the construction process, moving from picking finishes for rooms to working with the architect on the layouts and floor plans.
"Building Relationships With people Who have been Doing it for A long time is So important. That's where I've learned The most"
This natural progression to the world of interiors reflects his training. Instead of studying the craft at school, everything he knows about interior design is founded on first-hand experience. "Doing this for over 10 years, I've realized that interior design and design are a form of art," he continues. "As much as you can educate yourself and learn the tools that you need in school, it's something people are naturally born or gifted with."
When it comes to offering advice to those hoping to get into the interior design field, DiRisio advises people to get as much handson experience as they can. Whether that's working in a fabric mill, tile store or directly onsite, it's a chance to see if it's something you're passionate about and can be combined with the foundational skills a school might provide. "Building relationships with people who have been doing it for a long time is so important. That's where I've learned the most," DiRisio says. "Standing outside and bringing coffee to the bricklayer or masons, talking to them about their work and understanding the small details about the different styles of mortar between the bricks."
Today, DiRisio is putting all of his knowledge into practice daily. As well as working on side projects with clients in the Niagara area, he works for Mountainview Building Group, one of the region's largest homebuilders. "I was still working in the restaurant, and my name was passed onto someone at the company," he says. "They reached out to me, we did an interview and, 10 years later, I've done a lot of design work for them."
As someone who doesn't actively share their work on social media or have a website that promotes his portfolio, DiRisio has managed to jump from project to project on the back of compliments delivered via word of mouth. It's something that's seen him work on a number of projects within the Niagara, Ont., area and turn clients into people he'd consider friends. "Trust is a big word when it comes to designing someone's home," he explains. "I've been able to gain a lot of trust in clients by feeling what the style of their home relates to. If it's a new build, it's about working from the ground up. If it's a renovation, it's about taking what's there and bringing it back to its original place, in a modern way."
"It's about Trying things Out to see if They work, but Also having Things that Make you feel Happy"
It's this intuitiveness and awareness of surroundings that drive a lot of his process. His favourite designers might be Frank Lloyd Wright and Ralph Lauren, but he's quick to admit he can draw inspiration from anything.
Most recently, DiRisio has completed a project of a 10,000-square-foot home, nestled on the shoreline of the Niagara River. The home, which features four bedrooms, nine bathrooms, gym, spa, and hair salon in the lower level, was collaboratively completed alongside architectural designer Santy Yeh, and contractor Rocco Strazzella. Throughout the home, DiRisio incorporated touches of Art Deco design, which balanced the clean architectural lines of the home.
When it comes to actually putting the intricacies of a space together, DiRisio shares how it's a process of assembling multiple elements and moving parts. "For me, it's about balance and scale. It's about looking at the space and seeing what the focal point is and what creates the attention in a room."
It's a process informed by what he does at home, saying his own space is one where he can experiment. "It's about trying things out to see if they work, but also having things that make you feel happy," he says, describing the objects surrounding him. "That could be things I've found at a flea market or while travelling, something I've seen in a store that I love or an antique piece that I received from my grandmother that's in front of me right now."
But, for all the different ways DiRisio has helped introduce the inspirations of his clients into their homes, there's one thread that runs through all of them: symmetry. "Asymmetry is very difficult for me," he says. "If there's something weighty on the right, there needs to be something weighty on the left. That's the tying string in all my designs, and people I've worked with over the years have said the same. There's something about symmetry in a room that also creates a calmness. If there's a balance of weight, colour and texture, there's a sense of calm. Most of the time, you don't notice it, but you can feel it."
Cabinetry/Millwork by Thorpe www.thorpeconcepts.com
Furniture by The Furniture Gallery www.furnituregallery.com
Photography by Patrick Biller www.patrickbiller.com
Styling by Me & Mo Creative info@meandmocreative.ca