Patrick van der Vorst, the Art of Investing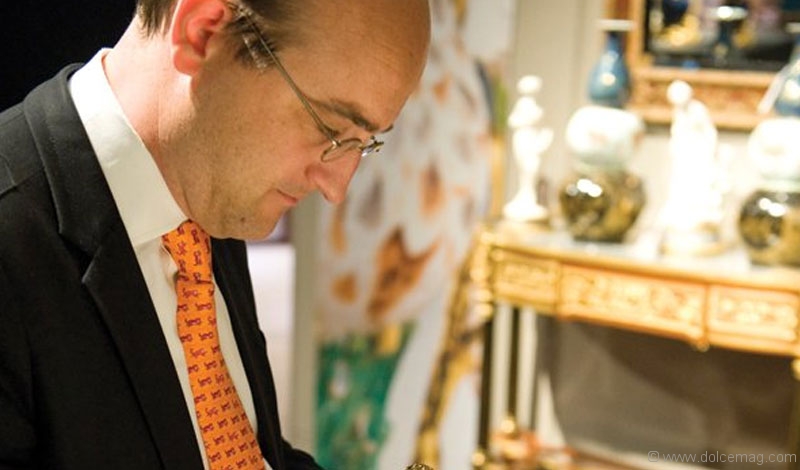 What sells well at the moment?
Despite the overall economic downturn, some areas of the art market are performing extremely well. This has come as a surprise to many people, as usually the art market suffers during times of economic decline. This recession, however, has seen consumers seeking refuge in luxury items and brands, gold and expensive works of art, as these are now regarded as new commodities and 'safe' alternative investments. The strongest segment in the current art market is Chinese works of art. You might probably have heard about the 16 inches yang cai vase with famille rose decoration which was discovered in the U.K. and recently sold for £43 million ($68 million Cdn) in a local salesroom just outside London at a provincial auctioneer. At ValueMyStuff.com, we have seen a major surge in the number of valuation requests for Chinese ceramics and works of art, with people dreaming of discovering the next £40 million vase in their attic. Bear in mind that the most successful porcelains are the ones specifically made for the Chinese market, rather than export porcelain meant for the West during the 17th and 18th centuries. Usually the art market follows the emerging economies, and after the rise of Russia 10 years ago, and the craze for its art that followed, the next collectable areas in line are Middle Eastern and Indian art, where we already see prices going up dramatically. All the results in these areas have been eclipsed, however, by the success of the contemporary art market, which is incredibly strong at the moment. With record-breaking prices being achieved continuously in contemporary art, it is still an opportune time to step into this market: buy young artists, do your research, and get well advised. Keeping that in mind, you can't go too wrong, and of course, you will have the pleasure to have a lovely work of art to enjoy in your own home!
What to Buy?
If you want to buy long-term and not make a quick return on investment, buy against the market! With top prices still being achieved for the very best of antiques, the whole middle and lower market for antiques has effectively collapsed. There are no young buyers stepping into this market, and established collectors are holding out for only the very best, rare pieces. Very few young people still want a nice piece of silver or a lovely English mahogany set of dining chairs. Hence, the prices are rock bottom at the moment, and it is a very good time to step into all these traditional collecting categories such as antique furniture, silver and ceramics. For example, you could invest about $500 in a lovely 18th century coffee pot with good hallmarks on it (eight years ago, something like that would have been worth $1,200). These markets are always cyclical, so the interest and taste for these items will certainly return and revive over the next few years.
Those interested in renewing their interiors should consider purchasing design furniture. It's an area that has seen a major surge in interest five years ago, and now the market is slightly saturated with many pieces being offered. As the market can only absorb so many, quite a few very interesting pieces of design furniture can slip through the net for relatively modest prices.
Where to Buy?
The salesroom is always a good place to start looking. Auctions are great places to train your eye, as one can feel the objects, touch them and inspect them up close. Try your local fairs, or even browse the Internet. You might pick up an interesting piece for a couple of hundred dollars at a local auction room or regional fair. In my view, auctions are always the most objective of places where items are being offered, as at the end of the day, the market will decide on the exact value and final hammer price. The most reliable auction houses will have their catalogues online, and often allow live bidding over the Internet, which makes the whole process accessible. It's quite important if you are consigning an item for sale, as it significantly contributes to the publicity. Online catalogues can be viewed all around the world, and many dealers check them regularly and buy items that they have spotted that way.
Interesting items can be found in both generalist and specialist sales. You may have more chance to find bargains in generalist sales, where all items might not always have been catalogued properly (it can be more time-consuming, though, as you will have to visit the exhibition and inspect all items there). If you are seeking a very specific, targeted item, than it might be worth checking the specialist sales.
What to Avoid?
▶  Generally speaking, don't buy anything in poor condition, unless it's an exceptional and rare item. The cost of having a piece of ceramic or furniture restored can be quite high, and you don't want to be caught out after you have purchased goods.
▶  Don't be naive and  buy anything from dealers or auction houses that don't seem reliable. Check out staff biographies, for example, or catalogues of their previous sales.
▶  Steer clear from buying high-value items over the Internet without having inspected them first-hand or advised by a reliable expert. If you do buy online, make sure the seller accepts returns, or has a proper refund policy. It's always good to ask for a second opinion before proceeding.
▶  In most cases with art, when things seem too good to be true, it's because they are too good to be true, and there is almost always an issue with the actual  object. Dig deep and investigate those cases to find out why the item is being cheaply offered.
When buying, what is important to look out for?
▶  Condition: When buying a work of art, the very first thing is to ask the auctioneer or dealer for a condition report. This will list if the item has been restored, has been cleaned, altered, etc. The condition has a direct effect on the price, and thus it is important to know exactly what has happened to the item over the years. Whilst for example, a restored break is entirely acceptable in ancient Roman marble sculptures, yet a few people will tolerate a 1970s piece of design furniture to be restored, and thus will impact the price dramatically.
▶  What is guaranteed? The important part of the description of any item in a catalogue is the  very first line, which is called the 'guarantee line.' It often appears in bold and is what the auctioneers guarantee about the item: date, manufacture/artist. It's the auctioneer's liability. Make sure the whole item is guaranteed, and not just parts of it. For example, an auction house might guarantee an 18th century mahogany chest of drawers, but not the gilt-bronze handles on it, and thus it is important to carefully understand what is guaranteed.
▶  Provenance: Is there any special provenance that comes with the piece? This can severely impact its value. The Duchess of Windsor's handkerchief sold for $4,000, whereas the intrinsic value would only be $10.
▶  When buying at auction, make sure you are aware of the commissions to pay on top of the hammer price.
Lastly, I would say that when you buy art, it is important not just to like the piece, but you have to be mad about it! You will go on a journey with any work of art that you buy and thus it is important you choose the right object to do it with. Happy hunting!
Guest Art Editor, Patrick van der Vorst
For more than a decade, Patrick van der Vorst served as a director and head of department for the famed auction house Sotheby's London. A force in the antique art world, he's now the founder of ValueMyStuff.com, an online antique appraisal service staffed with dozens of experts from various collecting fields who are trained to assess the value of art. Value My Stuff gained great prominence in 2010, when a deal was struck with two investors on the BBC version of Dragons' Den.
www.valuemystuff.com