Sylvia Mantella: A Couture Wonderland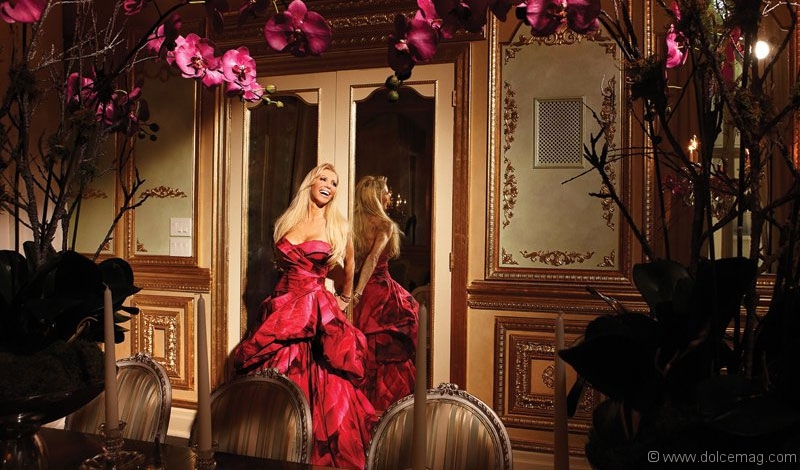 A regular at Toronto, New York and Paris fashion weeks, Sylvia Mantella compares runway shows to an electric feeling, making it clear that for her, fashion is more than just clothes. "Valentino, McQueen, and Balmain," Mantella says confidently, when asked about her favourite designers. "I love the art work. I love the work that it takes to make these pieces." Choosing Valentino Garavani for the timelessness, Alexander McQueen for the beauty, and Pierre Balmain for the edge, Mantella fills her closets with one-of-a-kind creations.
A self-described collector fighting the overused term 'fashionista' and the negative connotations that can coincide, Mantella pushes straight into the fantasy she calls home. Creating a wonderment of Mantella life, an Alice Adventure is painted, with larger-than-life design and eccentric furniture. Colours burst from every corner of her home, with fresh flowers, lush accessories, and well-dressed art.
Mantella gives meaning to every possession, owing her love of a Marilyn Monroe art piece to the history it holds. Her favourite photograph of the late actress was originally taken by celebrity photographer Bert Stern, one of the last to capture the beauty of Monroe. Stories blossom out of a cultured woman, as she pushes past her backyard's 200-year-old French door, and into her flourishing life.
"I have been collecting art for years." And by art she means anything worth looking at, be it an antique entrance, or the original works of the late Alexander McQueen. "It came very organically because I just love and appreciate the beauty in things, and even if it's not something that I would typically wear or I would typically buy, I can still appreciate the work and the complexity of something." Mantella stands statuesque on her grand staircase, wearing a custom floor-length skirt by Toronto designer Kim Ironmonger and bustier by David Fielden.
Dreaming up each room as if it were being brushed on a canvas, Mantella's home reflects her love of fashion in every way. From light dancing off crystal chandeliers, to a coquettish arrangement of handbags on her armoire, everything that breathes between the walls, floors, and ceilings have been carefully selected to complete a gallery worthy home.
Adding more colour to her life are her three talented children and husband Robert, president and CEO of Mantella Corporation, in which she acts as director of branding and image. "He is my biggest fan and he's a total protector," she says. Unveiling his wife as "brilliant, passionate, and magical," Robert admits that he wasn't fond of dresses and gowns until he saw his wife wearing them. "I'm often amazed when she appears from her dressing room."
According to Holt Renfrew stylist Patrice Favreau, Mantella posesses a flair that goes beyond fashion. When the two met six years ago, Favreau mentioned in passing that he had no plans for the holidays. "She said to me, 'No one should ever stay home alone for the Holidays,' and invited me over for Christmas dinner." He now considers himself an adoptive member of her family.
Some might say Mantella's life reads like a fairytale. "It isn't perfect, but it's perfect for me," she says, her full attention turning to her son as he enters the room. This idealistic world goes beyond their Thornhill, Ont.  home, and attempts to touch as many lives as possible. "I think it's just absurd to have such goodness in your life and not give back."
After viewing a PETA (People for the Ethical Treatment of Animals) video years ago, Mantella knew it was time to make meaningful alterations, one being her refusual to wear fur. "There are humane ways to do things in life. There are humane ways to treat people and there are humane ways to treat animals." With her heart tied to animal rights, Mantella and her husband transformed their Florida residence into a 20-acre zoo, where they house and care for exotic animals that were abused or neglected. With monkeys, lamas, wallabies, two-toed sloths, and more, the Mantellas have employed three full-time zookeepers for the natural property that is surrounded by trees and fresh bodies of water. This animal haven paints a raw portrait of the family. "You can't change the world, but you can change what you do, and sometimes that might make a difference."
When the storybook closes at the end of each day, Mantella believes that the reflection in the looking glass should be grand in more ways than one.