Stéphanie Coutas: Simply The Best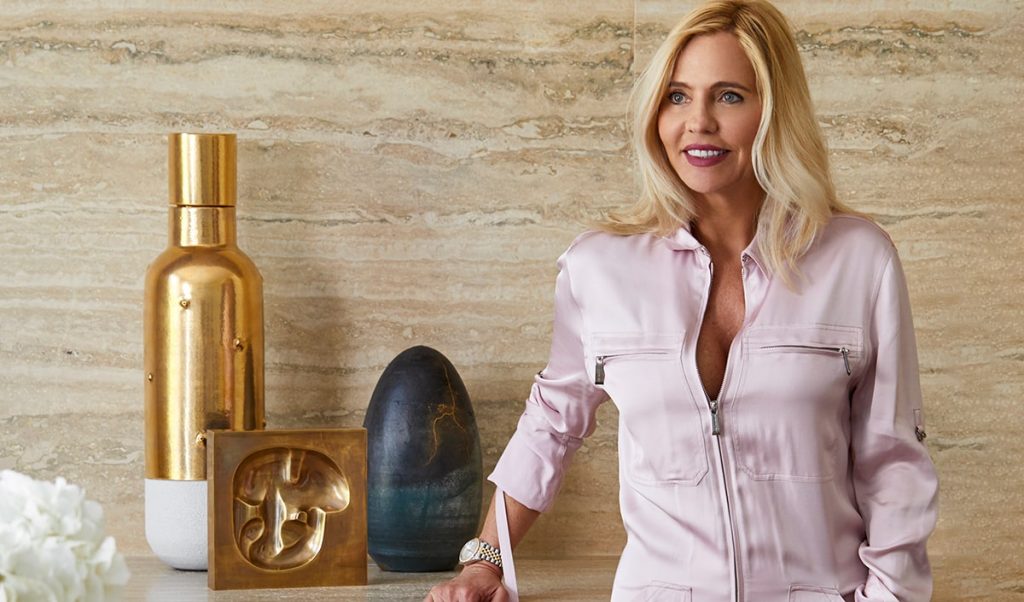 When you have a pied-à-terre in one of the loveliest areas in Paris, with a view of the Eiffel Tower, and you are looking to create a chic yet cozy home, then you turn to one of the leading interior designers in the world, Stéphanie Coutas.
The beautiful space is like something out of the movies — only it is the real deal. Steps from the Eiffel Tower on the famed Trocadéro, in the 16th arrondissement, the home is an homage to the owners' wholly contemporary spirit, featuring a view of the Eiffel Tower. In fact, Trocadéro offers some of the best views, as well as housing prestigious museums, splendid gardens and ornamental fountains. This is the place to go for a stroll in the City of Lights, and history buffs will be delighted to know that the name Trocadéro comes from a battle led by Napoleon in Spain in the early 1800s.
The 220-square-metre abode, belonging to two globetrotting art collectors who were looking to make the most of the gorgeous place, is not only memorable but, well, simply breathtaking. Understandably, the homeowners wanted only the best for their living quarters. And, so they turned to Stéphanie Coutas, one of the top interior designers in the world, whose agency of the same name consists of an international team of professionals. Architects, interior designers and decorators all work closely together with leading craftspeople and renowned artists. Apartment, pied-à-terre, penthouse, hotel, spa, restaurant — Coutas's agency has managed numerous international projects from the design to delivery, all to international acclaim.
Designing plush yet modern spaces, Coutas creates a fresh take on distinct heritage and culture, while subtly infusing her love of romanticism with unparalleled craftsmanship. Her work brings the neoclassical into the contemporary, emanating an enduring elegance. She expresses her talent through three cardinal values: elegance, joie de vivre and comfort. It all starts by sweating the small stuff. At every stage, the attention to detail is exceptional, and Coutas's desire to manage each phase of a project ensures its flawless completion. Every project is different, yet they all share a common feature: the exemplary quality of the chosen finishes.
This project was a collaboration borne of a mutual admiration and a professional love-at first-sight meeting between Coutas and her client, Kate. Coutas was given carte blanche to design a classically Parisian space, albeit with a distinct sense of creativity and tone. In this remarkable location, the designer and decorator played with the signature Haussmannian style to create a warm and inviting family home. Each room is uncommonly styled, mixing contemporary art with luxury materials. Coutas has a way of blending cultures and materials to create plush and modern spaces, with luxurious results that are never ostentatious, and perhaps this is a nod to her childhood, which was spent abroad, much of it in Asia.
Combining a love of life with undeniable elegance, Coutas did what she does best in designing this playful pied-à-terre, with which even the most discerning Parisian would fall in love. Luscious velvets combine with graphic floorings that envelop the space with just the right amount of focus and line, while sumptuous textures suggest an effortless serenity, ideally positioned for an unquestionably chic home-away-from-home.
Take the kitchen, with a suspended central island, and with clean lines blending imperceptibly into the open-plan living room. The Versailles parquet flooring contrasts beautifully with the white marble entrance and extra-large mirror, which opens up the space and seems to defy physical boundaries.
"Each Room Is Uncommon Styled, Mixing Contemporary Art With Luxury Materials In This Chic Yet Cosy Space"
Moving on to the bedroom, this is a place where one immediately feels a sense of calm come over them, with fabrics and textures enhancing the restorative space. The master bedroom boasts a 15-metre-long pelmet allowing for a clean look; sea-green curtains add richness in a variety of velvety tones and textures; rich, dark grey-flocked velvet wallpaper adorns hand-moulded and assembled wall panels; and there's a custom-made pedestal table in Galuchat cowhide. All contribute to the lush, quieting environment.
And then we move into Coutas's favourite living space in every home — the bathroom. For her, it's where she likes to relax after a day at work. Signature to her style, Coutas has utilized noble materials throughout the master bathroom, including noteworthy marble and crystal, echoing the same lustrous tones of cream and gold adorning the master bedroom. Woven glass, wood and polished brass are found in the boutique-like dressing space, with style and taste to rival any fashion atelier found on the Avenue Montaigne. The green Antigua marble found in the bathroom further complements the selection of luxury materials. And, last but not least, Coutas makes a final daring statement with the dressing room, combining precious wood, brass and mirrors, ensuring it's never viewed as simply an afterthought, but as a wonderful place, instead, to get ready to face the day or to slip into something more comfortable in the evening.
www.stephaniecoutas.com
@stephaniecoutas
Interview by Donna Paris