Dr. Shaf Keshavjee: Breathing New Life Into Lung Transplantation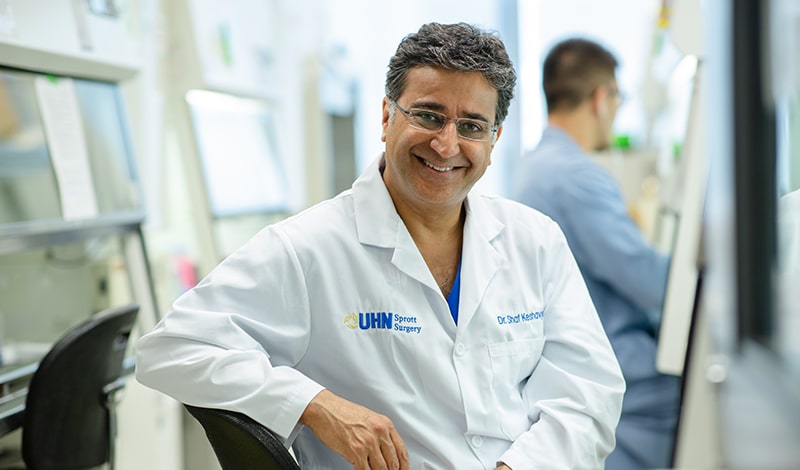 Dr. Keshavjee and his team's transplantation technique for donor lungs has since been adopted by other leading specialists for heart and liver transplantations.
The average person takes 16 breaths per minute, 960 breaths per hour and 23,040 breaths per day. It's the job of Dr. Shaf Keshavjee — one of the world's leading thoracic and transplant surgeons, and the surgeon-in-chief of the Sprott Department of Surgery at Toronto's University Health Network, which includes Toronto General and Western Hospitals — to keep those breaths flowing easily and lasting as long as possible.
Dr. Keshavjee's passion for the lungs began when he heard about the world's first lung transplant surgery in a 1983 radio broadcast. He was in his third year of medical school at the time, but something about this particular procedure piqued his interest. Just three years later he was scrubbing for his first — and the world's first successful — double-lung transplant at Toronto General Hospital.
"I had never thought of that and filed it away, thinking, 'That's pretty cool,'" says Dr. Keshavjee in recalling that broadcast. "Then they did a double-lung transplant, and I was inspired [by the fact that] they were doing something so brave and had the courage to do it. It really inspired me; I was like a kid in a candy store."
Dr. Keshavjee completed his medical training at the University of Toronto in 1985. He subsequently trained in general surgery, cardiac surgery and thoracic surgery at the University of Toronto, followed by fellowship training at Harvard University and the University of London for airway surgery and heart-lung transplantation, respectively. He joined the faculty of the University of Toronto in 1994 and was promoted to full professor in 2002. This intensive medical education, training and study proved invaluable to Dr. Keshavjee, shaping his future and his focus on lung transplantation.
"I really think you can learn from everyone and you never stop getting better," says Dr. Keshavjee about his education. "I can learn just as much from the guy standing behind me and watching me as he can learn from me. We all have different capabilities, and that applies to every occupation."
Lung transplantation has evolved greatly over the years. In the 1990s, there was only a 50/50 chance of survival after a transplant. Today, there is a 97 per cent survival rate, due in large part to professionals like Dr. Keshavjee, and in particular, his focus on the condition of the donor lung.
He is a pioneer in developing the latest transplantation treatments and has gained international recognition for the development of his lung preservation solution for donor lungs en route to transplantation.
The Toronto Ex Vivo Lung Perfusion System, which Dr. Keshavjee and his team developed, allows donor lungs to be kept alive outside the body in order to be assessed, treated and repaired prior to transplantation. This is now a standard technique utilized by transplantation programs around the world, but at the time, it was a huge leap forward in lung transplantation.
Most notably, perhaps, is that this technique for donor lungs has been adopted by leading specialists for other organs, such as the heart and liver. "Other specialists knew we hit on something, and that's been very satisfying. We've created organ support systems, and that has been the biggest change in the field," says Dr. Keshavjee.
His achievements have garnered him many professional accolades and honours, the highest being made an Officer of the Order of Canada in 2014, the country's second-highest civilian honour. But true to his character, he spends a great deal of his time raising money for his department in order to push the boundaries further.
"As a leader of a department of surgery, I am able to help surgeons in many fields, and I am able to be in an environment which fosters this level of education, which impacts patients," says Dr. Keshavjee about the importance of philanthropy. "When we've been supported, we've been very good to be able to go back to our successes and show what the Sprott Department of Surgery has done. We must be able to demonstrate that, then we can move faster in running with an idea, allowing us to be world-leading in a number of areas."
Dr. Shaf Keshavjee and his team are among those tireless, quiet professionals in the medical profession who are making a tangible difference in our society and improving the lives of so many every day. Through groundbreaking innovations, and with expertise, passion and dedication to their chosen field, they are making an impact on the generations to come.