Chanel Celebrates New Boutique In Montreal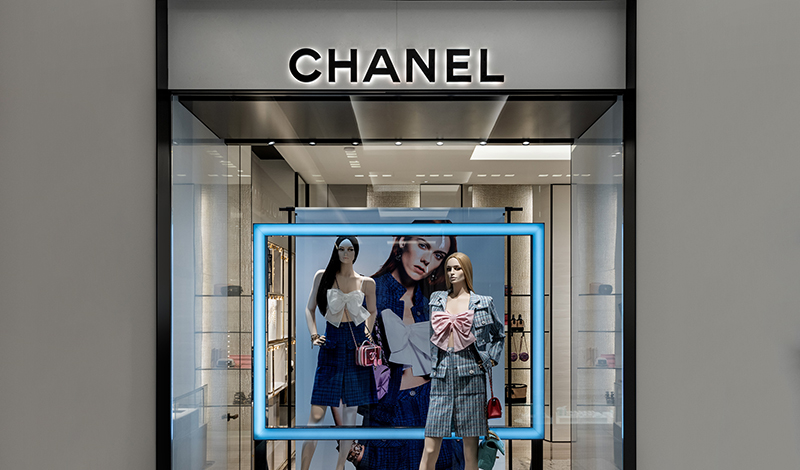 Its new fashion address in downtown Montreal continues the tradition of memorable and stunning Chanel boutiques.
No pun intended, but when you are one of the world's leading luxury brands like Chanel, a certain amount of baggage may come with that. People expect more in quality and design than they may from other brands and that's especially true when it comes to the public face of the brand, the classic Chanel boutique, where the bar for excellence is set extremely high.
In leading cities around the world, Chanel boutiques act like a magnet to discerning shoppers as a retail destination almost impossible to pass by. Artful, enticing, distinctive and engaging, they always seem to completely reflect the quality and breadth of Chanel products.
Such is the case again with the new Chanel boutique in the heart of downtown Montreal, where Chanel expanded its presence this past November with the opening of its new shopping address at Holt Renfrew Ogilvy on Sainte-Catherine Street West.
Designed by long-time Chanel collaborator, architect and designer Peter Marino, the new boutique once again embodies the brand's quintessential code: that of seamlessly blending strength and softness, modernity and timelessness. Cool, sleek, contemporary, polished and modern, the boutique is expansive, with generous marble, glass and metal finishes and inset lighting that artfully display its full line of products.
Products showcased include Chanel's Ready-to-Wear collections, its famous handbags, shoes, costume jewelry and eyewear, as well as a selection of watches and fine jewelry. The boutique launched with the Chanel 2020 collection created by its artistic director of fashion collections, Virginie Viard.
The new 310-square-metre Chanel boutique doubles the space offered at its previous location and features a new street-front presence on rue de la Montagne, a preferred address in downtown Montreal.
The boutique is accessed via the first floor of Holt Renfrew Ogilvy, where visitors are met with an airy, high-ceiling atrium and twin grand staircases flanking the impressive Ready-to-Wear collection. It is an inviting reception and certainly one reflective of Chanel's reputation as one of the world's leading luxury brands, which always puts its best face forward with exceptionally designed retail spaces.
The interior spaces showcase the customized fabrics of Chanel's emblematic tweeds which adorn Peter Marino's designed chairs and furnishings, along with silk and wool carpeting, created specifically for this Montreal boutique. Understated, yet so identifiable throughout are Chanel's classical black, white and gold colours, especially in the hand-applied and textured wall finishes.
One of the most memorable spaces within the boutique is on the upper level: the Ready-to-Wear salon, designed to offer the sense of visiting a private residence, and reflective of the intimacy of Mademoiselle Chanel's legendary apartment at 31 rue Cambon in Paris.
The Chanel boutique also features stunning artwork to complement its design, including a specially commissioned piece by Hugo McCloud, comprising patina, oil stick and solder on a solid bronze sheet, mounted on an aluminum frame. Even fitting rooms feature artworks such as a canvas pasted with hand-cut paper by Fernando Daza, and a camellia collage by Peter Dayton.
The new Chanel boutique in downtown Montreal is everything you would expect from Chanel. Original, memorable and creative, it is the superlative setting to showcase products that fit those same descriptions.