History and Real Estate: A Property That Houses More Than Just Class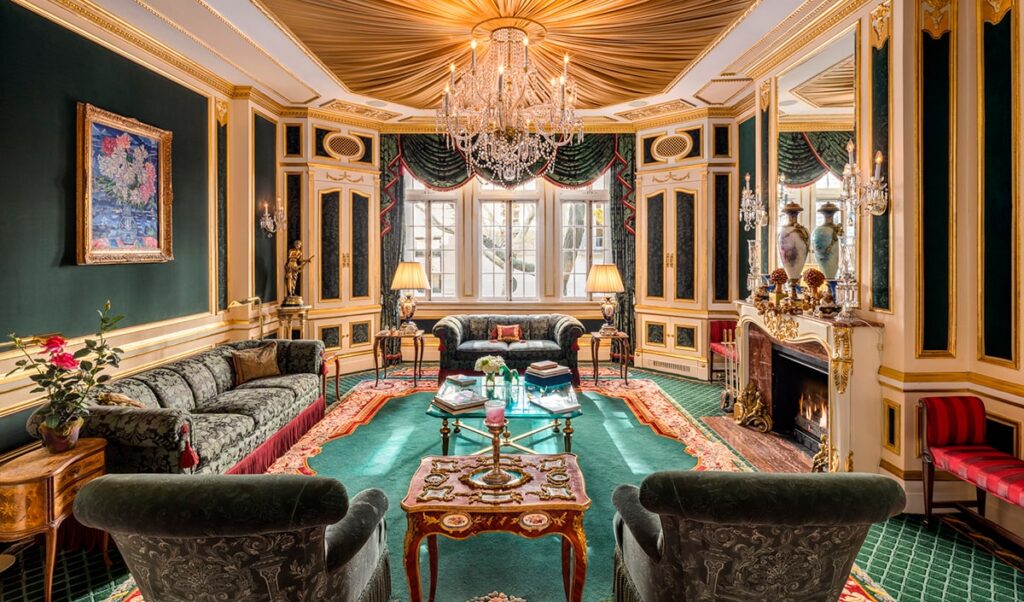 In lieu of her passing mid-2022, first wife to Donald Trump and mother to Ivanka, Donald Jr. and Eric Trump, Ivana Trump's lavish mogul townhouse is up for grabs in New York City.
Ivana was a woman who wore many hats — she was a model, socialite, interior designer, competitive skier and a fashion and perfume mogul. She was heavily involved in many behind-the-scenes transactions during one of Trump's most influential times of his career, in the 1980s.
After the media storm had settled and subsequent press frenzy calmed down over her divorce from the future 45th president, Ivana moved forward in life, playing the added spotlight to her advantage.
She started multiple fashion lines, became an author of several books, appeared in both motion pictures and television shows, most notably The First Wives Club, which ultimately led to landing her very own reality TV show, Ivana Young Man. Ivana passed at age 73. She is survived by her family, including her mother, three children and 10 grandchildren.
Through her passing, Ivana has left behind her opulent Manhattan townhouse, which is being placed on the market by her estate for $26.5 million. Purchased for $2.5 million, following her separation from "the Donald" (a household nickname given by Ivana), the six-storey, 8,725-square-foot home is reflective of her big persona and is decorated to fit her whimsical style imagined through her passion for interior design. Dressed in gold leaf, crystal chandeliers, pink marble and animal-print walls, the space screams old money and class of that era.
Prospective homebuyers would be welcomed by an ornate double-door entrance, inviting guests into a stately formal gallery dressed in blood-red carpets, gilded panelling and a grand Italian crystal chandelier. Upon entering, guests are instantly drawn to the sweeping marble staircase leading to the second floor, designated for entertainment and hosting. The space is surrounded by soaring ceilings, roaring fireplaces gilded with the most luxurious trims and a sumptuous Versailles-inspired dining room decked out with massive floor-to-ceiling windows overlooking the private courtyard, which, at one point in time, hosted many honorary and distinguished guests, some even being as notable as royalty.
With four more levels to explore, take a ride in Ivana's old-fashioned birdcage elevator, which lets you off right onto the townhouse's primary suite, located on level three. The space is devoted to being a spectacular room featuring wall-to-wall hand-painted murals, leopard-print themed library, a private terrace overlooking the yard with beautiful French doors and an opulent executive office finished with a gilded fireplace and more leopard print, of course!
The accompanying en-suite bathroom houses custom pink onyx marble finishings all over, from countertops to the soaker tub, the space is fit for royalty.
The Manhattan property features five additional bedrooms, each fitted with their own accompanying theme and chic design. The rooms amass the next two floors, with a film room and second office occupying the base levels, which includes a custom Swedish sauna and more.
Featuring a columned limestone façade, the townhouse was built in 1879, finished with a mansard roof and one-of-a-kind fashioned black-and-gold grilled doors. Located on the pristine block of New York's Upper East Side, the townhouse sits between 5th and Madison avenues. The property is directly across the street from former real estate owner Donatella Versace, along with Manhattan's famous museums. The location is famous for its a-List homeowners, such as Mariah Carey, Ricky Martin, Samuel L. Jackson and more, who call the Upper East Side home.
The property is listed by J. Roger Erickson of Douglas Elliman and is sure to gain the interest of this nation's biggest high-rollers.