It's J.Lo in a wedding dress like we've never seen before!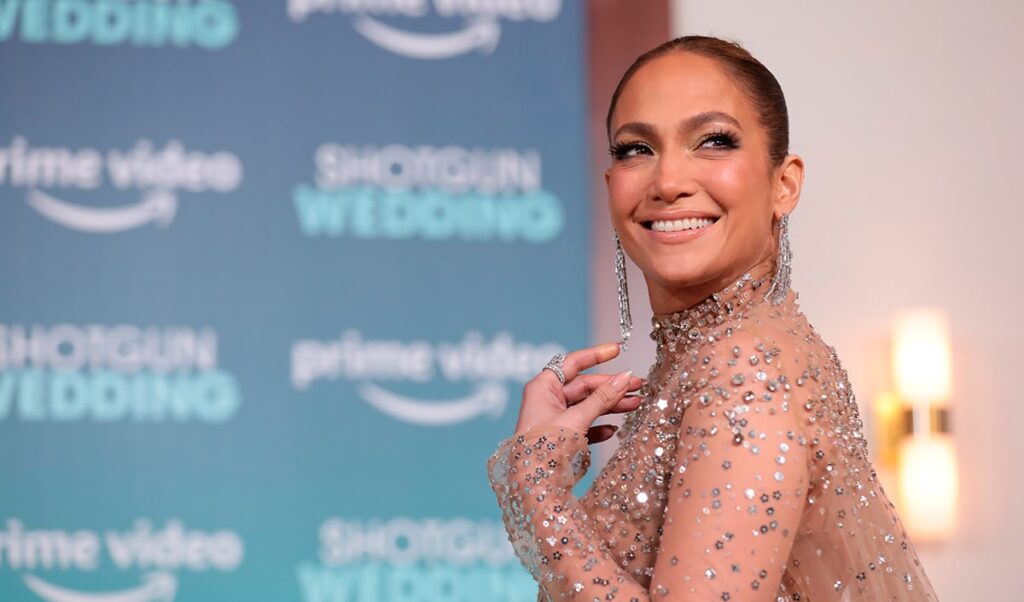 Jennifer Lopez sparkled on Wednesday night at her Los Angeles premiere for the latest addition in her nuptial career filmography, Shotgun Wedding. The actress stunned in a sheer gown ornate with crystals and a tiny yellow bow wrapped against her figure — a dress fit for taking names and catching the gaze of everyone on the red carpet.
The Prime Video film was produced by Lopez (age 53) and Canadian icon Ryan Reynolds (age 46) with a release date set for January 27, 2023.
The romantic action comedy film stars Marry Me actress and superstar J.Lo (Darcy) alongside Josh Duhamel (Tom) as they bring their families together to celebrate the ultimate destination wedding of their dreams. The synopsis dives into the couple preparing for their big day. As the plot ensues, they find themselves in cold water, when a wedding hijacking occurs and suddenly the entire party is taken hostage. With people's lives at stake, "Til death do us part" takes on a whole new meaning in this adrenaline-packed adventure. The pair is forced to unite for the greater good to save their families from a dangerous hostage situation, hopefully doing so before they kill each other!
The all-star lineup does not disappoint, with cast members including Jennifer Coolidge, Sônia Braga, Cheech Marin, Selena Tan, D'Arcy Carden, Callie Hernandez, Desmin Borges, Steve Coulter and Lenny Kravitz.
Duhamel spoke about the filming: "This movie was so much fun on so many levels." He added, "This one was … just a dream, I don't know if it's J.Lo … or Cheech … or Jennifer Coolidge, just a wonderful group of people who were there to have a great time and make a great movie".
Coolidge gave a breakdown of her character in Shotgun Wedding: "Yeah, she's a very nice lady … until you mess with her, but, um, yeah she's very nice." Coolidge continued, "She had a marriage that worked out very well, then she goes to this wedding that she thinks is going to be very low-key, then it ends up being very dramatic … a very dramatic wedding." Jennifer is living as fans call it, in her 'renaissance era'. She is receiving her flowers and collecting wins across all the ceremonies, from the Golden Globes to the Critics' Choice Awards, for projects, like The White Lotus. Fans will be happy to see her on their screens once again in this comedy-filled feature film.
J.Lo spoke about her experience on the red carpet: "It's an exciting thing to be here tonight for me, because this is a dream for me. This is my dream!" Her energy exudes an inspiring message beyond the interview, acting as a role model for self-belief and having faith in your dreams.
Shotgun Wedding premieres January 27, 2023, on Prime Video. Be sure to catch this thrill-packed, romantic adventure comedy coming to TV screens this month!
Watch the interviews