Jack Diamond: In Diamond's Ring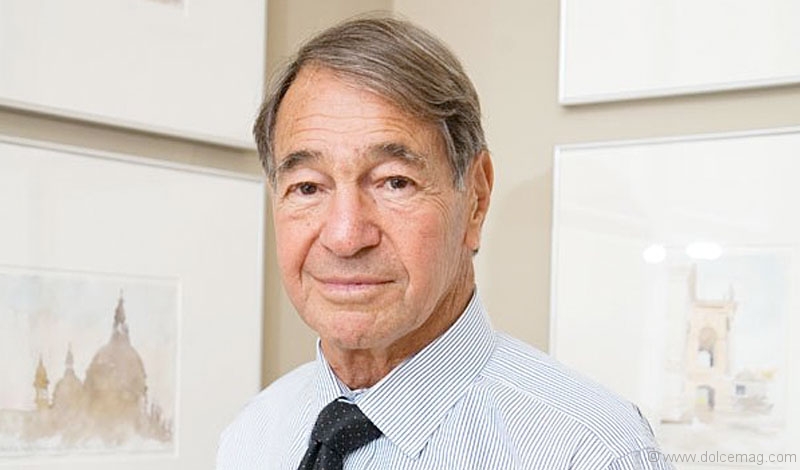 I can't find Jack Diamond's house. Back and forth, the car inches along the snow-lined avenue, my eyes scanning for the address, or anything to distinguish the home of the renowned architect. An unruly imagination had built-up preconceptions of a standout facade that only the mind of a veteran building designer could conjure. Something remarkable. Unforgettable. Perhaps something modern: wrapped in glass, clean and conspicuous. Or maybe something avant-garde with hard, distinct angles and imposing geometrics of unconventional proportions. Something wildly original, impressional, unmistakable. But that isn't Diamond's style.
Seated next to a crackling fire, one leg casually draped over the other, Diamond outlines his approach to restoring his Moore Park home. In the living room, where he currently sits, the fireplace and bay window were moved to build-out the room and improve proportion. Raising the staircase on the first landing connected dining room with kitchen. A garage was added underneath the home so they could enter indoors — practical, considering the climate. It's all about convenience and comfort. No unnecessary flair, nothing overstated or boisterous. "This is a Victorian house with Victorian sensibilities," the South African–born principal and founder of Diamond Schmitt Architects says flatly. "I extended that. I respected and restored that."
And just like that, all anticipations shatter against sensibility, a respect for historical interests and multiple passes down a quiet, quaint avenue. This is the attitude Diamond wields for all his projects. He rejects the hey-look-what-I-built style of more showy starchitects who fashion buildings as monuments to themselves instead of in the interest of those who use them. It's a Buddhist-esque mentality, concerned with balance between environment and structure. Buildings, for Diamond, should not disrupt the surrounding cityscape. They should create harmony between their intended use and their users. "I think some architects make this mistake: the building is too important," he explains in his soft, slightly raspy cadence. "The question for me is, experientially, will you enjoy it?"
Tall and handsome, like a leading man from Hollywood's golden era, Diamond built his 50-year career on this down-to-earth approach. He fused security and accommodation at the Israeli Ministry of Foreign Affairs, which won the Royal Architectural Institute of Canada's Award of Excellence. He manifested St. Michael's Hospital's new vision towards health care, shaping a space to facilitate medical practitioners, researchers and educators at the Li Ka Shing Knowledge Institute. More recently, he's been busy redeveloping Toronto's waterfront with Corus Quay, the LEED Gold certified headquarters of Corus Entertainment that utilizes sustainable features such as a four-storey biofilter and rainwater recycling.
And of course, he dazzled Toronto with the Four Seasons Centre for the Performing Arts. This glass-faced structure was designed not only as a premier venue for opera and ballet, but also to convey a sense of accessibility to what is traditionally viewed as high-brow art. "What we found in Toronto is that the transparency removed the mystique and the elitism of the opera as a cultural institution," says Diamond, who also studied and worked under Louis Khan, one of the world's most influential modern architects. Awards have flooded the Four Seasons Centre, home to the Canadian Opera Company, helping to breathe new life into the Canadian opera scene. But for Diamond, it was also a key project leading to what is being touted as his magnum opus.
Today, Diamond stands at the cusp of completing St. Petersburg's second Mariinsky Theatre. Set to open in May, just in time for the Russian cultural capital's renowned White Nights Festival, the Mariinsky II, as it's come to be known, will be the first opera house built in Russia since the time of the czars. It will increase the capacity of the "venerable" Mariinsky, a jewel of Russian arts built in 1860.
Like all of Diamond's projects, the Mariinsky II, whose construction is the centre of the forthcoming documentary The Maestro & The Master, honours the surrounding traditional Russian architecture. However, this eight-storey, 2,000-seat theatre also embraces contemporary manners. "The spaces of all the lobbies are interconnected," explains Diamond, who notes music as his second love. "So that's a very democratic position." Traditionally, opera houses feature separate entrances for patrons of differing classes. By utilizing a single entrance, hierarchical divisions are removed, giving a sense of equivalence and unity amongst audience members. "Everybody's in it together," he adds.
While "contemporary in its expression," many of the principles of the classical opera house are employed internally. Diamond describes the wood-lined, horseshoe-shaped auditorium wrapping from one side of the stage to the other. "The horseshoe is a very good sociological shape because the audience has a sense of itself." It improves sightlines while also creating connection between audience and show. "The arms of the building, of these balconies, stretch out to the performers," he explains. "There's an embrace of the performers, so they feel close to the audience."
Perhaps the literal and metaphorical cherry-on-top is the unique rooftop amphitheatre. Apart from cathedrals that dot the skyline, St. Petersburg is essentially all on one level. Being so far north, the city also experiences days of no darkness during June — hence the White Nights name. "So we thought, wouldn't it be wonderful to have a concert on the roof," says Diamond. "So that's what we did."
As we tour the rest of his home, the father of two exhibits his framed watercolour paintings (the focus of his book Sketches: From Here and There), which line a simply furnished dining room. He notes a great satisfaction when a painting comes out right: "When you've created something that is no longer a representation of the thing that is there, but as an object itself."
He mentions in passing a former athletic career in track and rugby. When asked, he explains he played for a South African touring rugby team, competing internationally against the likes of France, Wales and Australia. In his studio he reveals a book with page after page of copied, pun-filled newspaper clippings praising his achievements: "Wallabies Cut by Diamond" and "Diamond Is a Gem." A fond smile forms on the 80-year-old's face as pride wells from nostalgia.
Indeed, there's a mild sense of ego to Diamond. When your work is so exposed, on display squarely in the public eye, there has to be. It doesn't, however, come from arrogance. It's very grounded, self-aware, based in contentment over jobs well done. He's spent his entire life dedicated to what he loves, honing his skill, investing countless days and nights to his craft — so much so, sometimes he views architecture more as a priesthood. With such devotion comes confidence. Confidence that doesn't require ostentation. Architecture is a calling, a way of life — Diamond just wants to do it as well as he can. His ultimate goal: to produce "good buildings."
That's all there is to it?
"What else?"