Jenni Button – A Life Aloft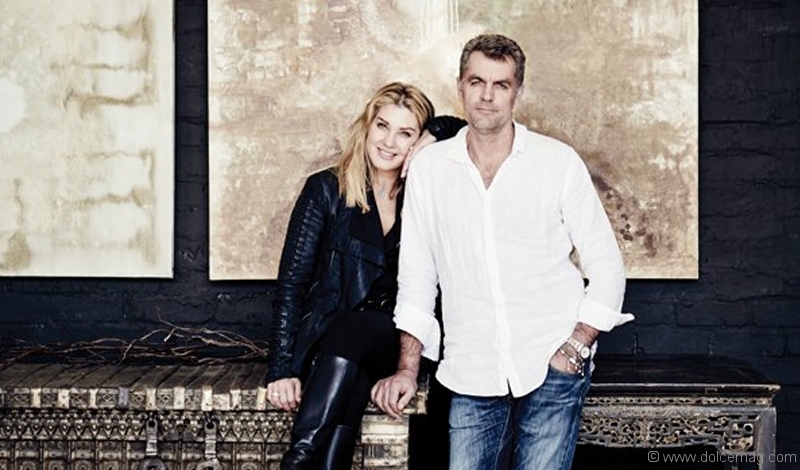 A hand-built, studio-like space, tucked into a tree-filled mountain, proved to be the perfect home for South African fashion designer Jenni Button to rediscover her passion for painting.
My ultimate dream was to have a New York loft in a wild forest setting and I never thought it would be possible. It's like a big art studio," says Jenni Button, her petite frame dwarfed by the incredible loft-like space she discovered, and made her home, on a mountain slope in Hout Bay, Cape Town. When house hunting the well-known South African fashion and interior designer was looking for a refuge where she could paint — Button studied fine art and has recently rekindled her romance with oil paint. She found her refuge in this unique house with its immense proportions — hand-built by the previous owner a decade ago.
"As I walked up that driveway I knew this is where I wanted to live," says Button. The gate, incidentally, sports a sign that warns visitors "4x4s only" — and reaching the house requires you to hike up 40 coarsely cut stone steps. With its dominating reclaimed factory windows and simple silhouette, the home doesn't reveal much of what you can expect inside when you arrive. It's hard to capture the sheer volume of the space, but the word "cavernous" comes to mind — partly because of the fact that it is secreted into the side of a mountain, and partly because the building is enriched with stone features, exposed brick walls and rough wooden floors.
Button laughs that the house had many "Fred Flintstone" features when she purchased it, and her initial focus has been on bringing the various elements of the two-level building together with a consistent stone-grey palette — and of course taming the vast garden, which has taken up most of her time and energy.
Clearly the project has unlocked her creative juices: the large wall in the lounge area is freckled with portraits that she has painted. While Button admits to an affinity for masculine design, her treasure trove of furniture suggests otherwise. A self-confessed magpie, Button's portrait wall is flanked by an ornate, hand-carved antique door from India and surrounded by a compendium of Eames and Le Corbusier originals (design investments she made in her early twenties), Chinese cabinets, and traditional country French furniture. "I can't stick to just one style. I enjoy the juxtaposition of different influences and textures. And I think the items I have collected over the years work here because it is such an eclectic space itself," says Button.
Amid the stark grey shades, and "taupes and neutrals that I love," is a persistent thread of bronze, copper and brass — a gleaming bowl, a striking chandelier. "I love the warmth and richness of these shades. But I change my house around every couple of months. So you could come back and discover this wall is covered with acid yellow paintings," she laughs. "It's the beauty of having a house like this which is such a canvas."
While Button wishes she could spend her days painting with the Klimt-like view of vast trees overlooking the valley at the back of Table Mountain, her fashion business and growing interior design client base take her into the city every day. But weekends are spent painting, or entertaining friends. Bar stools hug the distressed wood kitchen island and the dining room table has tip-to-toe additions to make space for more guests.
The half-moon tables, bought from a bric-a-brac shop in downtown Cape Town, "make the table longer, but also add interest," explains Button.
Always the tinkerer, Button has plans to enclose the mezzanine floor, which is currently home to her ensuite bedroom, with glass. She is also currently excavating a space to build a wine cellar and dreams of building a studio behind the existing structure. This will provide her with further solitude and a canopy view of her "mad garden of trees."
The view from Button's bedroom is also perfectly positioned to capture this leafy view, and Button says no two days are the same. "When I wake up in the morning, the light starts pink and then turns orange and then fades into blue," she says. In spite of its stony form, it seems this home is always destined to be infused with colour — either by Button's hand, or that of nature.
Photography By Warren Heath