Alexander Neef Takes Centre Stage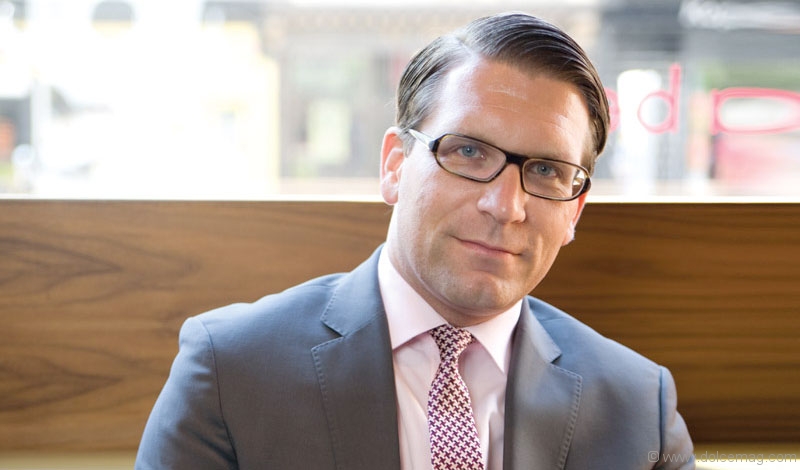 It's been said that music is food to the heart.
Leaning against a lengthy bar in Toronto's Nota Bene Restaurant, Alexander Neef readily sips on a glass of cool water. A welcome indulgence, after having walked through a bustling Queen West absorbed by an unbearable haze of heat. Neef is noticeably in his element, surrounded by a familiarity of understated elegance and dark leather Cassina chairs. Onto the upper dining area, white table linens and vibrant Alex D'Arcy paintings of cityscape scenery pop against blank walls that quietly eavesdrop on cultured conversation. He admits to frequenting the eatery quite often — sometimes three times a day — perhaps because of its proximity to his workplace, more so his proclivity for the Jennifer burger. A scheduled happenstance, our mid-morning meet means the restaurant is empty of patrons, allowing his quiet, charismatic aria to go uninterrupted.
It was only four years ago that Neef was enticed to leave a tall position in Europe to become the general director at the Canadian Opera Company (COC). "I wasn't thinking of running a company," says Neef, who was approached by a headhunter for the role while employed as a casting director at the Opéra National de Paris. "When the call came from here, I was like, well, I don't know if I can do this." Toronto disagreed. After a suggestion to meet with the COC board and experience the curved balcony fronts, oak floors and enhanced acoustics of the newly built, five-tiered opera house at the Four Seasons Centre for the Performing Arts, he was immediately in concert with the idea. "That's when it really happened. I flew back to Paris and they offered me the job three days later."
From the onset, Neef struck a chord with the opera community in Toronto, attracting renowned talent and adapting age-old operas to suit the needs of a modern audience. "I think we're really putting the company on the map as a major destination for opera in the world," says the German-born impresario, whose five-year term has recently been extended to the 2020–2021 season.
Despite being appointed in the wake of his late predecessor's legacy, Richard Bradshaw, Neef transitioned smoothly into the position at the largest producer of opera in Canada. "You have to respect the institutional memory of a company, but you still have to know how you want to shape it. I think what's really changed since I came here is that we're really digging into the potential of the house, what the house loves to do, because the house really changed the fate of this company," says Neef, dressed in a grey Boss suit and Paul Smith tie. With his blue eyes framed in Swiss Götti eyewear and wrist embraced by a Baume & Mercier watch, he was well-received by his Canadian colleagues in no time. "It was really more about learning by doing than anything else, and getting to know a lot of the important people for the company and the community, and just running around like mad for the first few months. When I came here, everyone was ready to embrace the new guy. And that made it fairly easy to start." But every cadence has its introduction.
It happened when he was 25, while completing his studies in Latin philology and modern history at Germany's Eberhard Karls University that Neef began to act on his appreciation for classical music and the opera. "I started going to see a lot of performances, but it was a bit more than a hobby, it was a passion," says Neef, who soon began to doubt his intention of becoming a school teacher. On weekends, he would visit a music theatre academy in Berlin, where an assembled cast of composers, conductors, singers and directors would discuss Mozart and melody. The experience would mark his first encounter with opera professionals, but not his last.
At the academy, a chance encounter with who would became his mentor set Neef's calling in motion. Gerard Mortier was the general director of the Opéra National de Paris and the Salzburg Festival, where Neef began an internship and would later be a production manager. A man of vision, Mortier took Neef under his wing, showing him a world of soaring possibilities. "For a very long time I never considered making it a job," says Neef, who would go on to become a member of the artistic administration at the newly founded Ruhrtriennale. In 2004, he was involved in the production of over 80 operas as casting director at the Opéra National de Paris. He was also in charge of contracting conductors for ballet performances and concerts at the Palais Garnier and Bastille opera houses.
Just as Mortier, Philip Deck, president of the COC board of directors, noticed Neef's potential, a quality that resounded across the world. "There's probably no one in the international opera market that understands or knows singers better than Alexander," says Deck, who admits that the COC took a chance on Neef, who was only 34 when he was hired. "He spent his career up to the point he was appointed to the COC listening to singers in Europe. He has a great ear for how they're developing and what roles they'd be suited for. We knew that when he came in — we knew he was an opera expert. And he hasn't disappointed in the slightest."
Apart from his uncanny ability to decipher talent, Neef — who expounds the work of Verdi and Mozart as having the most influential impact on the art form — knows a good story when he sees one. But just in case, he brings along his five-year-old daughter, Marnie, for a second opinion. "Universal themes of mankind — love, hatred, betrayal — are what make opera so good. In every good piece, you will understand those people in a certain way or be able to identify with them, even though they might be singing pieces that are 200 or 300 years old. What we do is from people for people, so in the end, the most important thing to me is that we produce opera as good as anybody can … that we touch people with what we do," says Neef, adding how music is key to delivering us to that undiscovered place of heightened human emotion. Among a repertoire of upcoming operas at the 2012–2013 season of the COC, it's hard for Neef to pick just one, but notes that Richard Wagner's Tristan und Isolde will bring the house down.
"This is someone who's trying to think of things that will be new and fresh and relevant, and make people have a great experience at the opera," says Deck. "He's found an opera that really is hungry for what he has to feed them."