Life of I: India Hicks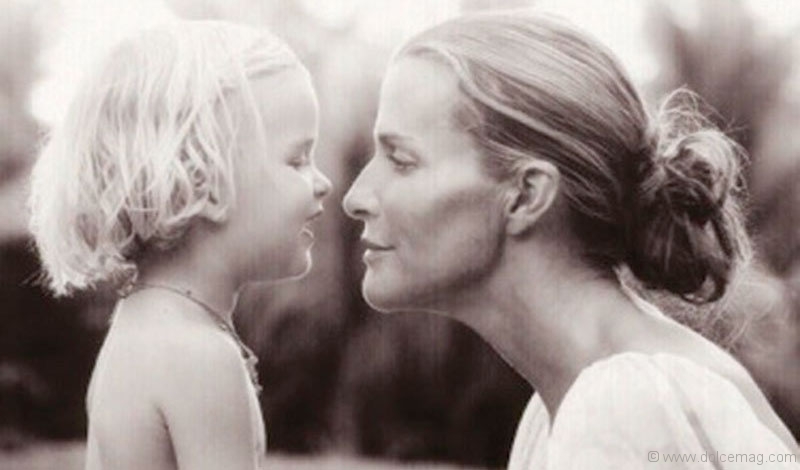 In Toronto's tony shopping district, Teatro Verde comes into view as I weave through pedestrians collecting on Yorkville Avenue. The Georgian facade of the housing emporium is soon behind me as I step through its entrance, where India Hicks stands against a backdrop of floral novelties. We politely exchange introductions before a customer interjects, her licorice hair and inquisitive eyes sizing up Hicks with an inquiry. "Are you famous?" The unexpected question hangs awkwardly in the air as Hicks quickly weighs her options. Opting for a playful, resounding "no" in a catching British lilt, her luminary look does nothing but betray her. Recognition soon registers across the woman's face.
An interior designer, hotelier, two-time author (Island Life and Island Beauty), jeweller and the creative director of a fragrance and skin care line with Crabtree & Evelyn, Hicks has curated a brand distinguished by her equatorial lifestyle and royal ancestry. Given her display of bravura, it comes as no surprise when you consider her familial ties. Her father, the late David Nightingale Hicks, is the celebrated English decorator; her mother, Lady Pamela Mountbatten, a first cousin to Prince Philip, Duke of Edinburgh; her brother, Ashley, an architect; her sister, Edwina, a fashion designer; and her godfather, Prince Charles, heir apparent to the British throne. She was named after her grandfather — the 1st Earl Mountbatten of Burma, the last viceroy of India. And while she served as an attendant in a royal wedding in 1981, Hicks would rather stir up history then go down in the books as a bridesmaid to Princess Diana.
Wearing a sheer white blouse and leopard-print pencil skirt, her locks of sunflower blond framing viridescent eyes, Hicks walks assuredly towards a couch, making Kate Moss seem a stumblebum. The former model sprawls out against a busy bohemian pattern, her jade green pedicure peeping through tan leather sandals, her sun-kissed skin indicative of her tropical address. A long way from home, Hicks is in town to give a talk at the Design Exchange on Bay Street, where she'll divulge nostalgic stories of a childhood rooted in symmetry and proportion, composition and esthetic. The subject of her discussion is the man who subconsciously influenced her career — and that of countless others — her father, geometric genius David Hicks. In the '60s and '70s, he made perpetual waves in the industry with his florid use of colour and monomania for the monograms that permeated every Hicks household. "We grew up with those kinds of things — we had them on umbrellas, we had them on slippers, we had them on playing cards."
While her own muted palette and quiet embellishments are in direct contrast to his, she's acutely aware that describing her father is a requisite before she can begin to describe herself. Parents are, after all, the bones on which children sharpen their teeth. Hand cupped under her chin, index finger on her temple, Hicks becomes visibly emotional as she taps into a vat of stored memories. Growing up under the imposing eye of one of the most original decorators of the 20th century — a man whose clients ranged from Vidal Sassoon and Helena Rubinstein to King Fahd of Saudi Arabia — undoubtedly had its oscillations. Tiptoeing around the details of his beguiling charm and tempestuous nature, Hicks admits to grappling with a strained father-daughter relationship. It's hard to ignore the ceramic collection of pastel doves fastened to the wall behind her, a searing emblem of a tolerant daughter. "He cared about every facet of things. And he was very well-read on it; it wasn't a surface thing, it ran very deep with him, and I think it's very difficult for people who are perfectionists to live comfortably in the world."
Despite their differences, Hicks celebrates his legacy, and rather than live up to his success she casts her own silhouettes and shapes across the industry. "My father was much more bold; he was very confident. He wanted to make a statement with everything — and he should, because he had a voice, he had something to say. It came very naturally to him and it suited his character. In fact I do the reverse, especially in the way I design. Everything I do is understated. Everything my father did was overstated."
Born in England, Hicks began exploring her independence at an early age. She attended boarding school, backpacked around the world and graduated from Boston's New England School of Photography. Working for the likes of Ralph Lauren, she lived in Paris and New York while pursuing a modelling career. Now a businesswoman, Hicks was first discovered in London by a magazine editor who was lunching with her famous father. Windows of opportunity soon swung open for the statuesque Hicks, including an encounter with a Florentine fashion designer made legendary for his exuberant prints. "I was going to Italy and my parents knew Emilio Pucci — he was a friend of theirs — and they said, 'why don't you go have lunch with him?' When I arrived at his house, he immediately said, 'try on my catsuits.'" Yet throughout the titillating adventures of jetting across the world to meet fabulous people and slip into even more fabulous wardrobes, Hicks knew deep down that her destiny simply lay elsewhere. "I never imagined it was going to last. I never really did the model circuit of going to the hip, cool restaurants and wearing the latest designs and taking fashion very seriously. I really enjoyed the people I met. I would have never met them otherwise. I love the travelling side of it; I love the independence that it gave me very quickly. But I wonder if my daughter said to me, 'I want to be a model.' I think I might hesitate."
It wasn't until a serendipitous move to the Bahamas that Hicks began to embrace her calling. Surrounded for years by the geometric, symmetric gardens and grand rooms of her father, the starry skies and warm turquoise seas of Harbour Island soon sparked a seismic shift in Hicks. Amidst swaying palms, pink sand beaches and warm trade winds, she set out to blaze a predestined path with her own interpretation of design. But rather then begin with a perfunctory office or business card, she set her career in motion with an arbitrary move. Settling into island life in her private plantation home, Hibiscus Hill, Hicks approached some friends who owned a dilapidated hotel and offered to revamp it for them for fun. "And so I decorated that hotel, and it started from there," says Hicks, who moved to the northeast coast of Eleuthera Island 17 years ago to be with her partner, interior-designer-turned-hotelier David Flint Wood. "By living in the Bahamas I really developed my own life. I wasn't under the shadow of my father. I found that I had the confidence to say, 'I can do this.'"
Green designers may have viewed the road ahead as daunting, but Hicks bore down with conviction and confidence that led to a multitude of design mediums. From furnishing spaces to accessorizing to creating an Island Living beauty line, her preference of expression is as neutral as her palette. "It's like children — there's never a favourite. One month you may find yourself spending more time with one than the other. But no, I find it all very satisfying."
While her products and spaces portray a penchant of less is more, her family — five kids, three dogs, two cats, a parrot and a tortoise — paint a broader stroke of a woman who lives life with arms open. It was only three years ago when she adopted Wesley, a local Bahamian teenager she had known since he was a toddler. His mother — a local waitress she had befriended — had died of breast cancer. Her biological children — Felix, 16; Amory, 13; Conrad, 10; and Domino, 5 — welcomed him without hesitation. "Nobody for a moment questioned whether it was the right or wrong thing to do. We just knew we wanted Wesley," says Hicks, who cycles in memory of his mother and to raise cancer awareness in the Bahamas.
A long way down the line of succession to the British throne ("I don't know and I don't care because there would have to be such a gigantic nuclear bomb before I got anywhere near a throne"), the heiress has recently added a décor and bedding collection to her burgeoning repertoire. Transfixed by her findings at the bottom of the sea, a plethora of reversible quilts, shams, decorative pillows and antique framed prints are pressed with seashell and coral motifs and imprints left in the sand. "She offers a lifestyle and feeling that no one else is," says Canadian designer and Teatro Verde co-owner Shawn Gibson. "She's refined in the sense that she is more minimalist in her colours; she's more organic than geometric." Describing their long-standing rapport as a Punch and Judy friendship, Gibson first met Hicks years ago through a Crabtree & Evelyn event. Since then, they've collaborated on multiple extravagant affairs, including a table-off on CityLine. "She has great style, great taste and that spans across her interiors and fashion, to her beauty products and everything. It's a lifestyle. It's a complete lifestyle."
But finding balance as a businesswoman and mother in the middle of a quixotic nowhere raises another side of paradise. "The upside to living here is that I have a three-mile sand beach at the end of my garden and I get to look up to a clear night sky. And I am able to raise five children with a lot of freedom for them," says the prolific Pinterester. "The downside is to have a career where I'm constantly travelling. I'm on an airplane weekly. It does take its toll, and island life — to make it work — is difficult. I say that but a lot of people work very hard. My life is a really wonderful life. I'm very, very lucky, and I know I am."
Even with her father gone, his presence illuminates — it's inescapable, really. She gently tugs at a gold chain hanging from her swan-like neck, a necklace from Love Letters, her alphabetical fine jewelry collection. Fastened is a pendant in the shape of an N and dotted with diamonds. She quickly explains its significance. "I have five children," she sighs. "I'm not going to wear all their initials — so I just put 'N' — for none of you!" The inspiration for Love Letters dawned on Hicks as she rummaged through her father's archives and discovered his writing paper. Twenty-six multiple-monogrammed letters — his geometric alphabet — popped out from the page. Her next step was literally and figuratively spelled out for her. "I had a tricky relationship with my father. He was a very great designer and like a lot of very, very creative people, he was a …" she searches, "he had, he and I didn't always see eye to eye. And yet, I very much appreciate him; I wouldn't be who I am today if he hadn't been my father. And so in a way, the collection was my love letter back to him. In a way it's me saying I do appreciate that even though at the time it might have been difficult, I think I've done a lot of this because of him."