Rosehaven: At Home with Marco Guglietti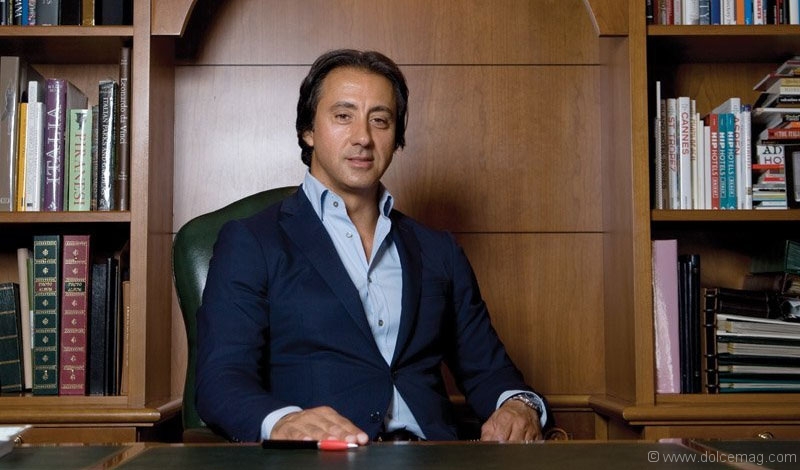 Marco Guglietti's home says a lot about the man who lives inside. The family crest atop an Indiana limestone archway offers insight into a unique pedigree; the old-world church bell that chimes three times at noon in his Giacomo Bianchi courtyard vocalizes the importance of preserving the past, and the vacant home next door is a concrete reminder of his late parents' legacy — one built by hand two decades ago. "Reaching 20 years in this industry is quite emotional for me," says Guglietti, president of Rosehaven Homes.
His nostalgic story begins at the end of his four-year stretch at York University, where he majored in economics and minored in urban planning. The twenty-something graduate was eager to take a European jaunt prior to transitioning into a full-time role, but his father, Giovanni, had sketched a much different blueprint for his son. After purchasing 20 building lots from Metrus Developments in Waterdown, Ontario in 1992, he said, "'Your plans will be that we're going to start you up as a home builder and you can always go to Europe another time,'" says Guglietti of his family's revered patriarch, who was penniless when he travelled from Italy to Canada in the early '50s. Summit Point in Waterdown was the first seed sown in a company that would burgeon to become a sought-after, award-winning firm praised for its architectural ingenuity.
"Our father taught us a lot about integrity. He used to say, 'Better than a new customer is keeping an old customer.'" Today, more than 4,000 homes in southern Ontario have since received the Rosehaven imprint, and families continue to be captivated by a brand that's risen to become a trusted residential leader across a spectrum of distinct communities. Some of Rosehaven's notable accolades include a 2011 nomination for Builder of the Year from the Building Industry and Land Development Association (BILD) and Community of the Year for Lake Pointe in Stoney Creek from the Hamilton-Halton Home Builders' Association (HHHBA).
Presently, a hotbed of residential ventures lie ahead for Rosehaven. With two Platinum Home Collections set to launch this fall — Kleinburg Heritage Estates and The Randall Residences — Guglietti established an affirmation that exemplifies a more spiritual corporate philosophy: I am happy, I am healthy, I am home. "It's a feeling of peace, of harmony, of haven," he says of the new tag line.
Kleinburg Heritage Estates will consist of nearly 50 luxury homes with architectural styles that span from Georgian and Victorian to Second Empire and Period Revival. With a galvanized expression, Guglietti goes on to highlight the heightened synthesis of exterior copper details, lifetime shingles, 10-foot main floor ceilings, elegant Downsview Kitchens and upgraded granites that will make this upscale community, embedded in history and encompassed by fine restaurants and retail boutiques, shine. The Randall Residences will be a mid-rise luxury condominium inspired by the belle époque of France in the heart of Oakville. Set forth by acclaimed contemporary architect Richard Wengle and the distinguished eye of designer Ferris Rafauli, all 36 spacious suites will fulfill the essence of Rosehaven's Platinum promise. Both developments continue to fuel Guglietti's passion to create "architecturally pleasing communities with well
-designed interior layouts and quality finishes for families to enjoy and call home."
Family continues to be the stem of the brand's flourishing success. "On our 20th anniversary, I got a little bit sentimental. It hit me by surprise, just remembering our beginnings, remembering family, remembering my father who started the company and passed away just over two years ago, and my mom, our life coach, love and support, who passed away seven years ago." In their honour, the Guglietti family founded the Giovanni and Concetta Guglietti Family Foundation for which he, together with his brothers and their families, has donated more than $2 million to local hospitals and charities.
With his wife Michela carrying twins, Guglietti's 12-hour workdays are unabridged. His four-year-old daughter, Connie, displays evidence that the next generation of Rosehaven is already budding. "She has a great eye for quality and detail; I think that she can be an added success to Rosehaven Homes. She'll tell me, 'Daddy, I want to help you build houses!'"
For the Guglietti family, it looks like the future is coming up roses. With frequent trips overseas and artistic reminders of the Amalfi Coast and Capri suspended in his sky-lit foyer, Guglietti has more than made up for that missed trip to Europe. "I'm at a point where I'm feeling quite satisfied," he says with a smile, "but there's always further development that will come."