The Gift of Connie Guglietti – Finding A Cure For DIPG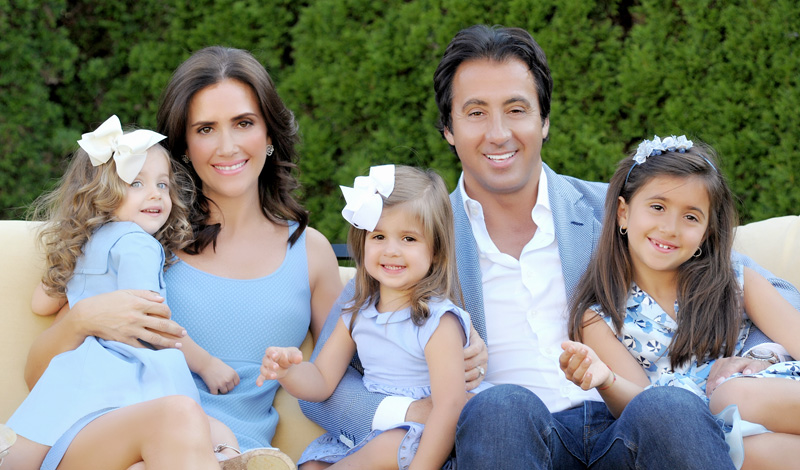 What would a parent do to save a child? After a heartbreaking diagnosis, Michela and Marco Guglietti started on a journey to save a life. Their daughter Connie faced the battle like a warrior princess. Cancer may have forced the Gugliettis to their knees, but this sweet child taught them how to be brave. They find grace in knowing they did everything humanly possible for their little girl. And they are committed to fighting DIPG, this deadly cancer, and helping to find a cure with the We Love You Connie Foundation.
Michela and Marco Guglietti have a lot of memories. Some of them are very good. Marco recalls a day when along with his wife, Michela, and their daughter Connie board a plane to go to Disney World for her sixth birthday. She picked her princess outfit (Sofia from Sofia the First). For Michela it was the trips to Italy, the first one when Connie was only six months old. Connie giving kisses. Being pulled up on stage at an Adele concert. A girl who loved her family and friends, especially her younger twin sisters, Sofie and Simona. With Michela continuing to be extremely emotional and sensitive when speaking about Connie, Marco graciously takes us through Connie's life.
Connie was an old soul who loved her big cousins and had a passion and zest for life. She showed love, kindness and empathy with everything she touched and connected with everyone she met in an everlasting way. Connie was compassionate, always worrying about others. She took pride in everything she did. Her school was the best school, her teachers were the best teachers, and her friends were the best friends, particularly Eva Sonego. She was dedicated too, as she started competitive dancing in 2015 and would dance eight hours a week.
Connie the diplomat, who, when asked who her favourite was, would say her mom and her dad both! Named for Guglietti's mother, Concetta, the child personified some of her late grandmother's characteristics: she was spiritual, compassionate, loving and supportive. "Connie was such a happy, energetic, spirited girl," says Guglietti. "She was so happy in the mornings that my wife and I would say, 'Where did she come from? She's not like you or me,' because we need to get going a bit in the mornings." Some of those qualities must have rubbed off on Guglietti, who is delighted to see his daughter, Simona, when she comes into his study and interrupts the interview to ask him if he is hungry, and invites his other daughter, Sophie, to show us her outfit when she knocks on the door to say goodbye as she's off to dance class.
But some of Guglietti's memories aren't so good. Connie complaining of double vision, then a shocking diagnosis a mere two weeks later. Two scared adults getting on a plane with their little girl to see what Dr. Mark Kieran in Boston could do. A biopsy performed by Dr. Goumnerova and radiation performed in Miami with Dr. Ziad Khatib, both under the care of Dr. Mark Kieran. From there, immunotherapy in Germany under the care of Dr. Stefaan Van Gool. MRIs. In fact, when Connie's tumour was biopsied at Dana-Farber/Boston Children's Cancer and Blood Disorders Center, Connie understood that she had to stay for observation until she was able to walk. But she also overheard that the twins' third birthday party was coming up. A few hours later, she said, "Daddy, I want to walk, will you walk with me?"
"Absolutely," said Guglietti. So with everyone watching them — including Connie's mom and the doctors — Guglietti took Connie's hand and they walked down the hall. She did well, and Guglietti knew she was going to be released.
And then Connie grabbed Guglietti's arm, looked up at him with her beautiful eyes and said, "Daddy, can I tell you something?"
"I said 'Sure!' and I get down on my knees in the middle of ICU at the hospital, and she says, 'Daddy, I am working really hard to get out of here because I wasn't feeling good but I want to get out of here because I really want to be home for the twins' birthday.'" And then, that same day that they were leaving, Dec. 12, she said, "I'm really lucky, right, Daddy? I get to go home and a lot of these kids will have to stay in hospital for Christmas." Guglietti said yes, she was lucky. "But in my mind, I am thinking, 'We are not lucky. We've been dealt one of the most fatal of all these cases in ICU,'" he says. And here, in telling this story, Guglietti has to stop for a minute to find his breath.
"I am forever broken, my heart is wounded for as long as it will beat. I cannot accept that my sweet baby girl – that's you, Connie – are no longer by my side, no longer hand in hand with me" —Michela
Since the day of the diagnosis, Connie showed such bravery, strength and cooperation. She never complained while fighting vigorously for her life.
By all accounts, Connie was well loved, and she entered the world with eyes wide open. "When we brought her home, she was looking around the house as if she was doing a home inspection," says Guglietti, who is president of Rosehaven Homes in Oakville, Ont. His daughter had a joie de vivre, a very creative side and recognized beauty easily, he adds. But it was Connie's compassion that was perhaps most striking. "She always thought about the person who was left out," says Guglietti. "If there was a family gathering and someone was sick or away, she'd say, 'Where is so and so?'"
Then a horrible thing happened. A family friend has a daughter who is diagnosed with a rare brain stem tumour, Diffuse Intrinsic Pontine Glioma (DIPG), which affects mainly children, with low survival rates. Connie is very concerned about the girl, but the eight-year-old didn't know that she would be facing the exact same diagnosis a few months later, after complaining of double vision. "Only 30 cases are diagnosed annually in Canada, it's one in a million," says Guglietti. "It is a double shot of lightening within a small area, within the same year." Still today, doctors shake their heads in disbelief, says Guglietti, as they don't believe the two cases are related in any way.
Connie was diagnosed quickly. They took her to see an eye specialist in Vaughan, who suggested they might want to get Connie an MRI to rule out the small possibility that her double vision could be something more serious, i.e., a tumour. While they waited at SickKids for the MRI, Connie, who knew her dad was a busy person, turned to him and said, "I'm so sorry, Daddy, for you and for Mommy to have to wait through this, and you're doing this for me." During the MRI, and, in fact, all her subsequent MRIs, Guglietti took his rosary and stayed with Connie, massaging her feet and talking to her from time to time, which must have brought the girl comfort, as she never had to be sedated, unlike most kids who have MRIs. Guglietti, moved by her compassion, told her that this is what mommies and daddies do, this is nothing. And that was the thing about Connie, her capacity for reaching out to others and understanding their effort. When she was well enough, in June 2016, Connie had her First Communion, and the Gugliettis had a reception at their home for her where she spoke with gratitude, thanking her parents for helping her.
Unfortunately, DIPG grows into surrounding tissue, causing cancerous cells to mix with healthy ones, so it's impossible to remove surgically without damaging healthy tissues. And it's resistant to chemotherapy to boot. "Before the diagnosis, we thought Connie's double vision was a big deal," says Guglietti. "But looking back today, we would be so happy if that was the only issue, we would have accepted that and we prayed for that — it would have been a blessing."
With a diagnosis of DIPG, radiation is used for palliative care, and the Gugliettis were told to enjoy whatever time they had left with their daughter. But the Gugliettis wanted to do more and that is how a journey of care began. "We decided to look into other options, such as getting a second opinion, clinical trials, in hopes of perhaps helping other kids, as long as it did not sacrifice quality of life for Connie," says Guglietti.
They went to Boston to meet with Dr. Mark Kieran, originally from Toronto, now the director of pediatric medical neuro-oncology at Dana-Farber/Boston Children's Cancer and Blood Disorders Center. "One of the first things we did was get a biopsy to be 100 per cent sure of the diagnosis but also to be able to do some DNA sequencing, which, unfortunately, takes months to discover any mutations," says Guglietti. Gathering and testing of the tissue could lead to more information about targeted precision drugs, which may be able to eradicate specific tumours and help future generations, he explains. (In fact, tissue from Connie's tumour is still being grown in the lab for ongoing testing.)
The family did a pilgrimage to Lourdes, a holy place of prayer. "Michela was the one who gave Connie all the love and kept her spirits up and I spent more time with the doctors," says Guglietti. He assembled a team, all focused on Connie's care, including treatments like radiation, and ground-breaking immunotherapy treatment (specifically targeting DIPG) with Dr. Stefaan Van Gool at the IOZK centre in Cologne, Germany. One treatment included injecting Connie with Newcastle disease virus (NDV), an avian disease that's fatal for poultry but doesn't affect humans, but it does attach itself to cancer cells. Connie's cells were used to create a vaccine to attack the Newcastle disease virus and the cancer cells it had attached itself to, after her body temperature was boosted to weaken the cancer cells.
"Connie was the first human being in the world to try this new drug" — Marco
Meanwhile, back in Boston, they found a few strands of mutations in the tumour tissue that was biopsied. Dr. Kieran had been using a drug on one of the mutations to treat mice in his research lab. Now the problem was this: How to get a single-patient study approved with the FDA? "Dr. Kieran made it happen," says Guglietti. "Connie was the first human being in the world to try this new drug." She was also one of the first children to be treated with a drug called Nivolumab that helps the immune system fight the cancer — a drug which is just now in clinical trials for DIPG.
Connie was in the ICU for two months, and the Gugliettis transformed her room into a healing place. They arranged for music, reiki and art therapy for Connie, along with physiotherapy and a massage therapist who came every evening. They posted notes of gratitude for doctors. Throughout all of this, Connie was positive. "Doctors fell in love with her, she never complained," says Guglietti, "Whenever they would ask her how she was doing, she would always give them the thumbs up."
Even when Connie was struggling, she said, "I want to get better because I want to be an example for other kids — I want to do it so I can show other kids that they can, too." They never even went into palliative care until about a half hour before she passed. When Connie did pass, Guglietti allowed a post-mortem biopsy of the tumour, which actually showed that the drug Connie was receiving was passing through the "blood-brain barrier" (the brain tries to protect itself from attack through this barrier, which means that most drugs can't get to the tumour). Dr. Kieran is presently working with Dr. Nada Jabado, a pediatric neuro-oncologist with Montreal Children's Hospital, on some of the side effects of the drug and is hoping to make it an option for other children.
In fact, when Connie passed, the Gugliettis were already thinking of a name for Connie's foundation, and decided on the We Love You Connie Foundation. The Gugliettis are no strangers to giving back. In the past, Marco and his three brothers and their families have supported many organizations, including Princess Margaret Cancer Centre, SickKids Hospital, Villa Colombo, St. Joseph's Healthcare, Oakville Hospital Foundation, Habitat for Humanity and the Giovanni and Concetta Guglietti Family Foundation. "When Connie was first diagnosed, we supported everyone who dealt with her," says Guglietti.
All funds raised through Connie's foundation will go directly to support pediatric neuro-oncology, improved care, promising research and a future cure for DIPG. "Because there are so few cases diagnosed annually, research funding for the disease is scarce," says Guglietti. "So I think it requires families like ours to put private funding toward it." The newly established foundation has already made a $2.1-million commitment, with all of the money going to SickKids and Montreal Children's Hospital, where Dr. Kieran is working with Dr. Jabado, to fund clinical trials of new targeted drug therapies. One hundred per cent of all funds from the foundation will be donated, and all additional costs and fees will be covered personally by the Guglietti family.
"Michela and I are forever grateful for all of the love and support we have received from everyone. Michela's family has been so important in helping us through this, especially watching and caring for Sofie and Simona. To my brothers and their wives, we also thank you for your love, and for supporting all of the medical interventions for our dear Connie without a second thought! We will continue to make a difference in this disease!" — Marco
Who knows what could have been? Connie already had an entrepreneurial spirit, says Guglietti. She loved asking her dad about work. "I'd come home and she would ask me, 'How was work today? How many houses did you sell today?'" says Guglietti. And sometimes he wouldn't know because he hadn't received a sales report that day. Connie would smack the table and tell him straight that he should know, and when she grew up, she would absolutely know how many houses they sold in a day, every day! One time, she asked Guglietti, "Daddy, when I get bigger, will I be the boss when you're not there?" To which he replied, "I think you could definitely be the boss not only when I'm not there, but even when I am there."
Guglietti says that Connie gave him and Michela so much. "She taught us compassion," he says quietly, citing the example of when he and Michela both told Connie they wished they could trade places with her. "She would always say, 'No, because kids heal better than older people anyway.'"
Guglietti's words of advice to other parents of a child diagnosed with DIPG? "Above all is your child and the quality of life, but don't give up hope," he says. "You have to have faith: I would have had a hard time getting up in the morning and being that positive spirit for my daughter if we had given up hope too soon." His final words are for his daughter, however, on the We Love You Connie Foundation website (weloveyouconnie.com): "Connie, from all of us, you will never, never, never be forgotten and we love, love, love you forever and forever and forever."
Or perhaps, the last word goes to Connie's mother, Michela: "My superhero, warrior princess. My light, my first love, my sparkler, my dearest Connie," she writes. "We have a special bond that no one else, not one single other person has — we are connected through our souls. You see, although everyone else met you on Jan. 23rd, I have known you from the moment you were conceived. I am so privileged and honoured that you chose me — and I thank you for gracing me with your love and your precious beautiful spirit."