Cortel Group: Building Tomorrow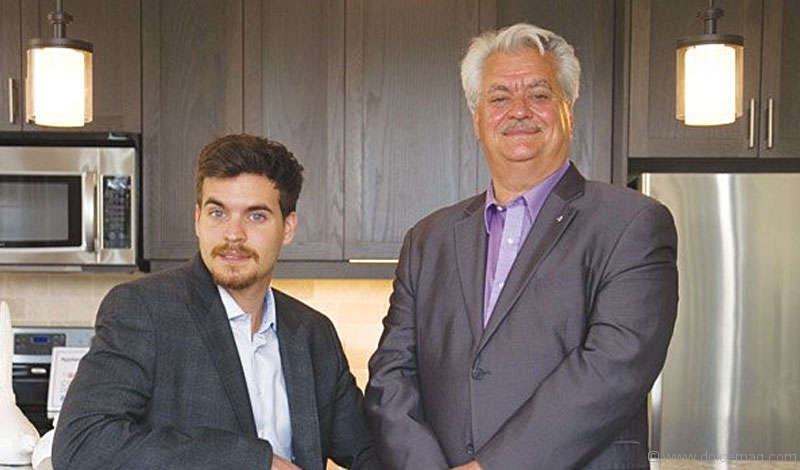 Veteran home builder Mario Cortellucci knows a community when he sees one, but it doesn't necessarily have to exist yet. "It's in your mind, in your dreams. At night you fall asleep and it comes to you, and the vision is sometimes that you see the city itself in front of you." This innate ability to break ground even before the shovel hits the soil has culminated into over 40 successful residential developments across the GTA, including Pier 27 and Absolute World, as well as scores of industry awards that prove dreams are the precursor to tangible results. But this doesn't mean his aptitude for envisioning the future has diminished in the slightest.
"We want to build communities that are self-sufficient with energy," says Mario, president of the colossal development firm Cortellucci Group of Companies and its newest division, the Cortel Group. Growing up in a small Italian village with a river nearby, a young Mario and his brother would sift through the sand, stone and gravel that surrounded the waterway using traditional tools of the time.
Arriving in Canada in 1962, he started out in construction and eventually began an excavating company in the '70s. It was during this time that trips to development sites and drives through empty swaths of land prompted Cortellucci, a supporter of various charitable causes, to build stronger foundations. "I saw that we needed a better city, better infrastructure, and that people have to live in a better way."
While building methods have changed drastically since his childhood, Cortellucci's appreciation for the environment and intrinsic approach to development have stood the test of time, fostering the award-winning Cortel Group with a philosophy that embraces responsible building and a commitment to smart growth. "You never want to go to a property or piece of land and pollute the ground; you want to put as many systems in place as possible to make it better," says Peter Cortellucci, the eldest son in a family of four children. At 25, he is the vice-president of the Cortel Group, and while he admits his most successful moment is yet to come, Peter is leading the way with the highly anticipated Expo City — a community soon coming to life after his father dreamed about it over two decades ago. "He taught me things like vision, and how to plan for the future. You don't plan for the next couple of months, you plan for the next 10 years and you have to have that forward-thinking nature to see how an area can develop. I think that comes from a lot of experience that my dad has."
Set in the heart of Vaughan's forthcoming downtown core, Expo City will be steps away from the city's upcoming subway network, which will connect residents to downtown Toronto. The master-planned community consists of townhomes, offices, shopping, an entertainment scene and a five-tower residential development. "Our purchaser's list is quite varied, with our second-largest group of buyers coming from downtown Toronto. Vaughan is a great place to live, and people are recognizing that," says Peter, noting that the customizable, spacious suites are unlike the cramped condos cropping up in major cities.
"For people to live, you need a centre, you need a city, you need a place where people can go," says Mario, who excitedly reveals plans for a mixed-use development in Innisfil, Ont. By taking a grain of sand and turning it into thriving spaces, the family-run Cortel Group is transforming the way we live, work and play. All it took was a visionary to see it before it all began. "Our logo, the maple seed," says Peter, "stands for who we are as a company. It represents Canada, and it symbolizes the initial stages of development, the beginning of life and communities."