Ray Civello, founder Civello Salon and Spa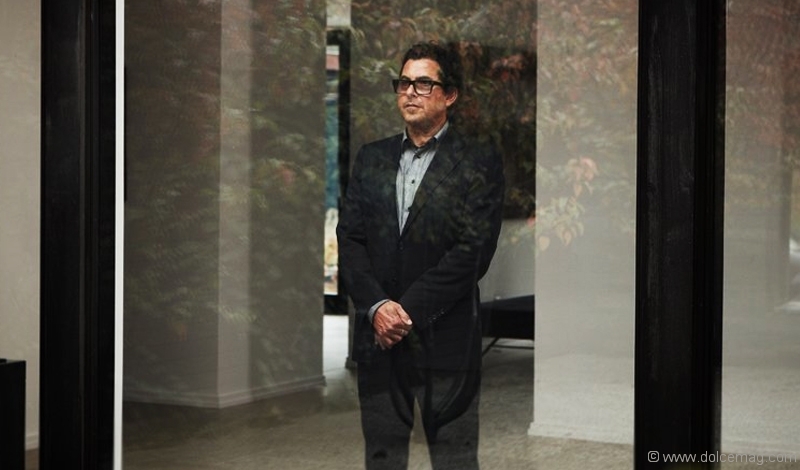 Wearing black horn-rimmed glasses, a bespoke Prada suit and a grin that's almost as broad as his Bridle Path bungalow, Ray Civello sinks into a tub chair in his most revered room of the house. The avant-garde studio's wall-to-wall windows and reclaimed flooring made from diseased trees say a lot about the organically inclined hair baron, who restored the ravine-backing property three years ago. "I was drawn to the fact that it was weeping and crying and that it hadn't been looked after for so many years and I thought, 'I can do something with that,'" says the founder of the distinguished Civello Salon and Spa chain and president of Aveda Canada.
Though it's more of a profitable pastime, the self-proclaimed restless soul salivates over house hunting as if he has a brazen fetish for curvaceous staircases and sliding doors. "I refer to it affectionately when I do Multiple Listing Service (MLS) and I search properties as my version of porn," he says lasciviously. His previous project was on Old George Place in Rosedale, which – assuming his finger counting is accurate – was the hairstylist's ninth home renovation. "When I bought that house and did that project, I really didn't think I would ever leave. I thought they would take me out feet-first." But as a master of the art of detachment, and an excellent negotiator, an unexpected phone call from his real estate agent had him repositioning. A businessman was courting Civello's beloved abode.
Since his house wasn't on the market and Civello had no phantasms of for-sale signs, he appraised it based on personal worth and demanded nothing but the full asking price. The client didn't appreciate his air of confidence and challenged the offer, asking him to justify it. "I said I don't have to. It's not for sale. He couldn't believe it, he called me crazy.'" The one-sided tug-of-war continued until the keen client hit a brick wall and Civello's real estate agent Elise Kalles handed him a paper with the full figure inscribed. Kalles told him that she hadn't seen anything like it in her 35 years of work. "It's interesting in life when you have something you want that somebody else wants and you don't want to give it away," he says. Fatedly, the 10,000 sq. ft. lowrise on The Bridle Path that Civello had been lusting after for years swung its doors open just as he was kissing good Old George Place goodbye.
Recently lauded as Ernst and Young's Entrepreneur of the Year in the business-to-consumer products category, Civello's accolades are the upshot of entering every open door in sight, despite the uncertainty. "You really have to entertain any opportunity that comes your way … You have to have enthusiasm for new and a willingness to go sometimes when you don't even know where it's going," says Civello, who didn't attend the award ceremony because he didn't think he would win. He also owes a lot to his parents, who emigrated from Italy with nothing but debt and a nice suit, yet radiated cosmic levels of optimism and entrepreneurial spirit. His mom's the philosophical artist type, "Everything she touches becomes more beautiful," while his dad's the social butterfly – everyone wants to brush wings with him. Together, his parents staged enough room for young Civello to take off on his own – though hairdressing was never a flight his father fancied.
His initial brush of fate occurred when he met an apprentice hairdresser while working part-time at his dad's pizzeria in high school. "He seemed to be rather different than the rest of us and kind of cool-looking. He had great big platform shoes on and big bell bottoms and lots of gold chains with bleached-out hair," he says. The two became cronies and Civello was soon a fixture at the small Scarborough salon where he swept floors for free and met Nick the bigwig, who drove an orange Corvette and always had a beautiful woman in the passenger seat. "It was the beginning of a turning point. Every time I had a break, I'd go to the salon," says Civello, who still swears by the shampooing techniques Nick taught him more than 30 years ago. It apparently involves a lot of tossing, scooping and an ambidextrous relationship with the hose. Civello was sold. He opted out of Grade 13 and headed straight to hair school – which he hated – but managed to outlast by dating his teacher.
Though his indecisive nature caused him to question his calling and flirt with other arts like fashion photography, Civello's path always curled right back. After a brief split, he ended up at a salon called The Rainbow Room, which revived all of his early passions. "It was crazy. It was in the heyday of punk rock, so we had the extreme of clients from Margaret Trudeau to Carole Pope. It was just this hub of energy, of fashion, of partying, of craziness all rolled into one. I realized I was home," he says with charismatic enthusiasm. It wasn't until a severe bout of mononucleosis that Civello's interest in the beauty industry evolved into a hypersensitive awareness of overall wellness. After losing 50 pounds from the illness, he began taking tai chi classes and studying different healing philosophies. "Usually in times of crisis, people either self-destruct or go to work on themselves. Going to work on yourself is part of a very organic process because it's just regenerative, so I reinvent myself."
In 1989, Civello Rosedale was born and in its first two years of business, it was a $1.5 million brand. Today, the beauty and wellness monarch has four highly lucrative locations, he's founder of Collega International, Canada's National Distributor of Aveda products, and he's deeply devoted to Environmental Defence, which he recently hosted a campaign launch for. His biggest feat, however, has 10 toes. At 51-years-old, Civello is now a first-time father of a blond baby boy, Corrado. "It's amazing to be young and pure. That's what I see in my son: it's this beautiful essence of purity – he doesn't care about anything. He doesn't care if he's fat, he doesn't care if he has clothes on, he doesn't care about anything, he's just happy."
Moving with the current of change, Civello's 1960s Bridle Path abode is back on the market. It's time for something new. "This is only one plane of reality, so if I become too attached to this plane, I'm going to become a ghost. So I have to let go. I'm only liberated when I let go," he says. "I think there's an important next step, but I don't know what that is yet." www.civello.com