We're All Under The Same Sun: Peter Ash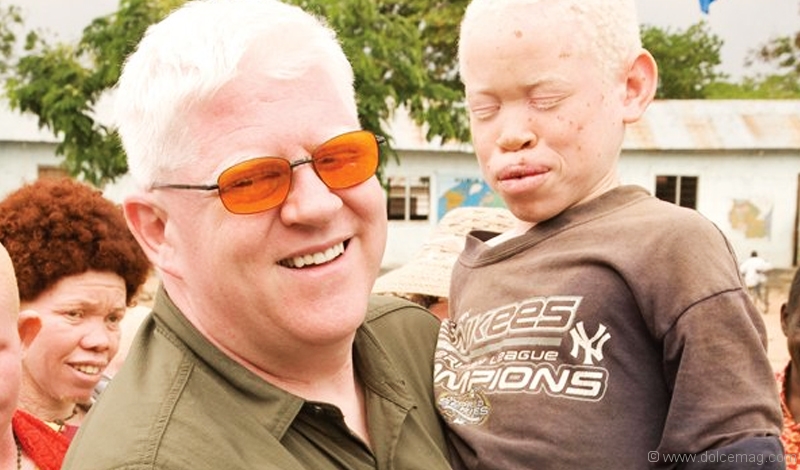 They say a visionary doesn't find his cause – the cause finds him. Growing up with albinism in Canada, successful businessman Peter Ash was quick to act when he first heard of an incomprehensible crime unveiling itself across Tanzania. The practice of killing people with albinism for their body parts has become a lucrative trade in one of the world's poorest countries, with the horror spilling across its borders.
Ash founded Under the Same Sun (UTSS) in 2008, the only international charity working in Tanzania on this atrocity. UTSS is a non-profit organization that promotes the well-being of marginalized and misunderstood people. All too familiar with the taste of bigotry, Ash's self-worth never felled with taunts of "Casper the Ghost" and "freak" pillaging his childhood. His mother told him, "'God made you the way you are and God doesn't make mistakes,'" says Ash, owner and director of Sagewood Holdings, a commercial real estate acquisition company. "I began to visit families who had lost children. Mothers who had their children murdered before their eyes; dismembered in the most horrific ways. I would sit with these mothers and listen to their stories," says Ash, who has recently returned from his sixth trip to Africa. Everywhere he went he was accompanied by security guards, not because he is an albino but because of his campaign to end the bloodshed. "Many people in Africa don't believe I have albinism, they think I'm a fair-haired European. They don't believe albinism exists outside of Africa – they don't understand that it's a global genetic disorder. If I had any threat in Tanzania it will more be [about] the work I'm doing," says Ash, who is legally blind as a result of his condition.
The plight of albinos living in Central Eastern Africa was initially revealed to him in a chilling British Broadcasting Corporation (BBC) World Service Report, compiled by freelance Tanzanian reporter Vicky Ntetema. In 2007, she risked her life, embarking on a covert operation to uncover entrenched archaic beliefs that have spurred albino killings across Tanzania and beyond in the last few years. "When I heard of her report I tracked her down and got on the phone and said, 'I want to get involved. I have albinism myself. These are my brothers and sisters getting slaughtered, what can I do to help? I can't sit idly by here in Canada and do nothing,'" says Ash, a former Baptist minister with degrees in psychology and theology.
"I began to visit families who had lost children. Mothers who had their children murdered before their eyes; dismembered in the most horrific ways. I would sit with these mothers and listen to their stories." — Peter Ash
The battlefield of this unfathomable crime is lined with thousands of East African albinos who are confined to a world buried in time, where a blaringly ignorant belief in magic and witchcraft is common, and discrimination against albinos has endured for centuries. Ash, who receives updates from Tanzanian police, pegs the official murders of albinos in Tanzania at 59 since 2007, with speculation that this figure could be much higher. Nine others have been attacked for their limbs.
The B.C.-based UTSS foundation (with a branch in the commercial capital of Dar es Salaam, Tanzania) is trying to change this by raising global awareness and funds that provide improvements to the lives of albino children in Tanzania. UTSS offers sunscreen and covers the cost of high-quality boarding education for over 300 albino children through its scholarship program. Ninety-eight per cent of the funding for UTSS has derived from Ash and his family up until now. A successful charity event in Surrey, British Columbia this past November raised $170,000 for UTSS. "Education and advocacy in Tanzania is going to be a good part of the solution," says Ash. UTSS recently premiered a one-hour feature-length documentary called White and Black: The Slaughter of African Albinos in Africa. Understanding that discrimination won't change overnight, Ash won't give up until his brothers and sisters are salvaged. He spoke at the United Nations in Geneva last year. "I wanted to give Tanzania the sense that the world is watching."
UTSS is also pressuring the Tanzanian government, where the wheels of justice grind slower in a country lacking resources. "It took two years for the first murder conviction and up to five years for [the accused] to go to trial. Our goal has really been to pressure the government of Tanzania to prosecute the offenders of these crimes to bring justice to these families. Ten men have been convicted in two different cases. Of the 59 murders, only two have gone to complete conviction. Fifty-six have not been prosecuted yet. Only two murders have been dealt with," says Ash, who fears a trans-border trade in body parts. In neighbouring Burundi, there have been 15 killings. "This is what really worries us – that these body parts are being shipped across country lines and witchcraft is common in many African countries." There have also been cases documented in Guinea and Kenya, he adds.
Tanzanian Prime Minister Mizengo Pinda shared a similar sentiment in an interview with ABC's 20/20. "We simply cannot sit like this, and we called upon the masses to come out. 'Please let us get an idea as to whom you think in your village is a possible suspect.' Now you'd be surprised, people came up in hundreds," said Pinda, citing situations in Africa are very different. "Sometimes when a killing happens, getting police to the [scene] is an issue."
From the archaic conviction that albinos carry a curse from the gods, the increased prevalence of albinism in Africa is quite the concern. Geneticists believe that albinism may have its roots in sub-Saharian Africa, which may explain why the prevalence of the genetic condition is much higher there. To date, 1 in 2,000 people have albinism in this part of the world, whereas in North America, 1 in every 20,000 have the condition.
During her investigation, Ntetema "consulted" with 10 witch doctors and was able to record them saying that they would be able to get albino body parts for $2,000. Witch doctors promise luck and love, success and riches with potions containing the blood and body parts of albinos. Because of their powerful echelon in traditional African societies, witch doctors hire killers and are protected by local police. Ntetema now lives in hiding, fleeing Tanzania twice after airing her findings on this powerful network. Three years after exposing the issue, the International Women's Media Foundation awarded Ntetema with a Courage in Journalism Award for her investigation.
Apart from being hunted and shunned from the workforce, persons with albinism in East Africa face other obstacles. A rare genetically inherited condition, albinism results in a lack of melanin in hair, skin and eyes, which makes skin cancer a deadly threat. While persons with albinism have the same life expectancy as the general population, the average life span for an African albino is only 30 years, with only two per cent living beyond 40, says the UTSS website.
With this dilemma comes a twisted twist: the supposed spiritual power cultivated from albino parts is enhanced if the offering is young. "Seventy per cent of the killings have been people under the age of 18,"says Ash. "The child is viewed as more pure – virgin if you will. I have a photograph of a seven-month-old baby who was murdered," reveals Ash.
When he visited a family in Mwanza, a region in northern Tanzania where many of the killings happen, he listened to the death of eight-year-old Miriam. She was snatched from her room, isolated from her siblings and pinned down to a bed. A machete was drawn, slicing across the full length of her throat. In minutes, Miriam's lifeless torso was all that was left for her family to mourn. Her killers slipped out with a bag containing her severed limbs and a pot brimming with her fallen blood – all to supply an abominable industry. Her brother Menyashi, also an albino, was forced to listen to her murder. Since then, UTSS has placed Menyashi in a safe, high-quality boarding school.
Ash first locked eyes with Menyashi at The Mitindo Primary School for the Blind in Tanzania, which is encased with barbed wire and a security sentry standing guard. His gaze reflecting an unfathomable horror no child should ever endure, Ash pulled his rigid body into his arms. "When I realized that people like me – with the same genetic code that I have – were being slaughtered alive, hunted down and discriminated against simply because of a genetic condition they had no control over, it seemed to be that I had to get involved. I couldn't not get involved."
To end the horror, write about this issue to your local Member of Parliament.
A small donation of $25 a month will buy basic supplies including sunscreen for a child with albinism, $100 pays the cost of tuition of boarding school for one child; and a one-time gift of $1,000 will educate a child for a year.
To donate and learn more, go to www.underthesamesun.com