Elise Kalles: Word From The Wise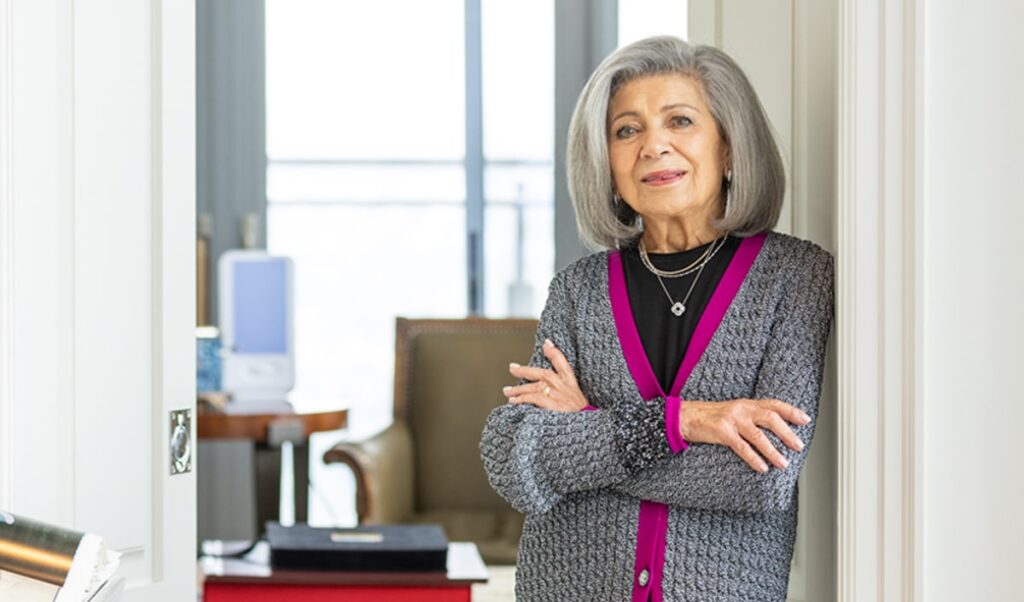 There is a lot of noise in the real estate market today, which makes it the perfect time to listen to the calm and wise perspective of veteran broker Elise Kalles of Harvey Kalles Real Estate Ltd.
We all know optimists and we all know pessimists — those with opinions on issues or situations coming from both ends of a scale. But, true balance can usually be found in the trusted ground of the middle — a middle shaped by experience, and based on logic and strong business acumen. It is true when they say you really can't place a price on experience — it is invaluable.
This is especially accurate when it comes to real estate in these days of "the sky is falling" media headlines and gloomy economic forecasts. To get a true barometer of a major real estate market such as the one in the Greater Toronto Area (North America's fourth largest), there is no more trusted source than Elise Kalles of Harvey Kalles Real Estate. Mrs. Kalles has been a multimillion-dollar producer for more than 40 years, and has seen her share of market volatility.
"I'm feeling positive about the Toronto real estate market, as the interest is certainly there," says Elise. "Over the past few months, we've had more than 670,000 viewings of Harvey Kalles listings through www.realtor.ca alone. Showings on our company's listings have quintupled since late last year, returning to the same levels we'd seen prior to the pandemic from 2017 through 2019."
"We've even seen several examples of multiple buyers competing for available listings. Two of our homes had been on the market for a period of time, but the moment an offer was registered, other buyers came off the sidelines and added upward pressure to the selling price. Another recent sale in Toronto's upscale Forest Hill neighbourhood was listed for more than $16 million and sold in less than two weeks," states Elise.
Positivity amid an attitude of negativity can help to present rare opportunities for savvy real estate participants in a marketplace such as Toronto, which is known for continued growth and resiliency. Elise feels that perhaps some sellers are currently holding back to get a better read on the market, but notes the Toronto luxury market remains strong.
The Multiple Listing Service (MLS) Home Price Index, which tracks changes in property values, shows that the City of Toronto-416 area- code market has outperformed the full Greater Toronto Area region over the past 12 months. Further research shows the central district of the city, which includes the Bridle Path and St. Andrews neighbourhoods, has outperformed the City of Toronto overall.
"None of this should come as a surprise, as there is so much immigration to Toronto, yet our housing infrastructure hasn't kept up," says Elise. "Harvey Kalles sales agents took a tour of Concord Adex's Park Place community recently, which is the second-largest master-planned community in Toronto, with 20 towers and $100 million in infrastructure sitting on 45 acres. It will take over a decade to complete, and once finished, will house approximately 10,000 people. This project is helping to address the supply-side challenges our region is facing."
"I'M FEELING POSITIVE ABOUT THE TORONTO REAL ESTATE MARKET, AS THE INTEREST IS CERTAINLY THERE."
Integrity and trust are two attributes you must have to be successful. A testament to this are the number of returning and referral clients that Elise Kalles has developed over her several decades working at the very top of her industry, including some of Toronto's most prominent citizens.
"Working with Elise gives one great confidence whether buying or selling a home," says Isadore Sharp, founder, chairman and former CEO, Four Seasons Hotels. "Elise deals with both sides of a transaction in a manner that builds trust. She has earned an enviable reputation in her profession, and it is comforting to be able to rely upon her integrity and recommendations."
"It is a pleasure to work with people who are as professional and courteous as Harvey, Elise and the rest of the crew at Harvey Kalles Real Estate," says George Eaton. "They have been unfailing in putting this client's interests first in all of their advice and by all of their actions, which is very much appreciated."
Elise's decades of experience have endured many cycles in real estate, but her wisdom and perception of marketplaces such as Toronto's has her remaining quite bullish as 2023 evolves.
"As we head into spring and summer, I expect to see an increase in listings, which is typical for this time of year. With the ongoing housing supply challenge, I believe demand will remain strong,"observes Elise. "With some more selection available and no anticipated rate hikes in the near term, we should see an increase in activity and more buyers engaging in the market."
Trusted sources of information based on decades of experience are very valuable in business transactions, especially regarding something as significant as real estate sales. In the Toronto real estate market, Elise Kalles and Harvey Kalles Real Estate Ltd. are the calm, reassuring voices of knowledge and guidance during these volatile times.
Elise Kalles | Broker
Harvey Kalles Real Estate Ltd., Brokerage
416-441-2888