Susur Lee
Chef, Restauranteur and TV Personality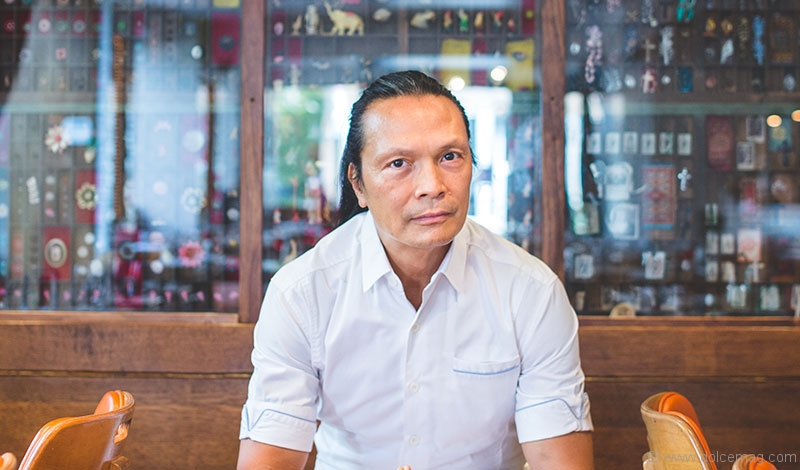 Susur Lee
Chef, Restauranteur and TV Personality.
It is no secret that Susur Lee is one of, if not the most prominent culinary icon Canada has ever known.
From his humble beginnings as a 16-year-old apprentice in Hong Kong's Peninsula Hotel, the man extolled by Food and Wine Magazine as one of the "Ten Chefs of the Millennium" in 2000 hasn't taken his foot off the gas pedal since, and has built an influential restaurant empire worthy of global recognition.
Today, the gastronomic extraordinaire boasts six world-renowned restaurants, five of which call Toronto home — Lee, Bent, Luckee, Fring's and Lee Kitchen at Pearson International Airport — while simultaneously juggling various television appearances, most notably as a judge on Food Network Canada's scrupulous and painstaking Chopped Canada.
He has risen to fame through a tireless work-rate, uncapped creative passion and extraordinary love of food that has resonated with countless hungry customers the world over. If you ask him today how he continues push culinary boundaries, exploring new flavours at every turn, he would respond with one word: family.
To know Susur Lee is to know those who stand both behind and beside him. With a list of accomplishments anyone would be envious of, his answer to, "What are you most proud of in your career?" may not be exactly what you expect: "My sons" is the reply, quickly followed with, "I'm very fortunate to have my kids [be] part of the business and helping make decisions. We have both a chef and father relationship, and share passion for the business and for the food."
Back when Levi (now 26) and Kai (24) were kids, Lee jokes how he used to babysit them in the kitchen at his restaurant. "They used to make pizza dough on the floor in the kitchen while I cooked." Today, they follow in their father's footsteps, making crucial business decisions both in and out of the kitchen, standing tall side by side with their now business partner/father.
After playing such a crucial role in the success of family-backed restaurant Bent on Dundas West, Lee often finds himself getting lost in the moment and sitting back in awe of his kids, saying "they've got it" as they overcome the multitude of unexpected challenges the restaurant industry throws at you on a daily basis.
"I'm very fortunate to have my kids [be] part of the business. We have both a chef and father relationship, and share passion for the business and the food."
For the internationally acclaimed chef in a career flush with awe-worthy moments, this is easily what he is most proud of.
"I get up every day and get excited by planning a menu, or trying something new." There isn't a mundane moment to be had. He is either pushing a boundary or finding a new flavour combination to be explored. The details that help make a restaurant experience special, from unexplored culinary combinations to restaurant atmosphere to possible flower arrangements on each and every table, help him stay focused. He calls them the "Little Big Things," adding, "It's hard work, but I love it."
As a face of Toronto's restaurant scene for over 20 years, there's no question Lee has had a significant impact on this city's position as a global culinary destination. His passion for his family's hometown is undeniable: "I love Toronto, and I love Canada. This is my way of giving back to this city and my customers." Ultimately, he wants Toronto to be a must-visit hot spot for foodies the world over.
What he sees now among younger generations is an interest in food that goes beyond merely what the menu says:
"They are really interested in food these days, educating themselves about both the restaurant culture and food. It's really great to see."
To stay on top of those trends, Lee — and his family — make it a priority to travel and continue learning about global cuisine by "getting lost in the culture of a city and taking in restaurant concepts and influential styles anywhere we can."
One appetite that seems never to be satiated is Lee's own; he is constantly trying to discover new ways to please customers. What's next for the celebrity chef? He's keeping his cards close to the chest, but a new restaurant is coming up the pipeline with his favourite business partners. "I'm working on a new project with my sons" is all the details he'll spare. "I cannot say more yet."
He will also be celebrating the 10-year anniversary of his stylish watering hole Lee in the new year. Rather than revelling in the much-deserved spotlight, he will be inviting world-renowned chefs to come celebrate with him and join in on the festivities by cooking for a few lucky patrons. He sees more value in sharing his triumphs with friends, celebrating the joy of food alongside passionate colleagues, rather than celebrating himself.
This is why the master chef hailing from Hong Kong has been so successful. It is also why, rather than his success in becoming a TV personality and world-renowned master chef, what he is most proud of in his life is being able to watch his sons succeed. Mum's the word on which celebrity chefs Lee will invite to his celebration. All he is willing to say is that some "really great chefs" will be surrounding him.
You can bet his family will too.
photo by geoff fitzgerald