Sylvia Mantella
Mantella Corporation and Animal Rescue Sanctuary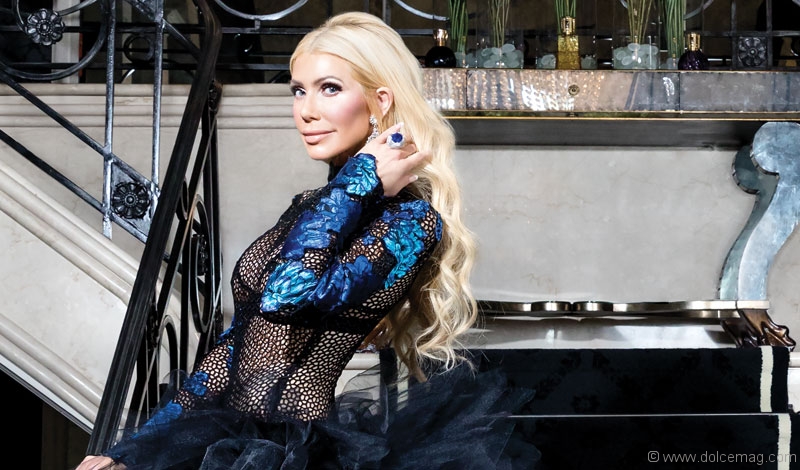 Sylvia Mantella
Philanthropist, Brand Manager of Mantella Corporation and Co-Founder of The Mantella Animal Rescue and Adoption Sanctuary.
For Sylvia Mantella, fashion is more than just surface level. "There are many layers to fashion and it's a very personal thing. I think it's an outlet for how you feel and how you want to be seen. I dress from one end of the spectrum in jeans and boots, to the other with huge, shiny ball gowns. I think your fashion choices are a way to express yourself, feel empowered and be confident."
Mantella, brand manager at Mantella Corporation, hates the words 'fashionista' and 'socialite' as they brand people in an untruthful way. And while this influential woman with an infectious smile and natural glow looks every bit the glamorous socialite, she has taken the opportunities she's been blessed with and shown us that she's not afraid to use her spotlight as a platform.
She's been called the Fashion Queen of Toronto, and she can be found at fashion weeks in New York, Paris and Milan, proudly wearing stunning designs by Canadian designers such as Mikhael Kale and Greta Constantine. Mantella confides in us that the reason she loves to wear Canadian designers is because of how sad she was to have seen Toronto Fashion Week go and with it, the loss of a platform for so many talented Canadians. Since people take notice of what she's wearing, this proud Canadian likes to be noticed in head-turning Canadian names.
While Mantella's passion for fashion is evident, her dedication to her wildlife sanctuary showcases true compassion and is where she manifests her opportunities with philanthropy. What started with fostering a baby sloth quickly grew into a lifelong mission. Mantella and her husband, Robert, ended up purchasing a 20-acre estate in Florida, which they converted into a licensed and USDA-regulated animal sanctuary. Complete with full-time, licensed zoologists and an on-site veterinarian clinic, it now houses and cares for a variety of wild and exotic animals, from tigers and hyenas to elephants and rhinos — which she can monitor from anywhere in the world, thanks to the sanctuary's 140 surveilance cameras. Scrolling through Mantella's Instagram page (@sylviamantella), it's easy to get lost in all the amazing pictures of her wearing the latest couture and rubbing elbows with A-list celebrities. But there are also pictures of her fresh-faced and dressed down ("it's the most stripped-down version of me and I love it"), nuzzling up to wolves and various big cats, koalas and baby monkeys. But as quickly as she can rattle off a list of designer names and celebrities, she is also extremely knowledgeable on the facts and numbers around the problems our wildlife population is having.
"[The animals] are like my children. I care for them and worry about them and when the animal comes to our sanctuary they are here for life"
It's a true calculation when they say that there will be more no more tigers by 2020," she says sadly. "Twenty-five thousand elephants are slaughtered annually for their tusks, 90 per cent of the rhino population was wiped out in the 1970s and to this day there are less than 2,500 rhinos left in the entire world." As amazing as a life of frolicking with lions and sunbathing with cheetahs may seem to be, it's not all glamour and fun. A team of trained experts always has to be on hand, Mantella explains, adding that being alert and observant with the animals is a must at all times. But as dangerous as the work can be, Mantella is in it for the long haul.
"They're like my children. I care for them and worry about them and when the animal comes to our sanctuary they are here for life. There is the option of releasing them back to the wild, but with hunting and poaching at higher numbers than ever, it's not something that we want to risk. So they stay with us for life, and we care for them and make sure they have a good quality of life."
Besides her animal rescue sanctuary and work with exotic animals, Mantella is involved in a number of organizations and foundations. Most recently she hosted and was on the board of the AMBI Gala; she co-chairs CANFAR, which successfully raised $1.2 million in just one night at its last event; and she extends her fundraising abilities by collaborating with the Boost Child & Youth Advocacy Centre's Butterfly Ball, with proceeds going toward eliminating child abuse and violence. She also works closely with Scrubs in the City, which is currently trying to raise half a million dollars for a new MRI machine for the Hospital for Sick Children. She also co-founded the Judy Mantella Foundation with her husband to honour her sister-in-law who passed away from breast cancer, and to help others coping with the disease. Living a life of glitz and glam aside, Mantella breaks the socialite stereotypes with her awareness and action on a number of issues that need a voice or support, along with her willingness to fully involve herself and utilize her opportunities for the greater good.
photo by robin gartner