Two Sisters Vineyard: Exceptional Wines And Authentic Italian Cuisine Define La Dolce Vita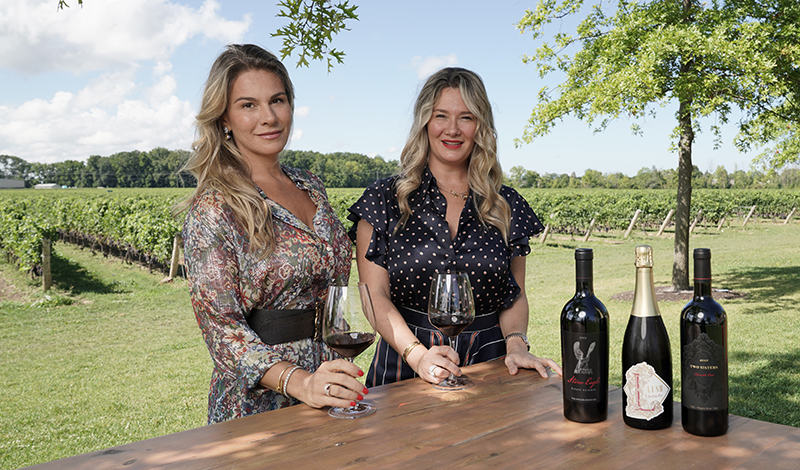 Hard work, perseverance and an entrepreneurial family spirit have been the keys to success for Two Sisters Vineyards.
"We Try To Bring A Little Bit Of European Flavour To Niagara-on-the Lake" – Melissa Marotta-Paolicelli
What is a winery? By strict definition, it is a location or business where wine is produced. But imagine entering a 76-acre haven where you can taste exceptional wines alongside authentic Italian cuisine — all while enjoying picturesque views of Niagara-on-the-Lake, Ont.
This winery oasis, Two Sisters Vineyards, is a popular destination for those wishing to taste some of the province's award-winning wines. Founders and sisters Angela Marotta and Melissa Marotta-Paolicelli have created a luxurious space for people to not only indulge in fine wines, but also create long-lasting memories. "For us, we love to make people happy," Paolicelli says. "It's such a high to know that people come to the winery to celebrate special occasions with us. It is absolutely an honour. We try to bring a little bit of European flavour to Niagara-on-the-Lake."
The sisters' passion for and background in wine began while growing up in their Italian household growing up. "We were a small family … our parents used to take my sister and I out for dinner every Friday and Saturday night. We never enjoyed wine without food or food without wine — it really came together, in every experience we had," says Marotta.
It was their father who instilled in them the value of hard work and perseverance, and this has served them in the creation of their own winery. "Our father always pushed us out of our comfort zone, which allowed us to grow as women and as mothers … and to instill these same values in our own children," Paolicelli says.
"There is a level of risk in everything that you do," Marotta explains. "There has to be a clear vision … and being an entrepreneurial family that has multiple businesses, it has always been about ensuring a true value to our guests and consumers." Paolicelli adds: "With Two Sisters Vineyards, we took a chance to solely focus on upper-tier Canadian wines, and we set our goals on producing ultra-premium wine. Because of that, we have received national and international recognition."
While visiting the Best Small Winery in Canada, as voted by the National Wine Awards in 2018, a must-try is the luxurious 2013 Merlot, as well as the 2015 Cabernet Franc, whose texture evolves as you taste and swallow it. And don't forget the 2016 Blanc de Franc, which was named Best Sparkling Wine of the Year at the 2019 All Canadian Wine Championships. The rustic yet elegant menu of on-site restaurant Kitchen 76 pairs perfectly with these original wines. The authentic Italian dishes showcase produce from local farmers and seasonal produce from the Two Sisters, property itself.
Marotta and Paolicelli have created the ultimate winery experience. They even plan to add a hotel to their estate in the near future for the comfort and ease of guests who wish to drink without having to worry about the drive home. With all this insightful knowledge about life and wine, strong family values, warming presence and with a gorgeous vineyard – what more can a person ask for in a winery! Indulging in quality wine and food is all part of la dolce vita, and drinking in good company always enhances the atmosphere. As Paolicelli puts it: "Life gets so busy and hard at times, it's very important to stop and surround yourself with people whom you love and do things that you enjoy."
---