Dolce Excellence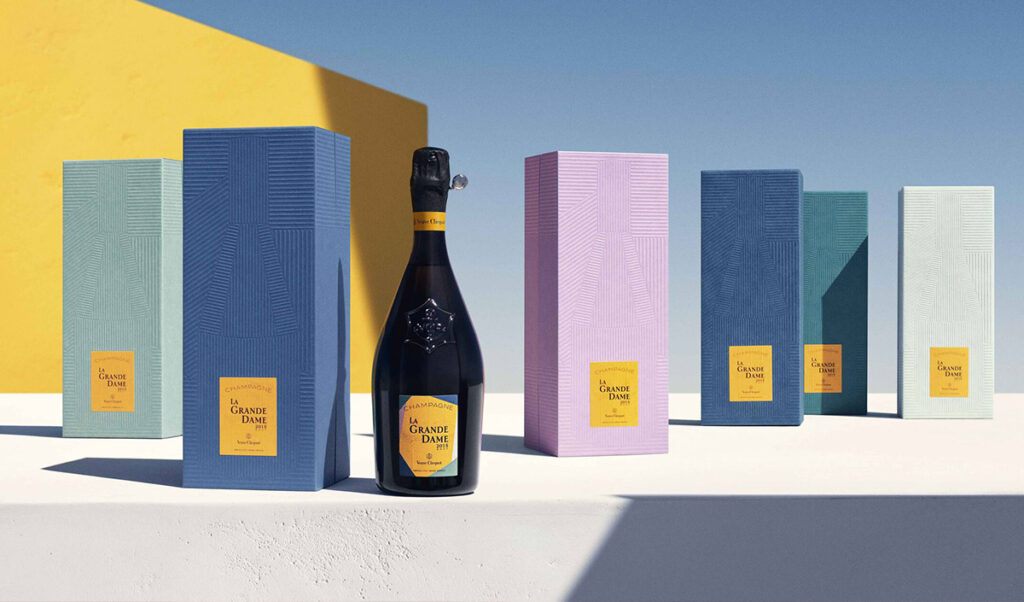 DOLCE EXCELLENCE BOTTLED ELEGANCE
LA GRANDE DAME 2015 – THE FINEST VINTAGE
"La Grande Dame 2015 is an exceptional sunny vintage for a wine full of tension and elegance. It reveals this great wine's verticality thanks to the Pinot Noirs harvested from our historical Grands Crus" — Didier Mariotti, Veuve Clicquot Cellar Master
At Maison Veuve Clicquot, bottling liquid elegance is a tradition that dates back more than 250 years ago to when the Champagne House was founded in 1772 in Reims, France.
With the release of La Grande Dame 2015, Didier Mariotti, the cellar master at Maison Veuve Clicquot, shares the nuances of the aging process and the history of the La Grande Dame family that pays tribute to Madame Clicquot.
Mariotti's job is to manage and assess the wine in the treasury during the aging process to ensure that the product is at its highest quality when the decision to sell is greenlit.
The treasury, or cellar, itself is made up of a prestigious inventory due to the aging process. Mariotti says, "By law, we have to keep a non- vintage, aging minimum of 15 months in the cellar, but, at Maison Clicquot, we age for two-and-a-half, three years. Vintages are normally a minimum of three years, minimum aging in the cellar, and, for Maison Clicquot, it's about five years minimum. Italian artist Paola Paronetto meets the expression of Veuve Clicquot's excellence with a colourful collection For the vintage, seven, eight years for La Grande Dame, so it's a long time" (Adam Teeter, VinePair Podcast).
La Grande Dame 2015 is the newest release by the La Grande Dame cuvée family. This 90 per cent Pinot Noir reveals a beautiful golden colour that captures the eyes of all of those in sight. The light floral notes of jasmine combined with the acacia scent develop into fruity notes of pear and clementine. When paired with dishes, where vegetables and fruits are centre stage, while meat and fish are prepared like condiments, this wine will be savoured to its fullest.
It is important to note that La Grande Dame 2015 is not a seasonal harvest product. The cuvée blend is made if — and only if — it is an exceptional harvest. Mariotti believes that this bottle is a great vintage to express the La Grande Dame family.
The La Grande Dame family is the vintage expression of the cellar that pays tribute to the founder, Madame Clicquot. Clicquot became a widow in her mid-20s, and, during that time in France, women were prohibited from running companies unless they were widows. This is why "Veuve" is prominently placed on the label, because it means "widow." With that, she decided not to sell but rather to run the company, eventually being the first to create the vintage because the Champagne House was only producing non- vintage wine at that point.
Mariotti says, "We really wanted to pay tribute to Madame Clicquot. Her nickname in Champagne was 'La Grande Dame de Champagne.' It's why we decided we must use her nickname on the label, just to pay tribute to Madame Clicquot."
The first bottling for La Grande Dame began 50 years ago and was released on the 200th anniversary of the house. La Grande Dame 2015 is a testament to the history of excellence that Maison Veuve Clicquot has upheld from the very start. So, go ahead and have a glass. You deserve it.
www.veuveclicquot.com
@veuveclicquot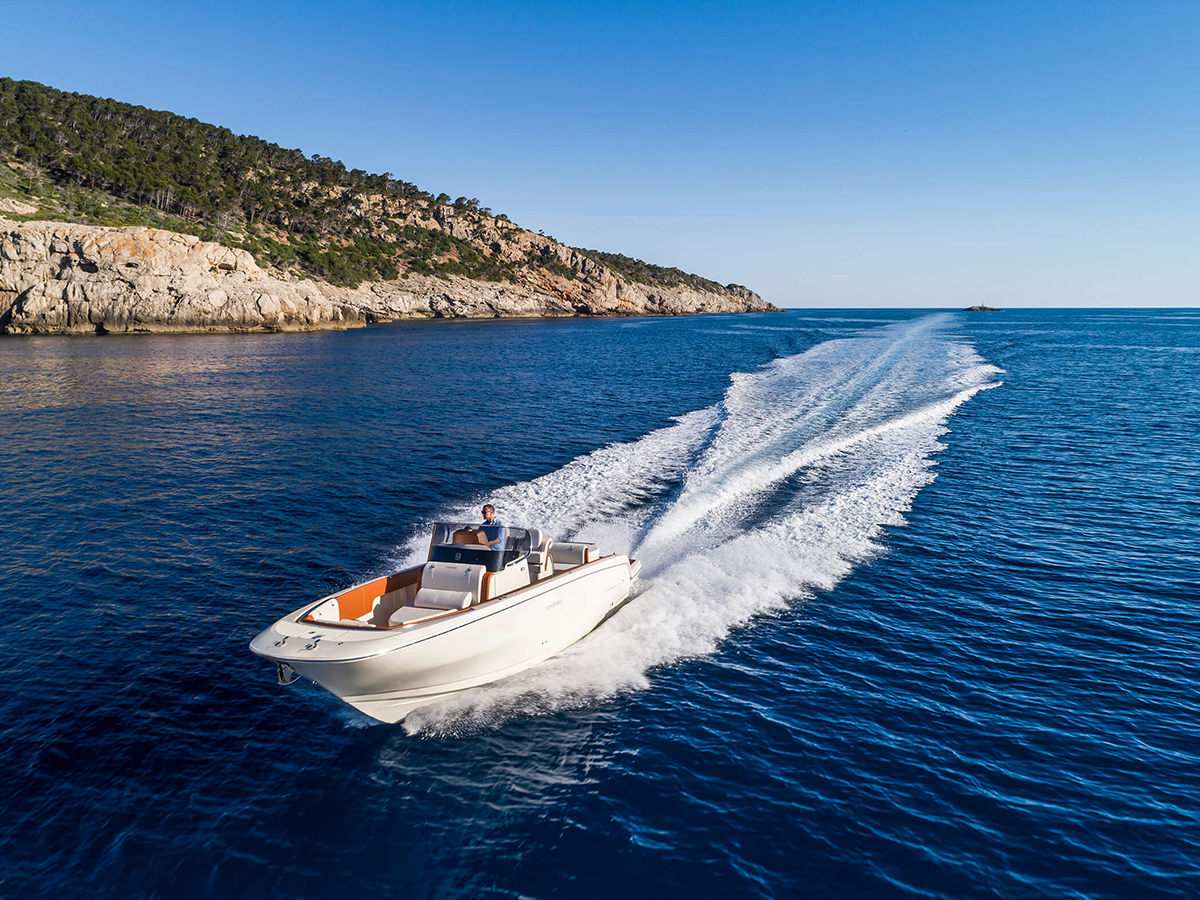 DOLCE EXCELLENCE BOATING
THE CAPOFORTE SX280i COLLEZIONE REDEFINES ELEGANCE IN THE MEDITERRANEAN SEA.
For over 20 years, Capoforte, the Italian boatbuilding brand, has produced the most breathtaking boats the seas and oceans have ever seen. Innovation, craftsmanship, passion and vision are the guiding pillars of their creations.
The new SX280i Collezione is made for those who have eclectic tastes. For those who want to alternate water sports with days of pure relaxation at sea, this model is meant for them.
Hosting friends and family is a surreal experience on the main deck that is designed to be the living room of the sea. The sheltered aisles allow for easy and safe access within the bow, where you will find a comfortable sunbed ahead of the console. This sunbed, with a C-shaped sofa along the entire bow, makes this area ideal for relaxing even when the boat is moving. The hull and deck are painted in an elegant "Blu Ulisse" colour, matching well with the rich Cognac cushions on the deck and the Sunset Gold dashboard. With its large swimming platform in the stern, the SX280i Collezione stands out for its meticulous design meant to enhance contact with all bodies of water.
The presentation of the SX280i Collezione at the Cannes Yachting Festival 2022, from Sept. 6th to 11th, was a huge success and captivated the eyes of all boat enthusiasts. Moreover, it was followed by the announcement of the future development of another "custom-built" model.
"Collezione should not be understood as it is in the fashion world, but indicates the desire to collect a unique piece, dedicated to enthusiasts who want to own a product that can never be confused with another," explains the designer, Christian Grande. "The ability to create models, such as SX280i Collezione, is a perfect example of the constructive, technical and stylistic capabilities of the Capoforte brand."
Great attention to esthetics and performance has made it difficult for other boat brands to outshine the SX280i Collezione. This novelty model is constructed with quality fiberglass and is equipped with a Volvo V8 350 HP Benzina engine that can reach a top speed of 39 knots and a cruising speed of 21 knots.
Capoforte has always aimed at interpreting the soul of its owners and reflecting that in the creation process. It is for this reason that the brand offers a wide selection of chromatic customizations of its models, making each boat distinctive.
Capoforte has consistently shown that the company is the best at what it does by redefining elegance, comfort and high performance. With the introduction of the SX280i Collezione, Capoforte has arguably proven to the world that boatbuilding is a legitimate art form.
www.capoforteboats.com
@capoforteboats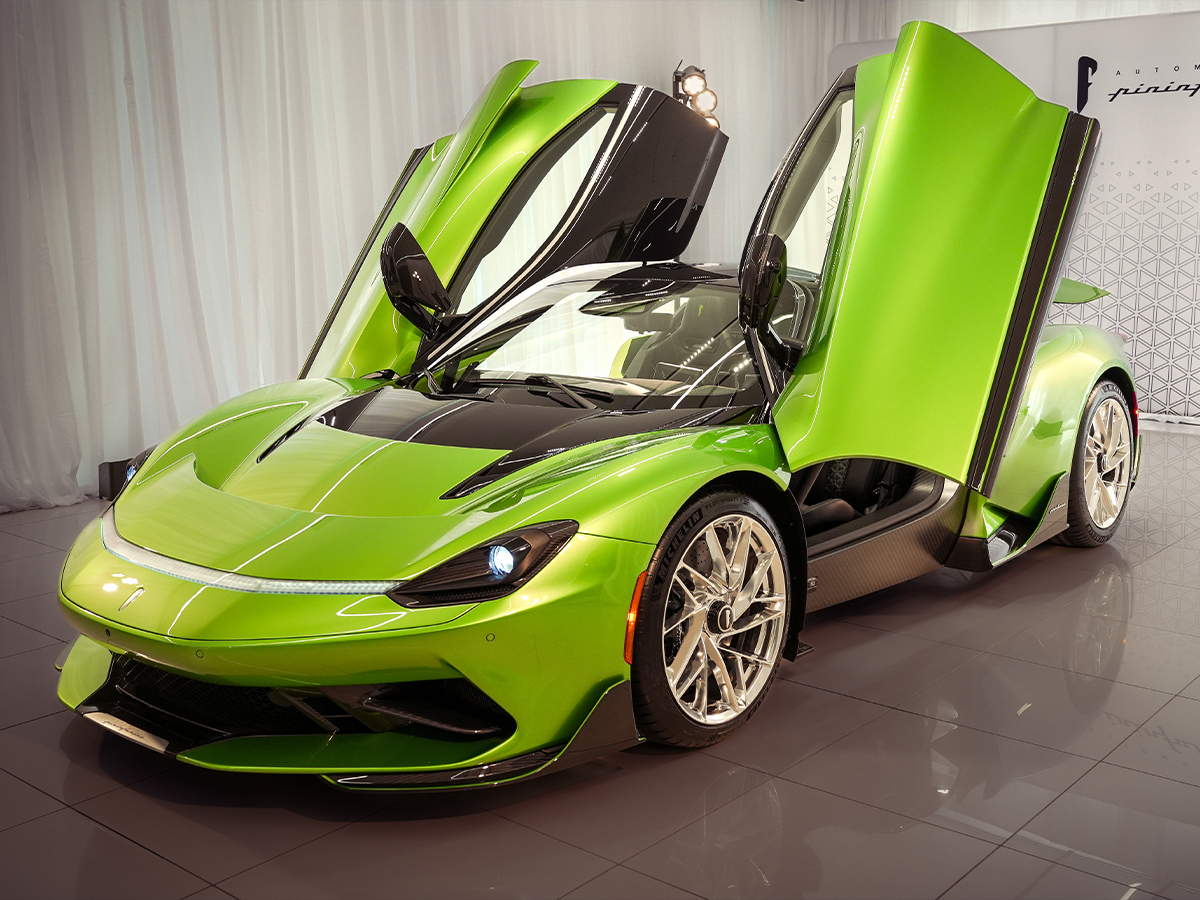 DOLCE EXCELLENCE AUTOMOTIVE
ITALIA'S MOST POWERFUL CAR EVER BUILT
Automobili Pininfarina's Battista pure-electric Hyper GT was introduced to Canada for the first time by its exclusive retail partner, Grand Touring Automobiles, in Toronto.
From Lamborghini to Ferrari, Maserati to Alfa Romeo, automotive traditions in Italy have been revered by car enthusiasts globally. Even competitors humbly admit that their track record of sheer flawlessness is the pillar of performance and design. Nevertheless, history has been made this year, courtesy of Automobili Pininfarina.
Attractive, powerful and purely electric, the Battista Hyper GT is a testament to Pininfarina's 90-year legacy and has taken the automotive world by storm. There is no better way to honour Battista "Pinin" Farina, also known as "the Picasso" of the automobile world, than by naming the world's first purely electric Italian hypercar after him.
This limited-production electric beast was crafted for a client in Canada and presented at a special event by Automobili Pininfarina's exclusive retail partner, Grand Touring Automobiles, in Toronto. Automobili Pininfarina's CEO, Paolo Dellachà, was in attendance and graciously shared with Dolce the impressive numbers that contribute to the Battista's unrivalled performance prowess.
Can achieve 0-100km/h in 1.86 seconds — a world record for a production car and faster than current Formula One race cars.
1900 h.p. of engine power
maximum speed of over 350 km/h
*Performance specifications provided by Automobili Pininfarina.
Before becoming CEO in February 2023, Dellachà led the development of the Battista pure- electric Hyper GT in Cambiano, Italy, as the chief product and engineering officer. He notes that each Battista is meticulously handcrafted through a six-to-eight-month process. All internal and external esthetic details are crafted by the client and Automobili Pininfarina's design team.
Paul Cummings, Grand Touring Automobiles' principal dealer and CEO, was also present at the event and spoke with Dolce. He says, "It is an honour to represent Pininfarina in Canada. What that company stands for — the DNA and heritage of that company — adds value to Grand Touring Automobiles, and we are excited to represent it in the Canadian market."
www.grandtouringautos.com
@grandtouringautos
www.automobili-pininfarina.com
@automobilipininfarinaofficial



DOLCE EXCELLENCE DIVE INTO MALTA
Written by Staff Writer
EXPLORING THE UNDERWATER WORLD
Malta's rich history is now being captured through a new perspective
The small island country of Malta is a beautiful archipelago located in the Mediterranean Sea. These small, beautiful sunny islands are home to incredible beaches and vibrant nightlife and full of must-see historical sites spanning 8,000 years of history, including the highest global density of UNESCO World Heritage Sites in any nation state. Not only is Malta a beautiful place to explore, but it is also a world-class diving destination.
In spring 2023, the world's first-ever deep- water archaeological park opened at Xlendi Bay in Gozo, the second biggest of Malta's three islands. This unique and advanced park has been made possible by the Malta Airport Foundation and Heritage Malta.
The Tower Wreck Deepwater Archaeological Park encompasses an immense area of 67,000 square metres and was first discovered in 1993. This incredible deep-sea site has allowed international researchers and technical divers get a different perspective on Malta's rich archaeological history. Now, the Underwater Malta website (https://underwatermalta.org/) gives the rest of the world a one-of-a-kind opportunity to explore its rich underwater history, from its incredible natural rock formations left by extinct coral reefs to its ancient artifacts dating back approximately 2,300 years to the sites of more recent ship and airplane wrecks left by wars and disasters at sea — a history that otherwise would remain invisible and possibly unknown.
"Through the Underwater Malta website, the foundation supports Heritage Malta in bringing this project closer to people who are neither divers nor researchers but are keen to learn more about the Maltese Islands' history through our underwater cultural heritage," said Malta Airport Foundation Chairman Josef Formosa Gauci.
The virtual museum offers online viewers 360-degree videos, images and 3D models of the sites and many of the artifacts that have been discovered. "Through this virtual museum, more people can discover our underwater cultural heritage and appreciate the unique sites in our seas," said Owen Bonnici, Minister of National Heritage, Arts and Local Government of Malta.
Visitors can now also see the marine park and its small museum in person. Opened this spring, the museum includes exhibits and video footage of the archaeological park.