Waddington's Spring Season Preview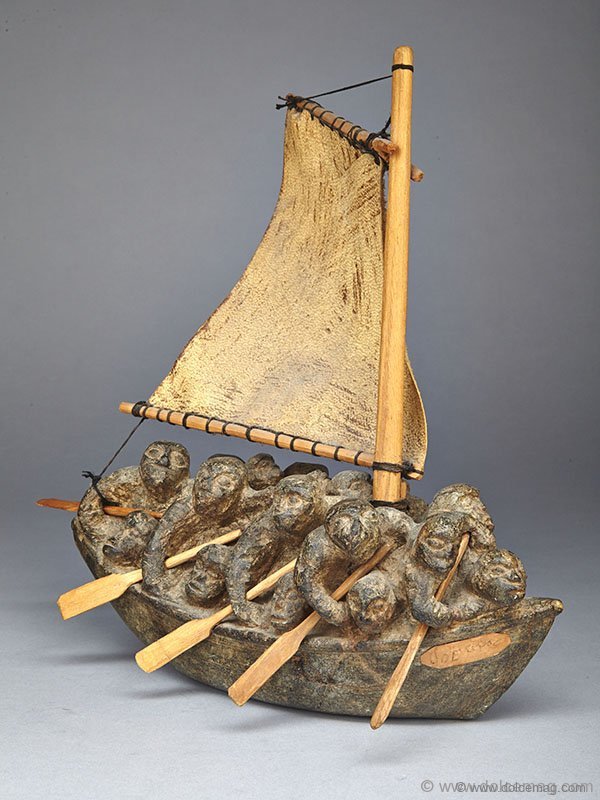 Stephen Ranger stands before a rare, privately owned Lawren Harris canvas in Waddington's downtown office, detailing the importance of this particular work. The start of Waddington's spring auction season is only a few weeks away and this Harris is easily the centre piece.

Deceptively simple brushstrokes have formed three dead, weathered trees, made smooth and white by the forces of nature, standing in arms of sunbeam before the vast waters of Lake Superior. Harris, arguably the most famous of the Group of Seven, produced the piece, dubbed Lake Superior, Painting X, during his journeys to the largest of the Great Lakes throughout the 1920s, a period when he also created the iconic Lake Superior, North Shore. This time was crucial to Harris's development as an artist. His work became noticeably more simplistic, included dramatic lighting and an air of tension — elements that would become characteristic of his style. He drew from his growing interest in transcendentalism and theosophy, and as such, his paintings depicted a spiritual dimension in nature. "He was also very much drawn to looking to define, at the time — and we're talking about in the '20s, here — a new Canadian identity," says Ranger, vice-president of business development at Waddington's. "And that identity was very much associated with the North."
What makes this piece so special is that most paintings by Harris are permanently housed in institutions, such as galleries and museums, like the ones in the Thomson Collection at the AGO, leaving very few in private hands. To see one outside of the institutional realm is uncommon. This one in particular has never been on the market. Ever. "It was bought by the present owner in 1952 from Lawren Harris's son," Ranger adds. "It's never changed hands." Come May 26, however, it will likely find a new owner.
Estimated to fetch between $2.5 million and $3.5 million, Lake Superior, Painting X is the crown jewel of the Waddington's Canadian Fine Art Auction, and arguably of the renowned auction house's spring season. Thousands of items pass through Waddington's every year, and this year is no different. Collectors will find everything from the aforementioned Harris canvas, to Inuit sculptures, to a mix of pieces from private collections, to fine jewelry and decorative art.
New for 2014 is Waddington's Exhibition of Contemporary Asian Art. Running from May 1 – May 11, this exhibition features works by Chen Minghui, William Ho and a number by Japanese artist Takashi Murakami. With bright, joyful images, such as smiling, multi-coloured flowers, Murakami's work is what Ranger refers to as "happy art." Not that Murakami isn't a serious artist — his work is featured in museums across the world, including the Museum of Contemporary Art, Los Angeles — but "it's just that his subject matter is accessible in ways that a lot of work in the contemporary art sphere is not," Ranger explains.
Another highlight from the spring season is the Inuit Art Auction, which features approximately 300 aboriginal sculptures, including ones by Pauta Saila and Joe Talirunili. The Talirunili piece, made of stone, wood, hides and thread, depicts an umiak (a type of boat) full of migrants paddling across the water. Talirunili produced 20 similar sculptures throughout the late 60s and 70s and the last one that Waddington's had up for auction sold for $250,000. This particular one is smaller in size and is expected to get $120,000 to $140,000.
"These are very, very iconic images and hugely important work in terms of the whole catalogue of Inuit material that doesn't really have a long history," says Ranger, who's worked in the art auction business for over 25 years. "People only started to collect Inuit art in the 50s and 60s and when we refer to early pieces we're talking about pieces that are really just a generation old."
Other notable pieces include a couple of rare canvases by Emily Carr, with one estimated to sell for $150,000 to $200,000 — "She was maybe the woman who should have been in the Group of Seven," says Ranger; and an eclectic array of items from the William (Billy) Jamieson Collection, such as samurai armour, tribal art, a fibreglass figure of a tattooed woman and a reproduction electric chair.
Visit www.waddingtons.ca for full listings, or head to Waddington's Auction House, located at 275 King Street East, 2nd Floor, Toronto.
AUCTION DATES
The William (Billy) Jamieson Collection Auction
April 29, 2014, 7 p.m.
An Exhibition of Contemporary Asian Art
May 1-11, 2014
Canadian Fine Art Auction
May 26, 2014, 7 p.m.
Inuit Art Auction
June 2, 2014, 7 p.m.
Asian Art Auction
June 9, 2014, 7 p.m.