We Are Silent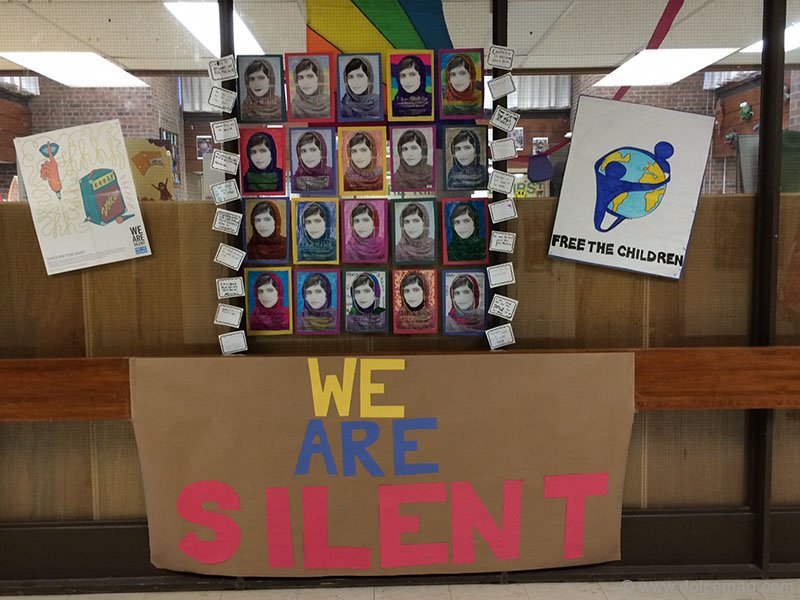 Hollywood stars and school students may be the last two groups of people to be labelled as "the silent type," but on Thursday, April 17, 2014, both are coming together to cut the chitchat in honour of an incredible cause.
It's called We Are Silent, formerly "the Vow of Silence" — a 24-hour campaign hosted by Free the Children to raise awareness and funds for the millions of girls around the world who have been denied their right to go to school.

This year's edition of the event is a momentous one as it marks the launch of a new, multi-year partnership between Free the Children and the Malala Fund, an organization that aims to give a voice to these girls and to help them achieve their full potential. Malala Yousafzai, the 16-year-old Pakistan native and activist for the right to education and women's rights, was the victim of an attempted assassination by the Taliban in October of 2012. Her miraculous survival and unfaltering passion for her cause sparked the Malala Fund, which Free the Children announced at the inaugural We Day UK on March 7 that it would be joining forces with for the We Are Silent campaign.
"Malala Yousafzai's passion for education and refusal to back down has inspired youth the world over to stand up for what they believe in," says Craig Kielburger, co-founder of Free the Children. "She has given a face and a voice to the millions of girls denied the right to an education and has inspired a movement of young people passionate about change."
This year, Orlando Bloom, Selena Gomez, Jennifer Hudson, Martin Sheen and Seth Rogan are amongst some of the A-listers joining the silent fight, along with students across North America who have been inspired by Malala. Maya Morose, a 10-year-old Ontario student, is one such pupil.
"I think it's important to share Malala's story because it teaches us about courage and the issue of 31 million girls who don't get to go to school," says Morose, who has been taking part in We Are Silent for the past four years, along with her entire school. "I can't imagine not going to school. School is such a big part of my life. It feels like a privilege to go to school when so many other girls can't."
The idea of the We Are Silent campaign has its own interesting backstory, Kielburger says. The concept of staying silent for 24 hours in order to raise money originally came from a friend of his named Joe Opatowski.
"He was a hip-hop poet, shameless idealist and practical joker, whose friends teased that he couldn't stay quiet for a minute," recalls Kielburger. "One day he asked if we would pay him to stay silent for a whole week. In his silence, he saw an opportunity to make a point — he decided he would be silent in recognition of those without a voice."
When Joe raised $5,000 in his week of silence, he inspired the movement that is now touching ground across the globe.
Whether you'll be sitting at an office desk or a school desk, whether you'll be walking the red carpet or spending the day at home, We Are Silent is a self-challenging and infinitely rewarding way to make a difference. Those participating are invited to join in the We Are Silent social media buzz by posting a photo of themselves on Facebook, Twitter or Instagram with their finger to their lips in a shushing motion and tagging it #WeAreSilent.
"Everyone participating in We Are Silent has a cause they are going silent for," says Kielburger. "We want to show the world that we are not just passive bystanders, but active global citizens." www.freethechildren.com

How do they do it? Craig Keilburger's tips on how to keep your lips sealed over those 24 hours …
"Being silent for one hour, let alone 24 hours, is tough! Over the years, though, I've learned a few tricks to stay wordless for a full day."
 
1. Let friends, family and teachers know ahead of time that you won't be speaking for 24 hours. This will give you the chance to explain what the campaign is all about, share why you're going silent, and feel supported by those closest to you. 
2. Get your friends, co-workers, classmates, family and teachers to join you in this campaign! There's strength in numbers, and what better way to spread the message than to get others to also take part?
3. Although you cannot physically speak during We Are Silent, social media is a powerful tool through which you can speak out for those whose voices are silenced by poverty, exploitation or denial of their rights. With Twitter, Facebook and Instagram, there are so many ways to share why you are silent with those in your network, and still remain physically silent for 24 hours.