Cameo Kitchens – The Pride of Design And Quality Craftmanship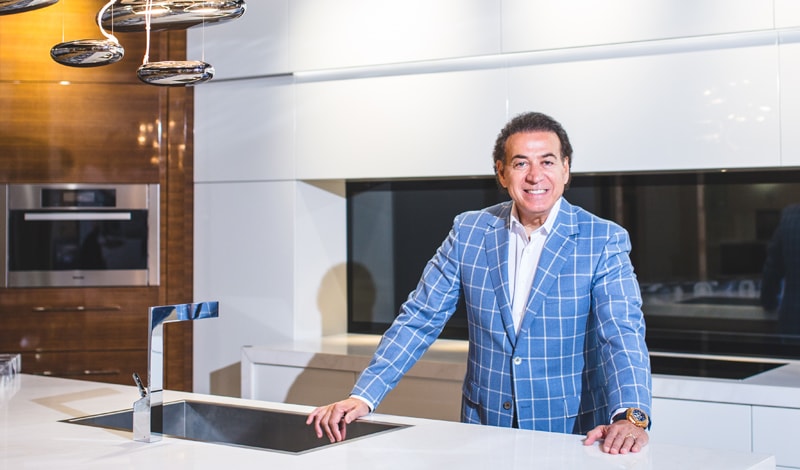 Bringing innovation, artistry and style to life at the heart of the home.
A century ago, visitors to any home were immediately ushered to the front parlour, or "sitting room," to avoid the real core of the home: that messy kitchen. Rarely did the guests ever venture to the back of the house.
How times have changed. Today, you usually lead your guests, quickly past the living and dining rooms to your kitchen, now firmly ensconced as the soul and centrepiece of the modern home, the very engine of day-to-day living and the centre of family life.
It's no coincidence that at any open house, the feature sheets and realtor's business cards are usually in the kitchen. It is the showpiece space — no room in any home more immediately and visually communicates the style and quality of how you choose to live your life than the modern kitchen. The kitchen has become the magnet around which all home life revolves and the heart of the home.
And the quality and style of today's kitchens do not resonate through the rather uniform look of stainless steel appliances, but in the individual design and custom craftmanship of the kitchen cabinetry. Kitchens have become art pieces.
This business is always changing, kitchens have become lifestyle statements and every day we are asking, 'what can we do better?'
No company understands this more than Cameo Kitchens and Fine Cabinetry, which from modest beginnings now has 60 employees, and whose craftmanship can be found in some of the finest homes and condominiums in the GTA. Specializing in kitchens, bathrooms, millwork and closets in traditional, transitional or contemporary designs, it all started 35 years ago when Marwan Rizek, founder and president of the company, realized: "there were good cabinet makers, but they didn't know how to market the business — it was a very primitive industry at the time, and with my sales and marketing background, I felt I could make a difference and that this was an industry I could develop further and build."
Cameo Kitchens and Fine Cabinetry was relatively unknown when it started, so Rizek quickly focused on what the company did best. "We emphasized our features and benefits that differentiated us from the competition. We used this as our marketing and sales strategy and grew from that with a lot of hard work, trial and error. My motto has always been 'change is the only constant' and we've always kept up with the changes. This business is always changing; kitchens have become lifestyle statements with evolving looks and functional elements all the time, and every day we are asking, 'what can we do better?'"
Among the many ways in which Cameo separates itself in the market are the quality of its craftmanship, the innovative and varied designs to suit almost any personal style, and its ability to listen to, and work with, its customers in making sure their vision is reflected in the end product.
Cameo believes that its relationship with its customers involves bringing them into partnership with Cameo's artisans to ensure that its products fit the individual perfectly and that all cabinetry is tailored to suit every customer's taste and needs. Customization is the absolute key to Cameo's success.
And while style and design are important, every kitchen must work for the customer in efficiency and functionality — over the long-term. Kitchens can be sleek, stylish and sophisticated, while at the same time being engaging and encouraging experimentation — the comfort and freedom to entertain or to try that new complicated recipe.
"We only build one-offs, like a custom suit versus off-the-rack," says Rizek. "There are three parts to our business: design and sales, manufacturing, and delivery and installation, with a positive customer experience from beginning to end. We design to customers' specifications in [overall] design, finishes and colour schemes, and everything is customized, as well as providing a five-year warranty."
"Our mission statement, 'Never abandon hand craftsmanship in favour of the mass-produced,' has been the guiding light throughout, and even as we grow bigger and get into the business of boutique condominium buildings, we work with the developers and designers to create a kitchen look that is totally unique to that building, as we want each project to be individualized."
Cameo is one of the premier kitchen suppliers to some of Toronto's most notable and prestigious condominiums, such as 128 Hazelton Ave., 4 The Kingsway, The Davies, 181 Davenport, The Avenue & Park, and the Penthouses at Imperial Plaza. The company also supplies kitchens to boutique projects in the Cayman Islands and the USA — further testament to Cameo's reputation and acknowledged leadership in this very competitive business.
Cameo's success has allowed it to give back to its community, working with charities such as the Trillium Health Partners Foundation, Credit Valley Hospital, Humber River Hospital Foundation, and the Women's College Hospital Foundation on various causes, specifically focusing on oncology, pediatric care and mental health. "This is very important and very satisfying for everyone at Cameo," says Rizek.
The importance and positioning of kitchens within the home have changed dramatically over the generations, to the point where if you ask any new homeowner what they love most about their home, the chances are pretty good they will tell you, "I love my new kitchen." This is the passion for artistry and craftmanship that Cameo Kitchens and Fine Cabinetry understands and appreciates best — and it's how its business is defined and guided.