Caesarstone: Durability, Design and Style at the Heart of the Home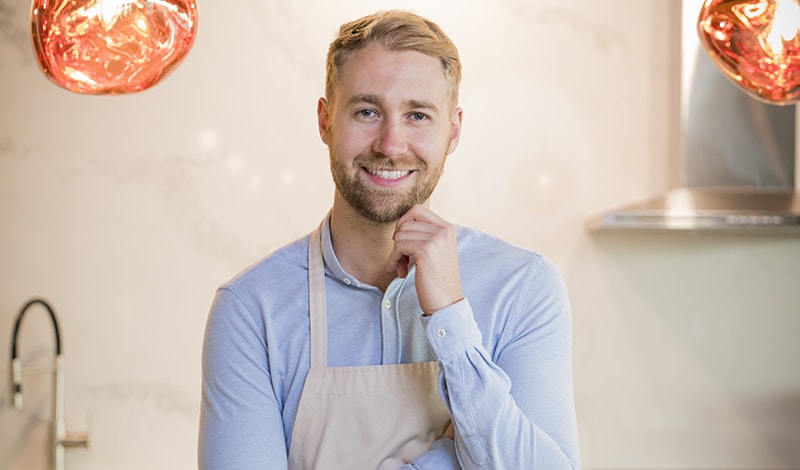 When it comes to your home, you only want the best. Whether you're looking for a countertop, a backsplash or even flooring, Caesarstone's plethora of top-quality products will be a perfect fit.
It would be hard to think of a more revolutionary element introduced into the home in recent years than Caesarstone. Once an insider's whisper among builders and interior designers, this seemingly indestructible stone is now the go-to choice at the heart of the home, in kitchen and bathroom countertops and backsplashes.
Where Caesarstone has had the most impact is in how people cook, or more specifically, the freedom the stone allows for at-home chefs to prepare foods without worrying about scratches or stains. With Caesarstone, a wet swipe instantly removes your messes without a trace. Caesarstone was the first company of its kind to use quartz — one of nature's hardest materials — as the main ingredient in its surfaces. It is this natural coupling of design and practicality upon which the company is now focused in its strategy moving forward.
With this in mind, Caesarstone Canada has a new chief brand ambassador in Chef Sean MacDonald, recently selected as one of the top 300 chefs in the world by The Best Chef Awards. A contributing columnist to the Globe and Mail with his recipes, this kitchen technician is familiar with the best and is a faithful convert to Caesarstone.
"I have always been a fan of the brand; it's been my top choice for my kitchens," says Chef MacDonald, who knows a thing or two about the importance of a quality countertop. "Whether I'm cooking or styling food, I make a mess. I need a quality surface that is easy to clean and can handle all the food and items I'm tossing on it — without worrying about stains or scratches."
Now 30 years old and operating around the world as a market leader in the innovation of stone applications, Caesarstone is known for its wide variety of colours, patterns, styles, designs and textures, along with the quality brought by its inherent characteristics such as hardness, non-porous surfaces, scratch and stain resistance, and overall durability.
"Caesarstone is all about innovation and beautifully superior quality," says Elizabeth Margles, Vice-President of Marketing. "We are not only a product leader but a brand leader, so we like to do things that no one else can do."
"The more we push the innovation [of] our colours and our textures the more people want to use it in different ways, so they'll say 'I don't want to just keep this on my countertop, I want to see what this looks like in a staircase,' [for example],'" says Margles. "We want to push people to use it in other applications." These applications range from fireplace surrounds to vanities and tubs surrounds, and they can even do wall cladding and flooring.
This focus is noticed and appreciated by even the most particular of product users, such as Chef MacDonald. "The durability of Caesarstone sets it apart — not having to worry about any stain possibility such as smushing berries onto a white countertop," says Chef MacDonald. "But I also really appreciate the consideration to the variety of colour options they offer. They're always ahead in design."
Durability, a choice of textures, colours and style, a variety of designs and product innovation. These are the brand features that have made Caesarstone an indispensable part at the heart of every home.
www.caesarstone.ca
www.instagram.com/caesarstoneca
www.instagram.com/seanymacd