Mateo And His Magnificent Murals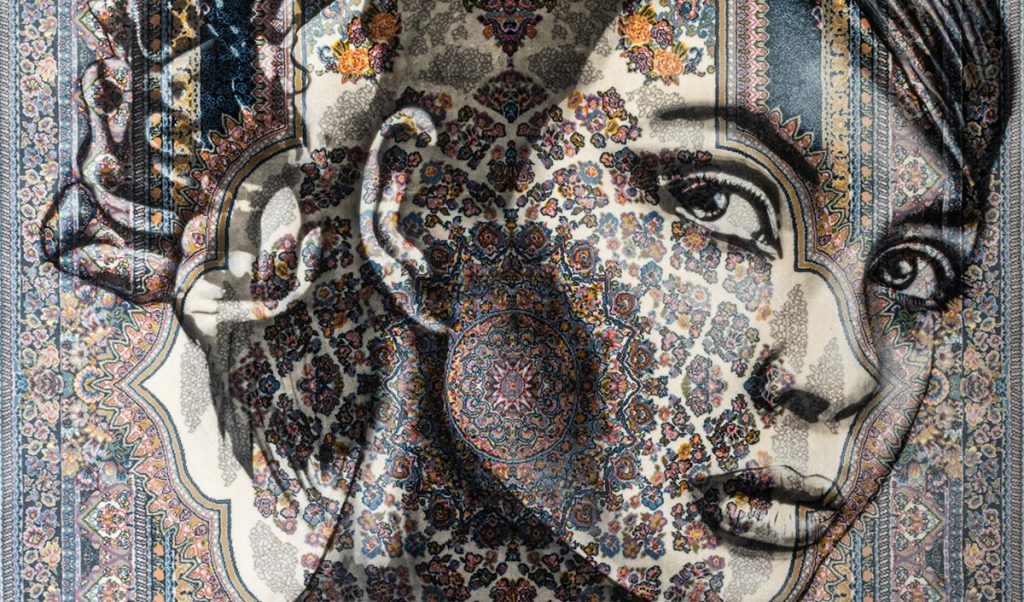 Mateo redefines traditional carpets through his archetypal murals ornamented with ancient motifs and striking female faces.
French-born artist Mathieu Bories, alias Mateo, blurs the boundary between art and spirituality through his collage and stencil artwork that merges elements of traditional design and contemporary street art.
After completing a master's degree of art in Toulouse, he headed to Montreal to start his career as a graphic designer. A few years into work, Mateo decided to go on a trip around South America, where he was influenced by the street art scene in Argentina. It was after this trip that he decided to devote himself entirely to art.
Mateo's particular method of painting striking female portraits on traditional carpets builds a bridge between the past and the present and is reflective of his deep spirituality, which comes from practising kundalini yoga, meditating and entering a flow state before starting each project.
Drawing inspiration from his inner self and cultures around the world, his art exudes both wisdom and diversity. Mateo characterizes himself as someone who helps reconnect erased romanticism in contemporary society, using ancient wisdom and contemporary tools as a compass for his work.
Mateo's artwork is thought-provoking and grounding, reminding you of a simpler time when ultra-consumption of technology didn't exist and when we were closer to nature and had a deeper connection to one another.

Q. Tell us about where you grew up, the people in your family.
A. I grew up in a small town in the south of France, close to Spain. Sunny, natural environment.
My family is not in the art field. They taught me simple and human values, also to be close to nature.

Q. Who has been instrumental in your career path as an artist?
A. Really, I learned by myself and built all aspects of my career alone. But I always look to artists whom I admire, like Basquiat, Inti, Banksy, C215, Seth and Faith47, to try to find the key to their creativity and their process. After that, I just practised and finally found a way to show my art and meet the right people.

Q. Your artwork succinctly merges traditional and contemporary design. Would you consider yourself more of a traditional or contemporary individual?
A. This is exactly the point, to merge and create a bridge between traditional design and contemporary/street art.
As for myself, I consider the same; I truly evolve in between ancient wisdom and contemporary tools.
I use technology to serve me and not to distract me. I enjoy comfort, but I'm not looking for too much luxury. On the other side, I try to keep my life simple, minimalist and close to nature. I am a spiritual human, as I practise yoga and meditation every day and, before each painting, I practise some rituals, as well as shamanic experiences.
"Before I Paint, I Meditate And Enter Into A Flow State Of Concentration. Maybe That's Why You Can Feel Spirituality Through My Work"
I love to think that, in those contemporary days, we have reached a high level of comfort and technology, and this is now our choice to use it wisely, and also remember the wisdom of ancient cultures. We'll merge the past and the future.

Q. What is the process for your artwork from start to finish? How long does the whole process take?
A. I estimate the whole process to be around 80 hours of work, but it's always different, depending on the project, the inspiration and the flow state.
At the beginning, I look for carpets to paint on, then I order them. I also look for women/ muses to portrait, then create a photo shoot and try to reveal their true essence with poses and expressions.
The most important step is the creation of a sketch on my iPad®: drawing the portrait and trying various compositions to merge it with the carpets I have until I find the perfect fit between the two. It can take hundreds of variations before I'm satisfied.

Q. You are known for drawing inspiration from around the world. With so much change going on, due to the pandemic, has the source of your inspiration changed?
A. The pandemic didn't really affect my inspiration, as I'm used to spending a lot of time alone in my studio, working on my paintings and various projects. As an artist, I think I'm more used to being confined. Also, the inspiration can be found in my inner self, as well as research in books, internet, music, etc.

Q. Where are you hoping to travel to next?
A. Good question — not sure yet, I'm actually stuck on the island of Ometepe, in Nicaragua. I travelled here in January for an artist residency with Momentom Collective. The idea is to be immersed in the jungle with like-minded artists and create magic, boost our inspiration with daily yoga, meditation, circus, art classes, as well as vegan food cultivated on-site.
We are autonomous here and live for a moment outside of the pandemic situation. It is a highly inspiring and spiritual experience.

Q. How does travel impact your work?
A. Travel is an essential source of inspiration for me, as it opened my mind to new realities and cultures. I also need to travel to paint murals and exhibit around the world.

Q. Your artwork exudes spirituality. How do you tap into your spirituality in your everyday life?
A. Spirituality is a way of living. I personally don't believe in religions, but I believe in high consciousness, deep connection with nature and human beings. Living in the present moment and being careful of the choice and direction we take in life; grow as my higher self, always learning, as life is sacred. Along my travels, I have been initiated to various shamanic rituals and ancient medicine practice, which really opened my vision of the world.
In my everyday life, it means being healthy, sensible, practising kundalini yoga, meditation and mindfulness as much as possible. I try to merge this with my artistic practice, as I consider each artwork sacred and make rituals for them. Before I paint, I meditate and enter into a flow state of concentration. Maybe that's why you can feel spirituality through my work.

Q. How has COVID-19 affected your artwork?
A. Actually, it didn't really impact my artwork because COVID comes from the external world, and my artwork is created within my inner world.

Q. Your artwork questions the perception of ancient wisdom and its impact on Western societies. Have you been able to draw from ancient wisdom for the pain that the world is going through right now?
A. Not sure … If the world would be more conscious and connected to nature, all this pandemic situation would not happen.

Q. If you could change anything about society, what would it be?
A. To slow down the system and equilibrate the wealthiness, as well as be more connected with each other and nature. And use technology wisely and stop wasting resources.

Q. What would be a dream project or collaboration for you?
A. A large exhibition project in Iran and working with communities. And a street art project with Banksy.

Q. What is the best compliment you have ever received?
A. "You are so exceptional, and you don't even know it."

Q. How would your friends describe your personality?
A. Calm and quiet, but powerful and wise. Knows how to listen before he speaks. Naturally funny.

Q. What do you admire most in people?
A. Compassion, passion and talent.

Q. You've said before that your artwork "helps reconnect erased romanticism in our contemporary society." What does romanticism mean to you?
A. Romanticism for me evokes a time before the ultra-consumption and connection with technology. A time where I travelled without a phone and Google map, a time where adventure was real, that you can leave your country without knowing where you will go and when you will return. A time when you write a letter with ink and not send an SMS. All these little things that make life more exciting, passionate and adventurous. Romanticism is living your life like you were the hero of a book.

Q. Where do you see yourself in the next two years?
A. Difficult to imagine, but now I'm more curious about living in nature and communities with new values. Create a new world and new way of living. With a beautiful art studio.

Q. What is your definition of la dolce vita / (the good life)?
A. Where I'm now, we call this "pura vida" or "pure life." Living on our own path, in the present, without stress. In nature, close to the elements and the sun. In connection with each other. Creating art.
www.mateowallpainter.com
@mateo_wallpainter
Interview by Estelle Zentil