Signature Kitchen Suite: Elevate The Heart Of Your Home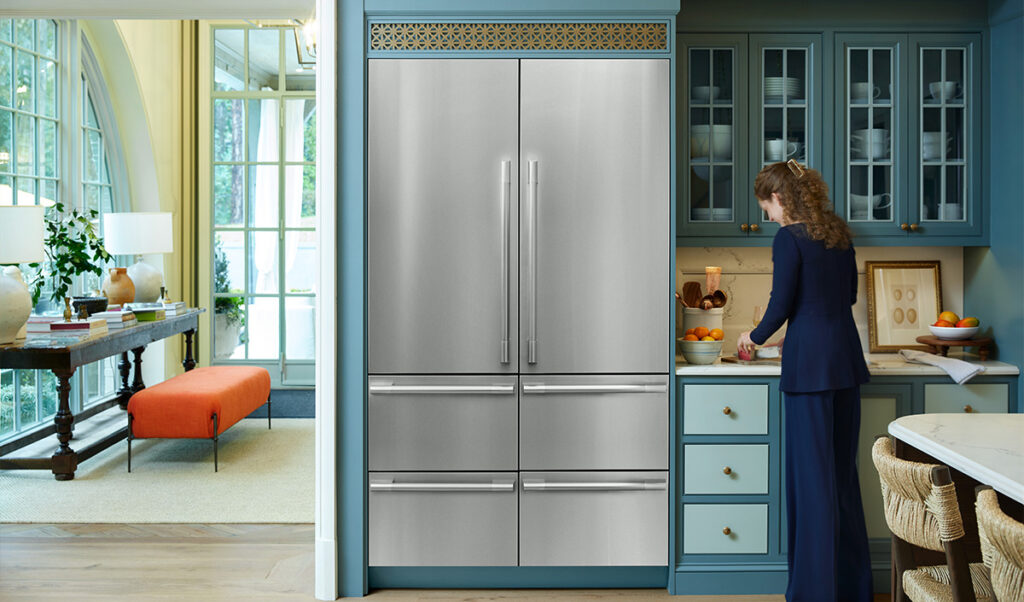 Signature Kitchen Suite appliances combine purposeful design, precision and luxury for today's home chef.
With a commitment to luxury design, precision and innovation, Signature Kitchen Suite is for those kitchen aficionados who are passionate about the look, feel, and function of where they cook.
As the heart of your home, your dream kitchen deserves to have every detail carefully designed to elevate your culinary experience.
The Signature Kitchen Suite panel-ready 48-inch French Door Refrigerator is more than just a storage unit for food — it boasts professional performance and design. The exterior architecture allows a flush look with freezer drawers that line up with a standard countertop height. The interior is designed with precision and is equipped with advanced preservation technology and enhanced freshness capability. The dual compressors and metal interior help maintain minimal fluctuations in temperature. The precision in food preservation extends to the convertible drawer, which offers temperatures ranging from 50C to -210C.
Cooking is always at the centre of any kitchen, and the Signature Kitchen Suite 48-inch Dual- Fuel Pro Range takes cooking to a whole new level of luxury and innovation. With the industry's first built-in sous vide water bath, and both induction and gas cooking surfaces on the cooktop, this range offers exceptional versatility. Whether you're searing a protein, simmering a delicate sauce or preparing a feast for a gathering, the user has the freedom to experiment with different cooking techniques and achieve professional-level results.
The two induction zones provide precise temperature control, perfect for recipes that require a delicate touch. But wait, there's more! The 18-inch True-Combi Steam oven adds another layer of innovation by combining steam and convection, to ensure food is cooked quickly and evenly while preserving its texture, appearance, and taste. Lastly, with the ProHeatTM convection technology in the range's 30-inch oven, heat is evenly distributed to every rack, so meals are prepared to preference.
"Elevating your culinary creativity begins with the design of the kitchen. Signature Kitchen Suite luxury appliances feature the latest in kitchen innovation with functional, built-in, panel-ready appliances that elevate the overall kitchen aesthetic. Panel-ready appliances enable cabinetry to have a clean and cohesive look within any kitchen — with the option to include different materials, colour palettes, and finishes, or mix and match to put your own personal touch on your space."
— Claire Jefford, Claire Jefford Consulting
Where there's food there must also be beverages, and what elevates an outstanding meal more than a wine pairing? Signature Kitchen Suite panel-ready Integrated Column Wine Refrigerators are the epitome of luxury for wine enthusiasts. These refrigerators enable you to store and prominently showcase red, white, and sparkling wines, recreating the ideal environment of historic wine caves. They feature dark opaque glass doors for UV protection with Touch Display Lighting; an inverter linear compressor to guard against vibration; three evaporators to maintain steady moderate humidity; and three independent temperature zones to create the optimal conditions for your favourite red, white and sparkling varietals. The symmetrical integrated columns with beechwood shelving and metal accents allow for flush installation.
With Signature Kitchen Suite, elevate the full body of your kitchen with thoughtfully engineered luxury appliances that offer unparalleled performance to transform your kitchen and cooking experience.