David's Fine Linens – Supreme Luxury and Comfort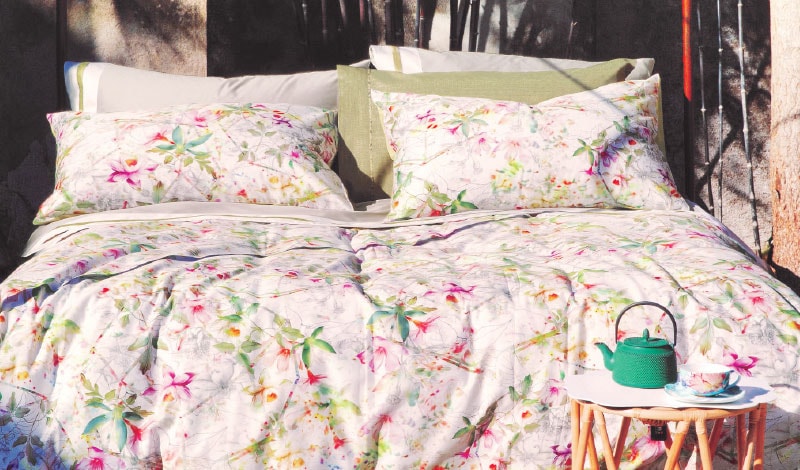 Whether spring brings the heat or not, stay warm and cosy with the most comfortable seasonal bedding and blankets.
As winter demonstrates its height and spring encroaches on the precipice, one common aspect holds true for both of these seasons: the best place to be is in bed. David's Fine Linens offers supreme luxury and comfort with an extensive selection of spring must-haves to help you get over those winter blues.
Made in Italy, florals and leaves decorate the Fazzini Uma duvet cover set. The 100% cotton fabric is smooth to the touch and eases you into bed. The pillow shams are part of the True Stuff Rhombe duvet set, available in neutral white and grey, and are made of 100% organic cotton.
David's Fine Linens is renovating its stores to make it easier for you to find the best product for your home. With beautiful décor and a modern feel, the rich tapestry of bedding and blankets is woven into a luxurious display, perfect to satiate your appetite for comfort and a restful sleep. And with a new location opening in Woodbridge, David's Fine Linens is more accessible to this area than ever. In addition to these changes, David's Fine Linens is hosting an incredible renovation sale with savings of up to 80% off!
Renaissance Commercial Plaza
8099 Weston Rd., Unit 25, Woodbridge, Ont.
905-264-7778
Bayview Village Shopping Centre
2901 Bayview Ave., North York, Ont.
416-590-7311 Toll-Free: 1-877-591-1115