Escape to the French Caribbean at La Samanna by Belmond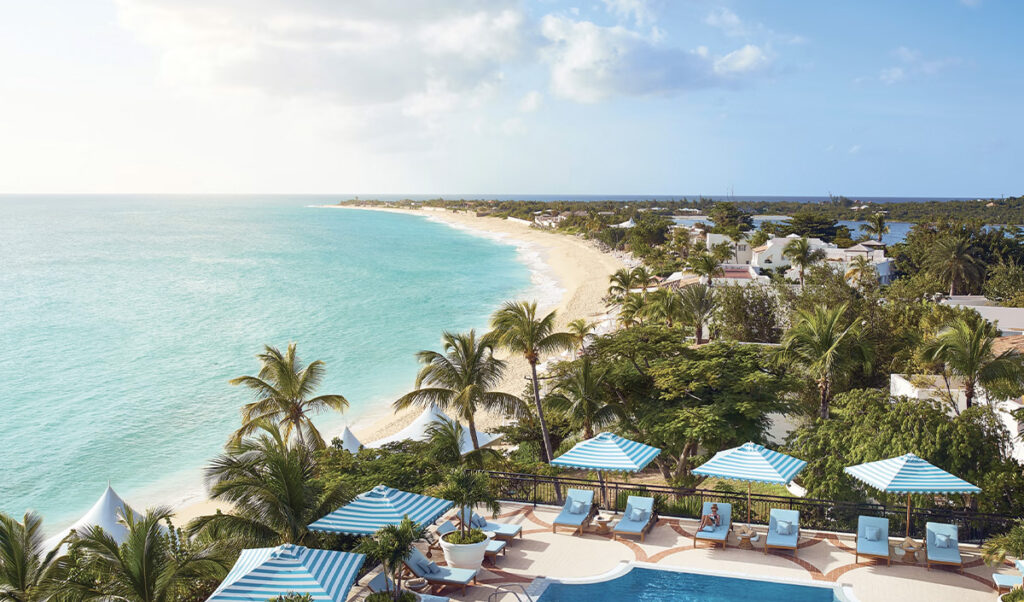 The island of St. Martin has been known for its euphoric escape to a sunny paradise. White sandy beaches, bold blue water, secluded coves, diverse cuisine, vibrant nightlife and a variety of duty-free shops selling top-of-the-line jewelry and liquor. Then there are the resorts that are all around St. Martin and welcome guests from all over the world. However, among the many hotels and resorts, only one stands triumphant over them all. That is La Samanna by Belmond Hotel.
Located away from the main island in a hidden enclave that overlooks the Caribbean Sea, La Samanna showers guests with a beyond-five-star-luxury experience. From the moment guests enter, they are captivated by the stark white arches that frame the picturesque cerulean waters from afar. It is at this moment they know they have been embraced by an oasis.
The white-washed walls, coral pink accents and pristine tiled roofs will have you feel like heaven on earth does exist. The resort sits majestically on a cliff with breathtaking views. With a variety of rooms, suites and villas to choose from, every type of guest experience is accommodated.
At La Samanna, you wake up to clear blue skies and calm seas. Rooms and suites are airy and cool, with crisp white sheets and touches of nautical flair that beautifully reflect the colours and tones of the island. For those looking for absolute privacy, opting for a private villa is a must. Each villa comes with its private infinity pool that looks out onto the unspoiled backdrop. No matter what room style you book, your accommodations will be met above and beyond.
Just when you thought things could not get any better, L'Oursin restaurant pushes the level of luxury even higher. The idyllic bistro setting creates the ultimate in romance, and the menu offers countless mouth-watering French-Caribbean delicacies, from succulent lobster to flavourful beef tenderloin, all prepared by two-star Michelin Chef Marcel Ravin, who excels at instilling his Martinique flare into each dish.
Those who want to raise a glass over a private dinner, chocolate and cheese tastings, or a cigar-rolling workshop can venture to La Cave — an exquisite wine cellar where world-class wines from across the globe adorn the walls of this intimate, enchanting venue. Carefully curated with exceptional vintages, the collection at La Cave complements every occasion.
For those who like to experience a more adventurous vacation, guests have an endless number of excursions to experience in St. Martin. Visitors can take to the waves with the instructors for an aquatic adventure of snorkelling and motorized and non-motorized water sports. Guests who need essential Zen time can enjoy an energizing yoga class to start their day.
La Samanna is a host of sporting, cultural and culinary Caribbean activities to enrich your time on the island. For instance, the art exhibition held at the Rendezvous Pavilion proudly presents a stunning exhibit of Caribbean "Plein Air" paintings by St. Martin-born artist Sir Roland Richardson. It is here where guests learn that the beautiful inspiration of the art reflects the colourful environment where it was created.
Providing a restful and relaxing getaway is only the first stage of La Samanna's offering. It is committed to creating everlasting memories that will have guests lost in tranquillity. It is simply a paradise where guests can enjoy an alfresco massage or lie in a hammock, lulled by the sound of the waves. Take a day cruise around the island or savour a sumptuous private dinner by the shore. There's always a touch of romance in the air. What are you waiting for?