Drop the Top – Aston Martin DB11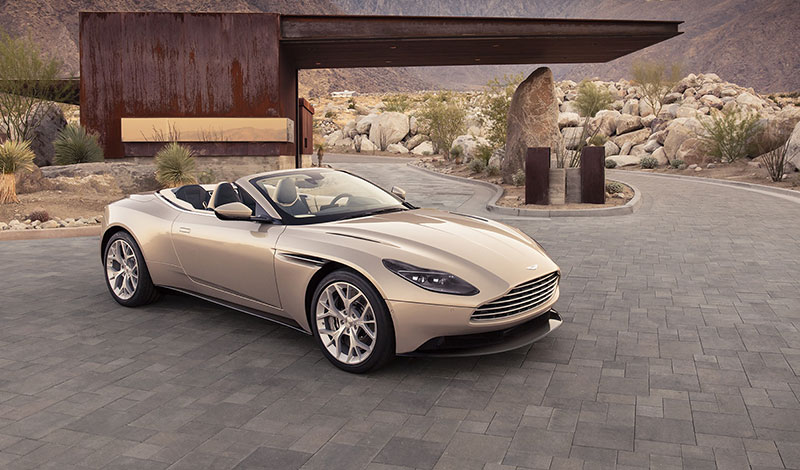 The all new Aston Martin DB11 is the classic Sports GT re-innovated and redeveloped, teeming with power, control and refinement.
Cruising down the open road with the top down and the feeling of fresh air hitting your face just got better. The new Aston Martin DB11 Volante presents the return of the ultimate convertible Sports GT. A new 4.0 twin-turbo 510PS engine mixed with a lighter, less rigid aluminum frame makes for an exceptional combination of performance and efficiency, while maintaining its sporting character.
The Volante's excellent ability comes by way of its three driver selectable powertrain calibrations and Adaptive Damping System (ADS) with Skyhook technology modes GT, Sport and Sport +. The driver is able to control the Volante to best suit the road and weather conditions, because of the balance between the 8-speed paddle-shift automatic transmission, electric power assisted steering and limited-slip differential with dynamic torque vectoring.
Created with aerodynamic features, and a unique light blade tail that gives the car a C shape, its sleek design defines its character.
The Volante can be personalized to suit everyone's needs. Its elegant design is complemented by the heated steering wheel – encouraging all season open-air motoring – rear set ISOFIX attachment points and much needed versatility.
The defining feature of the Volante is the convertible roof. Created with a new eight-layer roof system, the roof is designed to protect occupants from extremes of weather and wind noise. Folding to a class leading height, the roof takes a mere 14 seconds to lower, 16 seconds to close, and can be operated remotely via key, or on the move at speeds of up to 31mph with a 31mph headwind.
The new roof system has been rigorously tested to ensure that no matter what the conditions are, tundra or desert, the Volante will be able to withstand and give drivers the experience they want.
The DB11 Volante is engineered to be the most developed and complete open-top Aston Martin ever built. With a fine balance of ride, handling, responsiveness and refinement, the DB11 Volante is sure to put others to shame.
photos courtesy of aston martin