Aston Martin: History In The Making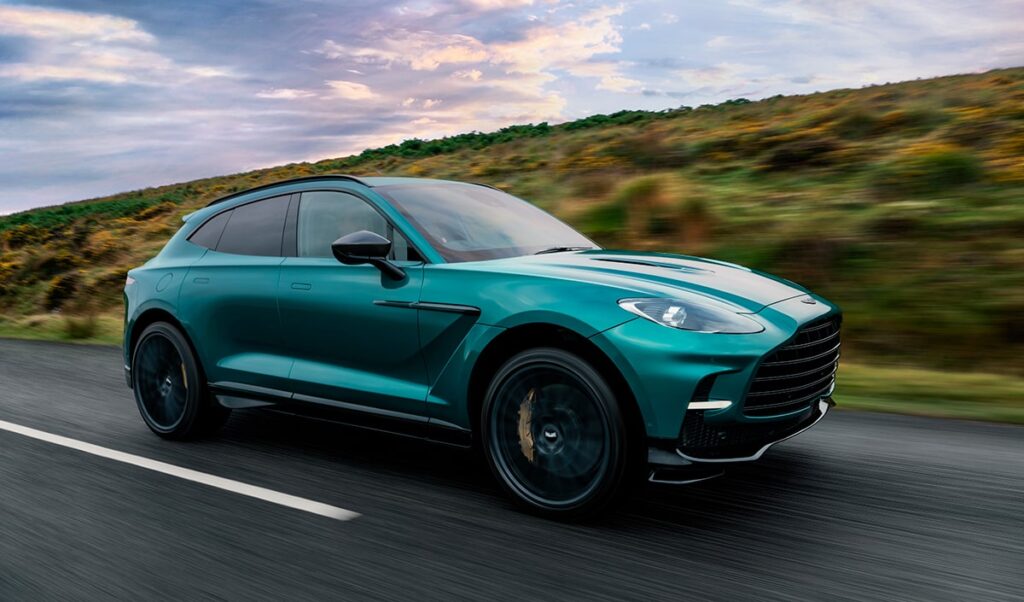 Alek A. Ackerman, brand manager at Aston Martin Toronto, lifts the lid on the new Aston Martin DBX707 and the brand's quest to create the best SUV.
Describing it as a vehicle that delivers the driving experience of an Aston Martin sports car in an SUV, Alek A. Ackerman, brand manager at Aston Martin Toronto, is the first to admit it sounds like a PR spin. However, thanks to sophisticated technology that's emerged over the last years, he says the promise is one with substance, and Aston Martin has developed the most powerful luxury SUV on the planet.
"The reality is, there had to be some remarkable breakthroughs in engineering that would allow for an SUV to drive like a sports car," Ackerman says. "These are prominent on the 707." He describes the vehicle as an evolution for "people who always wanted to have an Aston Martin, but never could because it didn't meet the requirements of their households, or their families."
There are a number of elements that work in unison to make the DBX707's promises a reality.
First, it has a PS of 707, a top speed of 193 m.p.h. and is fitted with a V-8 engine. Thanks to ball bearing turbochargers, 10,000 r.p.m. of extra propulsion is unlocked to bring the total to 160,000. It also features the world's first wet plate clutch in a luxury SUV, offering 30 per cent faster gear changes.
Ackerman also talks about its suspension that allows the vehicle to ride at multiple heights as the driver switches between driving modes. "For example, if you're driving the car aggressively in sport plus mode, the car can actually lower itself at speed to give you a better centre of gravity," he says. "That can work in reverse if you need to go through a bunch of snow. It's a breakthrough suspension system."
He also talks about its anti-roll mitigation device that utilizes a 48-volt anti-roll architecture to increase torsional rigidity and prop the car up as it goes around corners. "It's a system that makes for very flat handling," Ackerman says. "The car itself has a predisposition for good handling because of the unique and bespoke chassis."
The DBX707 also embraces the artisanal and, as a car that's made by hand, is incredibly exclusive and open when it comes to customization. "The bespoke experience is very unique to Aston Martin," says Ackerman. "The ability to create something genuinely unique is beyond what a typical manufacturer who machine-builds its cars can do."
He raises paint colours as an example. "A typical brand may have between 10 and 16 colours to choose from. At Aston Martin, in our regular portfolio, we have over 200 colours. We also have a custom commission service through our bespoke branch called Q. Essentially, it amounts to 'if you can dream it, we can conceptualize it and make it a reality.'
Whether someone chooses to customize the vehicle or not, there's a distinct attention to detail. Take the interior leatherwork as an example. Not only is one artisan responsible for the entirety of the interior, but the leather is sourced from Bridge of Weir, one of the oldest independent automotive leather manufacturers in the world, specialists in creating luxury, low-carbon leathers.
Even the car's model name has undergone extensive thought. "The DB moniker is one that's really important to our brand's history," Ackerman shares. "David Brown was a wealthy industrialist who lived in England and acquired the company to go racing in the late 1940s. When he acquired the company, he started naming vehicles DB. We wanted to give our SUV the classic DB name, but we used the X to give it the X-factor." The 707, of course, applies to the vehicle's PS.
For Ackerman, both the technicalities and level of performance displayed in the DBX707 has put us at an interesting point in history. "We're at a remarkable intersection in the automotive world, and I think we're making history in the process," he says. "In 20, 30 years from now, I think we'll look back at these last few years with fond memories. A lot of the cars we're transacting today will go on to be in museums and in collections all around the world."
While that's exciting for him, and he raises what that means for the possibilities of the electrical evolution and the next generation of products, it also comes with undeniable positivity. "It brings me great joy to be able to make a bit of history with clients and, in the process, make the world more beautiful and share that passion with as many people as possible."