Dragons' Den Star Arlene Dickinson: Persuasion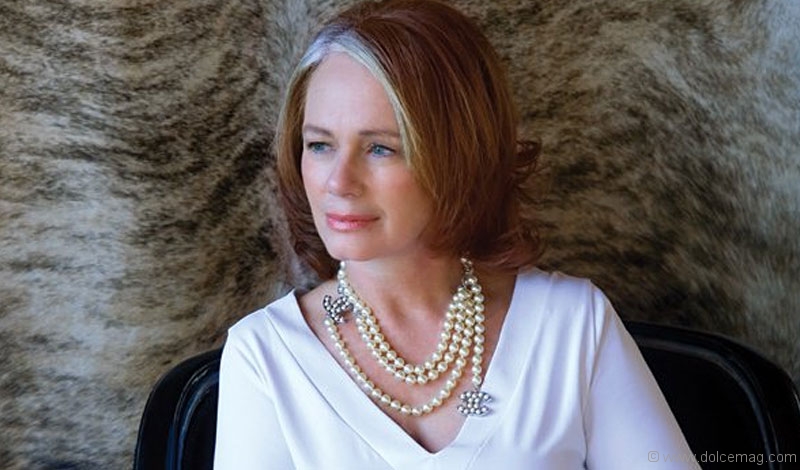 It's early Sunday afternoon in Toronto. The sun has free dominion over the clear October sky, casting an intense radiance over the city and drenching Arlene Dickinson's downtown loft in a warm glow. She sits relaxed at her kitchen table, wearing a simple ensemble of casual sweats, calmly discussing the art of influence, the topic of her first book aptly titled Persuasion: A New Approach to Changing Minds.
"The time felt right," says the 55 year-old CEO of Venture Communications, explaining how her role on CBC's Dragons' Den brings a bombardment of queries all searching for that secret to her success. "I was getting asked so often about what it was that I had done that was different, and I wanted people to know that I've made a lot of mistakes along the way and there was no straight path."
With her back to the glistening city skyline and the golden aura around her iconic red hair projecting an image of absolute assurance, it's surprising to hear a titan of her magnitude admit any personal shortcomings. But for Dickinson, persuasion isn't about smoke and mirrors or creating a beguiling, chameleon-like persona. Her method is that of "principled persuasion," an approach that requires authenticity, reciprocity, and as she makes clear early on, honesty.
She describes a childhood stamped with poverty and a broken home, a personality stacked with self-doubt and apprehension, and a failed marriage caused by her own infidelity. Slogging through a divorce, losing custody of her four children, and unemployed at 31, her past is anything but ideal. "I think people believe that you lead some charmed life and you never make mistakes and that's how people become successful, and it's so not true."
Although flawed, the past is the past, and Dickinson would never let it dictate her future. A year after her marriage ended, she transitioned from a job selling ads for a local Calgary TV station to becoming a partner at a start-up marketing firm known as Venture. Ten years later, she bought out the remaining partner and became the CEO.
However, Dickinson has never been the fire-breathing type. Just as her book, she displays an unexpected openness and a clear contrast to the ferocity displayed by her on-air colleagues. "I always characterized that good guys can finish first, and you can do things in a way that doesn't step on other people in order to be successful."
Indeed, Dickinson dodges the ends-justify-the-means mentality of utilitarian businesses to instead lean towards a deontological approach, where universal maxims dictate your actions. To Dickinson, the methods used are just as important as the results achieved. "I think the minute you have to pretend to be somebody else in order to do something is the minute you lose control of your own voice and your own opinion, and I think that sets you up for failure. Because it's like lying: eventually you get caught."
Even with financial uncertainty incessantly looming on the horizon, Dickinson feels abandoning your values can only lead to catastrophe. Authenticity is crucial to principled persuasion – part of that authenticity is accepting who you are. "The more honest we are with ourselves, and the more OK with who we are, the less worried we are about doing things to impress somebody, the more, I think, the more people will appreciate and follow us. I really believe that, I do."
All this boils down to is confidence. As she explains, persuasion entails believing in the person that you are, remembering your voice is important, and never fearing mistakes or failure. Her book echoes this sentiment, noting, "I find it much easier to live with failure than to live with regret over the road not taken." But even as she explains the importance of strength and confidence, there is an air of fragility floating through her words. In that honest, Arlene way, she acknowledges her mastery of this art is still an "ongoing dialog," and that fear of disappointing others perpetually lingers in the background.
This vulnerability isn't necessarily debilitating, however. It keeps her humble, self-aware and away from perceived infallibility. "I always want to be a little bit of a pleaser," she says, explaining her attitude may be seen as a weakness to some, but it keeps her grounded and gives balance to her life. She always feels the need to push for 150 per cent, staying clear of arrogance and selfishness.
The transparency Dickinson displays is an uplifting departure from the habitually iron-fisted nature of big business. While her book may illustrate the art of persuasion and how to maximize it, the dark days of her past proves that the sun will always rise again, and sometimes it shines unclouded.