Peter Oliver and Michael Bonacini: Illuminate your Palate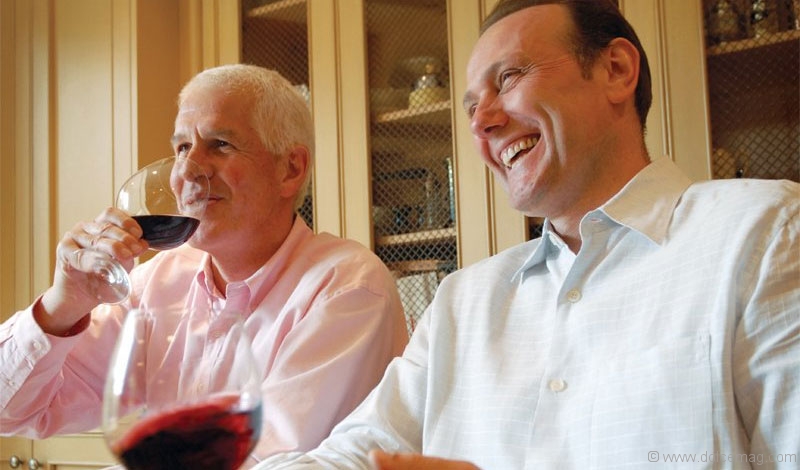 Foodies familiar with the metropolitan dining scene have more than likely flirted with the savoury fare of Peter Oliver and Michael Bonacini. This formidable culinary duo has regaled the palates of many Torontonians, and recently shared with Dolce Vita their most beloved dishes from four of their famous restaurants.
AUBERGE DU POMMIER
Huîtres &  Caviar
Peter Oliver: I feel that Chef St. Jaques takes oysters to the next level with this dish. The poached oysters are placed on a bed of leek velouté, then topped with toasted brioche and caviar. It's magnificent.
Boeuf Quatre Façons
Michael Bonacini: I love this dish as it gives you the opportunity to taste not one, but four styles of beef: ribeye, short rib, oxtail, and a ragoût. This is a rich dish, perfect for a chilly winter day.
Macaron
Oliver: These French macaroons just melt in your mouth. They are the perfect finishing touch to a wonderful Auberge du Pommier meal.
BANNOCK
Bannock Bannock
Bonacini: House-smoked salmon and cream cheese on freshly made bannock.  This is such a fun dish that blends Canadian traditions in a unique and interesting way.
Arcadian Court Chicken Pot Pie
Oliver: When we first announced that we were opening a restaurant in The Bay, people would stop me in the street and ask me about this pot pie! It has been a Toronto family favourite for many years, and we are thrilled to carry on the tradition.
Sour Cream Donuts
Bonacini: Real Canadian, eh?
Oliver: We know we couldn't serve Canadian comfort food without a glazed donut on the menu. These are warm, doughy, a little crispy on the outside. Simple food – elevated.
OLIVER & BONACINI CAFÉ GRILL
Grilled Calamari
Bonacini: This calamari dish is adapted from the Jump lunch menu, and is one of my favourites.
O&B Macaroni and Cheese
Bonacini: This is classic mac and cheese for grown-ups.  With aged white cheddar, goat cheese, roasted chicken and sweet garden peas, it's a fun spin on an old favourite.
Carrot Cake
Oliver: This is a carrot cake for real carrot cake lovers – moist, perfectly spiced and topped with a not-too-sweet cream cheese icing.
LUMA
Burrata
Bonacini: I love that this dish is rich and creamy but still feels light.
Steak Frites
Oliver: This is such a classic, timeless dish – a fantastic match with a bold red.
Opera Cake
Bonacini: A perfect end to dinner and a movie! If you forgot to buy your date a snack, the popcorn ice cream and caramel popcorn will more than make up for it.
Peter Oliver and Michael Bonacini Guest Food Editors
Two of Toronto's best-known culinary entrepreneurs put it all on the table nearly two decades ago when they partnered to open Jump Café and Bar in 1993. At the time, Peter Oliver was a thriving Toronto restaurateur, and Michael Bonacini was the executive chef of Centro. Today, their lucrative food enterprise dots the city with restaurants and event spaces, which include Jump, Canoe, Biff's Bistro, Auberge du Pommier, Oliver & Bonacini Café Grill, Luma, O&B Canteen, Malaparte and Bannock. Oliver is also the founder and president of The Stephen Leacock Foundation, a charitable organization that helps disadvantaged children in Canada and the developing world. www.oliverbonacini.com